Food
Need I say more? Just yum! Go make a couple of these!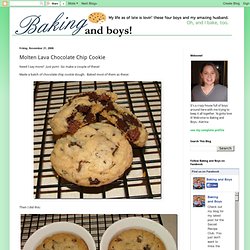 Remember those meatballs I made for a "special idea" on Friday? Here is that idea, Spaghetti and Meatball Pot Pie. I took the concept and figured if pizza was a good pot pie, then spaghetti and meat balls would be too. This isn't as much a recipe as it is a process.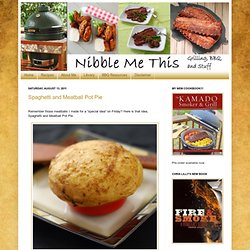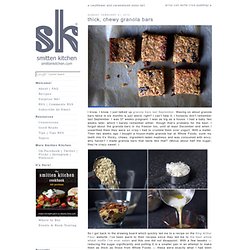 I know, I know, I just talked up granola bars last September . Waxing on about granola bars twice in six months is just weird, right? I can't help it, I honestly don't remember last September. I was 37 weeks pregnant.
thick, chewy granola bars
You all have no idea how close I was to dropping this charade of daily posting each November tonight. Because I was over it? Sadly, not close.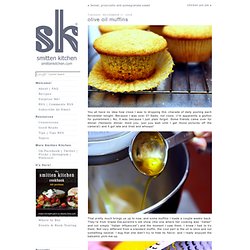 olive oil muffins
Crispy Parmesan-Rosemary Roasted Potatoes | Handle the Heat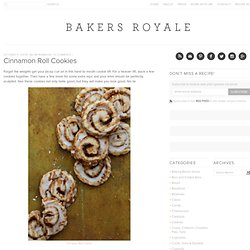 Forget the weights get your bicep curl on in this hand to mouth cookie lift. For a heavier lift, stack a few cookies together. Then have a few more for some extra reps and your arms should be perfectly sculpted. See these cookies not only taste good, but they will make you look good.
When Intelligentsia Coffee opened in Pasadena recently, I was intrigued the lasagna cupcakes they served. The cupcakes are made by Heirloom LA , a catering business. About the size of a muffin, a single lasagna cupcake was a delicious meal. After seeing how much my daughter enjoyed them (she ate my entire cupcake and I had to order a second one), I decided I had to try making them at home.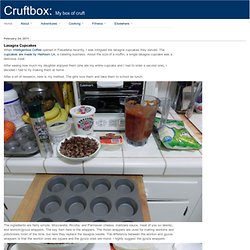 Now, I have a chocolate chip cookie recipe that I swear by. I love it, I think it is incredible, and I haven't changed my mind about that. However, as much as it pains me to say it, these chocolate chip cookies by Jacques Torres are absolutely, without a doubt, the best chocolate chip cookies that I have ever made or tasted in my entire life. I guess that's why they call him Mr.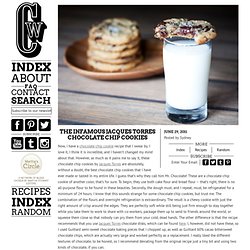 I am not saying anything about the weather. I refuse. I'm just getting back to the bread that I mentioned I had been baking. It's absolutely to die for .
Rainy Day Baking – Cinnamon Swirl Challah « Five And Spice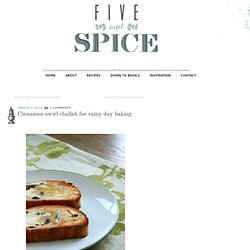 If you are of the ilk of people who spend a considerable (some may say disproportionate – I say proper) amount of time thinking, preparing, and reading about food (My people! Hello!), or if you are an Italian nonna, then making your own ricotta cheese may be old news to you. Old news, but then hey, you have no excuse for not having some sitting freshly made in your refrigerator right now, now do you?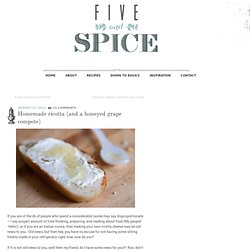 Homemade ricotta (and a honeyed grape compote) « Five And Spice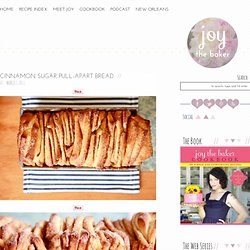 I'm sorry. I know it's Monday morning and you probably came here for some pretty pictures of food that you could glance at, and then move on with your day… and here I go thrusting warm, soft cinnamon sugar bread in your face. It's not fair.
Mimi's Giant Whole-Wheat Banana-Strawberry Muffins Recipe
Oreo Stuffed Chocolate Chip Cookies « Amandeleine
I wasn't lying about the Oreos. This is actually a thing. This is a whole Oreo stuffed inside a very large, very delicious chocolate chip cookie. This is serious business people. I don't joke about cookies inside of other cookies.
Easy Mini Pizza Cups
Easy Mini Pizza Cups Ingredients 1 Packet (2 x 9-inch) Refrigerated Pie Crusts, at room temperature 1 ½ Cups Shredded Mozzarella 1 Cup Thick Pasta Sauce (store-bought, any flavor) About 4 Tbsp of Finely Shredded Parmesan Cheese Freshly Ground Black Pepper
Quick Recipe: Ricotta Dumplings with Chèvre & Herbs
Last night I made one of my favorite dinner-in-a-flash recipes: Ricotta dumplings. This is a lightning-quick recipe, easy to mix up, and easy to make for a crowd, too. I tossed these pillowy, chewy little dumpling squares with a bit of butter, soft goat cheese, and herbs fresh from the garden. They were ready in 15 minutes!
Chicken Pot Pie IX Recipe
We had a gathering of friends last night to give a little thanks and have a festive potluck before everyone voyages off to their various destinations for the big day. A little Thanksgiving pre-gaming, if you will. And it was exactly what you would hope for from a Thanksgiving before Thanksgiving, full of good company and good cheer, and no shortage of mildly inappropriate jokes and misuse of acronyms.
Vegetable pot pies topped with sweet potato biscuits « Five And Spice
Cheesecake Stuffed Strawberries Can I just say that I have died and gone to heaven. Cheesecake stuffed strawberries….how have I not made these before?! I'm serious. They are amazing!