Media literacy
A Google a Day. Educators. Welcome to the Educator's Portal.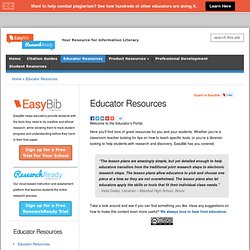 Here you'll find tons of great resources for you and your students. Whether you're a classroom teacher looking for tips on how to teach specific tools, or you're a librarian looking to help students with research and discovery, EasyBib has you covered. "The lesson plans are amazingly simple, but yet detailed enough to help educators transition from the traditional print research steps to electronic research steps. The lesson plans allow educators to pick and choose one piece at a time so they are not overwhelmed. The lesson plans also let educators apply the skills or tools that fit their individual class needs."- Katie Dailey, Librarian – Marshall High School, Illinois.
Teaching Strategies For Improving Student Internet And Keyword Research. Teaching Students To Use Critical Thinking To Find Quality Websites.
The Partnership for 21st Century Skills - EduVision. Scaffolding Methods for Research Paper Writing. ReadWriteThink couldn't publish all of this great content without literacy experts to write and review for us.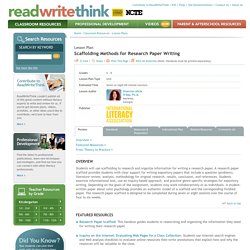 If you've got lessons plans, activities, or other ideas you'd like to contribute, we'd love to hear from you. More Find the latest in professional publications, learn new techniques and strategies, and find out how you can connect with other literacy professionals. Grading Made Easy with Diigo & Jing. This is a guest post from Rebecca Johnson.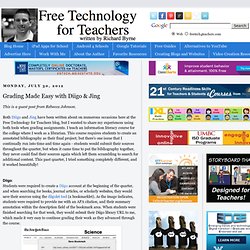 Both Diigo and Jing have been written about on numerous occasions here at the Free Technology for Teachers blog, but I wanted to share my experiences using both tools when grading assignments. I teach an information literacy course for the college where I work as a librarian. This course requires students to create an annotated bibliography as their final project; but there's one issue that I continually run into time and time again - students would submit their sources throughout the quarter, but when it came time to put the bibliography together, they never could find their sources again which left them scrambling to search for additional content.
This past quarter, I tried something completely different, and it worked beautifully! Sound Advice: Evaluating Web Sites. Determining Website Credibility. Evaluating Web Sites: A Middle School Lesson Plan. Subjects Educational Technology Grade 6-8 [facebookbadge] Brief Description Students learn the six criteria for evaluating Web sites and then use those criteria to locate three sites that provide good information and three that do not.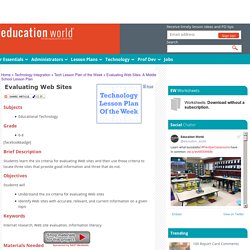 Inquiry on the Internet: Evaluating Web Pages for a Class Collection. ReadWriteThink couldn't publish all of this great content without literacy experts to write and review for us.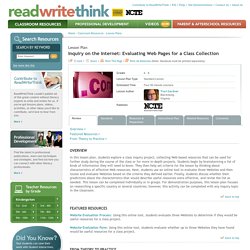 If you've got lessons plans, activities, or other ideas you'd like to contribute, we'd love to hear from you. More. Evaluating Websites. How-To Articles | Evaluating Web Sites-Five Basic Criteria. With its growing accessibility , the Internet has becomes a vital source for research. It is convenient to use and the information contained on the Internet is plentiful. However, not all of that information is accurate or even credible. When using the Internet as a research tool, the user must differentiate between quality information and misinformation. Ultimately, t he job of evaluating a source's credibility lies with the user. Lesson 1: Criteria for Evaluating Web Sites. When making a decision to buy something, you ask yourself several questions: Can I afford it?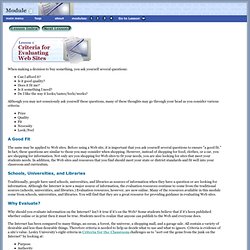 Is it good quality? Evaluating Web Sites: Criteria and Tools. Printer-friendly version Context ] ~ [ Evaluation Criteria ] ~ [ Online Selection ] ~ [ Webliography ] Context: The Primary Factor.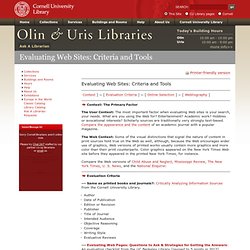 Grades 6-8. Save the Web for Later: Help students organize their research with annotation and bookmarking services. Sorry, but the article or page you're looking was not found.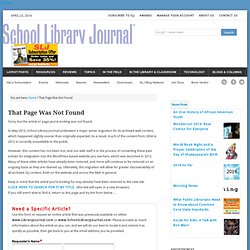 In May 2013, School Library Journal underwent a major server migration for its archived web content, which happened slightly sooner than originally expected. As a result, much of the content from 2004 to 2012 is currently unavailable to the public. However, this content has not been lost, and our web staff is in the process of converting these past articles for integration into the WordPress-based website you see here, which was launched in 2012. About the Research Models. Inquiry Chart | Classroom Strategies. The Inquiry Chart (I-chart) is a strategy that enables students to gather information about a topic from several sources.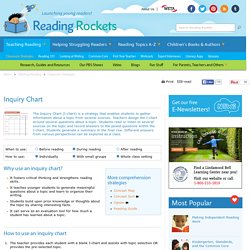 Teachers design the I-chart around several questions about a topic. Students read or listen to several sources on the topic and record answers to the posed questions within the I-chart. Students generate a summary in the final row. Different answers from various perspectives can be explored as a class. Basic Steps to Creating a Research Project- CRLS Research Guide.
Copyright. Plagairism. Building Good Search Skills: What Students Need to Know. Digital Tools Teaching Strategies Getty The Internet has made researching subjects deceptively effortless for students — or so it may seem to them at first. Truth is, students who haven't been taught the skills to conduct good research will invariably come up short. That's part of the argument made by Wheaton College Professor Alan Jacobs in The Atlantic, who says the ease of search and user interface of fee-based databases have failed to keep up with those of free search engines. In combination with the well-documented gaps in students' search skills, he suggests that this creates a perfect storm for the abandonment of scholarly databases in favor of search engines.
Harvard Referencing Tutorial. This extensive FAQ list is provided to help you find answers to many more unusual questions relating to citing references. Contact your nearest Library if you cannot find your answer in the present list. Act of Parliament Authors, multiple Author, none. 12 Ways To Use Google Search In School, By Degree Of Difficulty. Sunday, May 6, 2012 8:15 am, Posted by | Updates Topics: , , , , , , I've been completely obsessed with Google's new mini-site devoted to finding better ways to incorporate proper web searches into the classroom. Choose the Best Search for Your Information Need. Project: An Educational Boolean Web Search Tool. Oolone.com visual search engine. Open your eyes to the web. Search-cube - the Visual Search Engine.
WolframAlpha.
Cybersmart - Brochures and posters. Teacher's Guides and Analysis Tool - For Teachers. Critical thinking. Www.richlandcollege.edu/library/rubrics/basicILskills.pdf.
---