Research Resources/Stats
Top 10 Social Networking Websites & Forums - October 2010. Facebook Becoming Main Source Of Evidence For Divorce Lawyers. In the process of getting un-hitched from your spouse?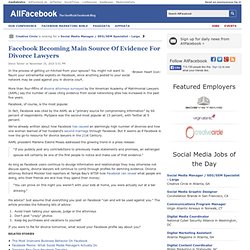 You might not want to flaunt your extramarital exploits on Facebook, since anything posted to your social network may be used against you in divorce court. More than four-fifths of divorce attorneys surveyed by the American Academy of Matrimonial Lawyers (AAML) say the number of cases citing evidence from social networking sites has increased in the past five years. Facebook, of course, is the most popular. In fact, Facebook was cited by the AAML as a "primary source for compromising information" by 66 percent of respondents. PR message getting lost to 48% of media, study says.
NEW YORK: The message a company aims to portray is getting lost in translation to 48% of the mainstream media, according to a recent study conducted by Burson-Marsteller.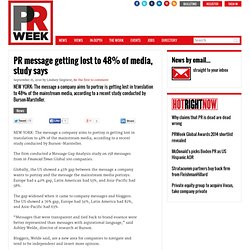 The firm conducted a Message Gap Analysis study on 158 messages from 16 Financial Times Global 100 companies. Globally, the US showed a 45% gap between the message a company wants to portray and the message the mainstream media portrays. Europe had a 40% gap, Latin American had 53%, and Asia-Pacific had 58%. The gap widened when it came to company messages and bloggers. The US showed a 76% gap, Europe had 59%, Latin America had 82%, and Asia-Pacific had 63%. Twitter Followers Most Brand Responsive. Twitter Followers Top Brand Purchasers Results from "The Collaborative Future" indicate that 37% of Twitter followers are more likely to purchase a brand after becoming a follower, compared to 27% of email subscribers and only 17% of Facebook fans.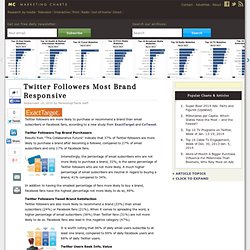 Interestingly, the percentage of email subscribers who are not more likely to purchase a brand, 32%, is the same percentage of Twitter followers who are not more likely. A much higher percentage of email subscribers are neutral in regard to buying a brand, 41% compared to 34%. In addition to having the smallest percentage of fans more likely to buy a brand, Facebook fans have the highest percentage not more likely to do so, 49%. Twitter Followers Tweet Brand Satisfaction Twitter followers are also more likely to recommend a brand (33%) than email subscribers (24%) or Facebook fans (21%).
90+ Essential Social Media Resources. Subscribers Fans & Followers | ExactTarget. The SUBSCRIBERS, FANS, & FOLLOWERS study was inspired by the three simple tenets of ExactTarget's SUBSCRIBERS RULE!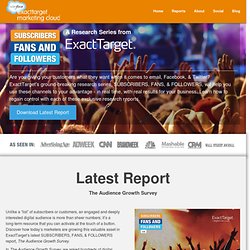 Philosophy: Serve the individual customer Honor his or her unique communication preferences Deliver timely, relevant content that will improve lives. OPA News - Press Releases - Online Publishers Association. Untitled. Facebook and Twitter users spend 1.5x more online than the average Internet user. InShare13 If you want to get a glimpse of the economic future, focus on the emerging trends driven by those defining the evolution of the social Web.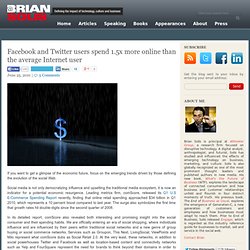 Social media is not only democratizing influence and upsetting the traditional media ecosystem, it is now an indicator for a potential economic resurgence. Email Marketing Software, Services & Solutions from ExactTarget. Welcome to the ExactTarget Marketing Cloud Newsroom, where you'll find the latest company and product news from our offices around the world.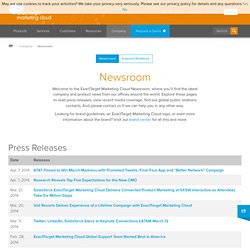 Explore these pages to read press releases, view recent media coverage, find our global public relations contacts. And please contact us if we can help you in any other way. Looking for brand guidelines, an ExactTarget Marketing Cloud logo, or want more information about the brand? Women on the Web: How Women are Shaping the Internet. Download Whitepaper From advertisers to publishers and from content producers to agencies, nearly everyone can benefit from understanding Web usage patterns through a gender-specific lens.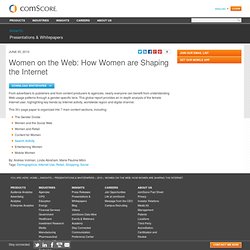 This global report provides an in-depth analysis of the female Internet user, highlighting key trends by Internet activity, worldwide region and digital channel. This 30+ page paper is organized into 7 main content sections, including: The Gender Divide Women and the Social Web Women and Retail Content for Women Search Activity Entertaining Women Mobile Women. The Ultimate List: 300+ Social Media Statistics.
It's evident that the evolution of social media has a clear impact on marketing.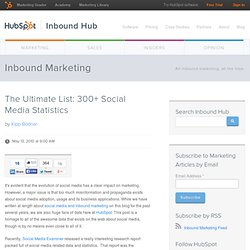 However, a major issue is that too much misinformation and propaganda exists about social media adoption, usage and its business applications. While we have written at length about social media and inbound marketing on this blog for the past several years, we are also huge fans of data here at HubSpot. Study: Today's grassroots political campaigns burn without social media. July 16, 2010 Social media is fundamentally changing how political-advocacy groups organize grassroots campaigns.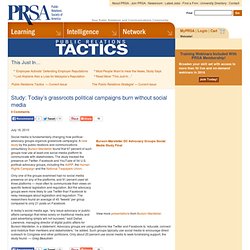 A new study by the public relations and communications consultancy Burson-Marsteller found that 97 percent of such groups now use at least one social-media platform to communicate with stakeholders. The study tracked the presence on Twitter, Facebook and YouTube of 34 U.S. political-advocacy groups, including the AARP, the Human Rights Campaign and the National Taxpayers Union. Only one of the groups examined had no social media presence on any of the platforms, and 91 percent used all three platforms — most often to communicate their views on specific federal legislation and regulation. Why Marketers Can't Afford to Ignore Baby Boomers. Pew Research Center's Internet & American Life Project. Wire | News, Insights & Reports.
How Americans Interact with Government Online - Pew Research Cen. The internet gives citizens new paths to government services and information As government agencies at all levels bring their services online, Americans are turning in large numbers to government websites to access information and services.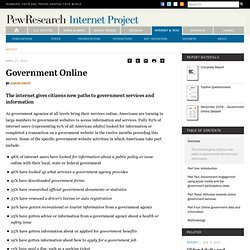 Fully 82% of internet users (representing 61% of all American adults) looked for information or completed a transaction on a government website in the twelve months preceding this survey. Top 10 U.S. Search Terms by Category, April 2010 - ClickZ. Jack Marshall | May 11, 2010 | 0 Comments inShare0 July's top 10 search terms by search volume from Hitwise. Below, the top 10 search terms by search volume. Competitive intelligence, Search intelligence for online adverti. What Age Should You Give Kids a Mobile Phone? See Stats Here | T. Retrevo.com did a great report on giving kids mobile phones.
At this point its their future they now have to adapt and keep up with, almost like sending them to pre-pre-kindergarten to get them ahead. Personally, if I had kids I would give em a mobile phone at 1, so they could download the iPhone Apps: How to change your OWN diaper App, Potty Train App, & the Go get a job already App. For teens you can get the: Its time to move out App. LOL. Quantcast - Home. Research - Internet Activity Index - Online Publishers Associati. More Journalists Using Facebook And Twitter. More than a third (37%) of traditional journalists now contribute to Twitter and 39 percent produce content for a blog as part of their expanded duties, according to a new PRWeek/PR Newswire Media Survey.
"Across the board you can see a change in journalists' behavior," said Sarah Skerik, VP of distribution services at PR Newswire. "Journalists are doing more with less. They seem to be acting more aggressively about finding their stories, digging a bit deeper for story angles. " Journalists are using social networks to help find story ideas, with 24 percent reporting they consider sites like Facebook and Twitter an important way to connect with experts, an increase from 13 percent in 2009.
In addition, 46 percent of journalists say they sometimes or always use blogs for research; 33 percent report using social networks in their research, compared to 24 percent in 2009. YouTube Demographics Round-Up :: Elites TV. Humanizing Social Networks: Revealing the People Powering Social. S JUNE 2010 Trend Briefing covering "MASS MINGLING". The Amazing Media Habits Of 8-18 Year Olds | Wall St. Cheat Shee. Consumers say: In tweets we trust.
---