Sosiaalinen media kirjastoammattilaisen työssä
Korjattu 26.10.2010 klo 10. Ensimmäisessä taulukossa: Internetin käytön ja eräiden käyttötapojen yleisyys 2010, %-osuus väestöstä lukujen pyöristyksistä johtuvat korjaukset on merkitty punaisella. Internetin käyttö yleistyy edelleen. Käyttäjiä on jo 86 prosenttia Tilastokeskuksen tutkimuksen mukaan. Sähköposti, verkkopankki ja tiedonhaku tavaroista tai palveluista ovat yleisimpiä netin käyttötapoja.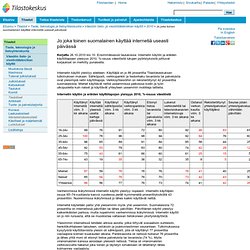 Tieto- ja viestintätekniikan käyttö 2010
Engaging in social media is about being extremely open, creative and flexible. To stay competitive online, brands need to be investing in social media as a way to extend themselves to their customers. While advertising and cultivating an image are still important, it's interaction that creates loyal customers. Using social media to show customers that your business is connected to what they say, think and feel about your products can amplify your brand's message.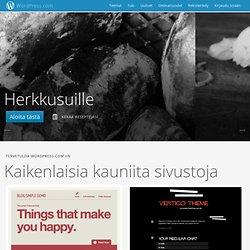 WordPress
Tietokoneneroille Koodi on runoutta Matkablogiksi Dokumentoi seikkailusi Herkkusuille Kerää reseptejäsi Lemmikkieläinkuville Jaa kuviasi Runoilijalle Kirjaa ajatuksesi Valokuvaajalle Arkistoi kuvasi Tietokoneneroille Koodi on runoutta Matkablogiksi Dokumentoi seikkailusi Tervetuloa WordPress.com:iin Kaikenlaisia kauniita sivustoja Oma verkkotunnus? Toki! Osta uusi verkkotunnus tai käytä vanhaa.
How to Use Delicious: The King of Social Bookmarking
Delicious is the world's largest social bookmarking site. With it you can save, manage and share pages in a centralized source. It also brings a very powerful community aspect to social bookmarking. This article will reveal innovate ways to use Delicious. 8 Innovative Uses for Delicious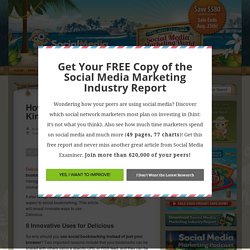 Tämä wiki toimii Helsingin kaupungin koulujen ja kaupunginkirjaston yhteistyön sekä koulukirjastojen kehittämisen foorumina. Hankeen tavoitteet Kirjaston käytön, tiedonhallinnan ja kirjallisuuden opetuksen suunnitelman laadinta ja alueellinen yhteistyömallin kehittäminen Henkilöstöryhmien koulutusten suunnittelu ja verkkomateriaalien kehittäminen Koulukirjastojen kehittäminen (mm. tilat, kokoelma ja kirjastojärjestelmä). Tästä voit tulostaa hankkeen esittelyesitettä: Suomeksi, A4 kokoisena
kirkou.wikispaces
Tiedonhallintataitoja Äidinkielen opettajille - home
Tiedonhaun perusteet - Tiedonhaun perusteet
Netvibes
The Unquiet Librarian: Buffy J. Hamilton (2592)
Dublin City Public Libraries (78)
Using public pages as virtual libraries!
Netvibes June 19th 2009 at 06:59 PM A growing number of libraries use Netvibes public pages as virtual resource centers for their users. From academic literature, news, to documentary resources or podcasts – there's an abundant of options. To add, Users are not just happy to locate reading suggestions online but the convenience is a huge time saver! Our list of public libraries include: The Cranbury Public Library (US), Biblioteca de l'Ateneu Barcelonès (Spain) or the the Dublin Public City libraries (Ireland). They're ideal places to organise events, surveys and online tools & resources.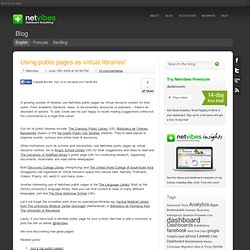 Netvibes henkilökohtaisena oppimisympäristönä -tuntisuunnitelma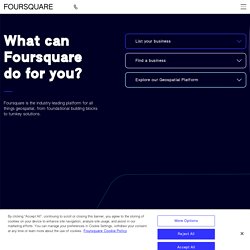 Foursquare I'm looking for... What's happening in Montreal? Let's explore nearby: "Jeffrey Finkelstein's ways with flour and water have won him cult-like baker's status but Hof Kelsten's lunch menu may be the sleeper hit of the year. Soulful soups and sandwiches all score."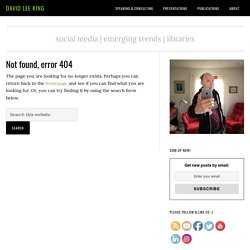 Foursquare is a location-based game. From Foursquare's website: "We're all about helping you find new ways to explore the city. We'll help you meet up with your friends and let you earn points and unlock badges for discovering new places, doing new things and meeting new people."
Foursquare and Libraries ? Anything There?
This is a follow-up post to my original post, Foursquare and Libraries – Anything There? Lots of you left some great ideas in the comments, so I thought I'd do a little copy/paste and highlight some of them … because they're really very cool ideas! So – here are what some of are doing with Foursquare:
Foursquare and Libraries – Definitely Something There!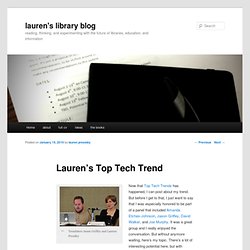 lauren's library blog - Lauren?s Top Tech Trend
Trendsters Jason Griffey and Lauren Pressley Now that Top Tech Trends has happened, I can post about my trend. But before I get to that, I just want to say that I was especially honored to be part of a panel that included Amanda Etches-Johnson, Jason Griffey, David Walker, and Joe Murphy.
Tweeting for Companies 101
Why Twitter? Twitter can be an amazingly powerful platform for connecting to your community as well as driving traffic to the various properties you want people to go. Having an event? Tweet it out! Launched a new bag?
HOW TO: Help New Users Stay Engaged on Twitter
Using Twitter for Brands or Corporate Identities
Website Monitoring Blog » Blog Archive » Twitter Facts & Figures (history & statistics)
TOP 100+ Finnish Brands on Facebook « Deceptive Cadence
5 New Ways to Market Your Brand on Facebook
Jo kolmasosa suomalaisista on Facebookissa / Viihde
Website Monitoring Blog » Blog Archive » Facebook Facts & Figures (history & statistics)