Sosiaalinen media kirjastoammattilaisen työssä
Tieto- ja viestintätekniikan käyttö 2010. Korjattu 26.10.2010 klo 10.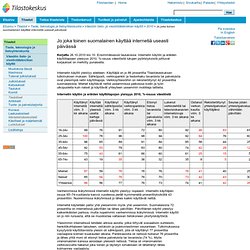 Ensimmäisessä taulukossa: Internetin käytön ja eräiden käyttötapojen yleisyys 2010, %-osuus väestöstä lukujen pyöristyksistä johtuvat korjaukset on merkitty punaisella. Internetin käyttö yleistyy edelleen. Käyttäjiä on jo 86 prosenttia Tilastokeskuksen tutkimuksen mukaan. Sähköposti, verkkopankki ja tiedonhaku tavaroista tai palveluista ovat yleisimpiä netin käyttötapoja. Top 100 Tools for Learning 2010.
5 Most Engaged Brands in Social Media. Engaging in social media is about being extremely open, creative and flexible.
To stay competitive online, brands need to be investing in social media as a way to extend themselves to their customers. While advertising and cultivating an image are still important, it's interaction that creates loyal customers. Using social media to show customers that your business is connected to what they say, think and feel about your products can amplify your brand's message. Wallwisher. TypeWith.me. WordPress. Delicious. How to Use Delicious: The King of Social Bookmarking. Delicious is the world's largest social bookmarking site.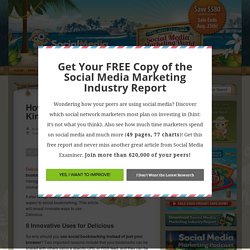 With it you can save, manage and share pages in a centralized source. It also brings a very powerful community aspect to social bookmarking. This article will reveal innovate ways to use Delicious. 8 Innovative Uses for Delicious. Wikispaces. Kirkou.wikispaces. Tämä wiki toimii Helsingin kaupungin koulujen ja kaupunginkirjaston yhteistyön sekä koulukirjastojen kehittämisen foorumina.
Hankeen tavoitteet Kirjaston käytön, tiedonhallinnan ja kirjallisuuden opetuksen suunnitelman laadinta ja alueellinen yhteistyömallin kehittäminen Henkilöstöryhmien koulutusten suunnittelu ja verkkomateriaalien kehittäminen Koulukirjastojen kehittäminen (mm. tilat, kokoelma ja kirjastojärjestelmä). Tästä voit tulostaa hankkeen esittelyesitettä: Suomeksi, A4 kokoisena. Tiedonhallintataitoja Äidinkielen opettajille - home. Tiedonhaun perusteet - Tiedonhaun perusteet. Netvibes. The Unquiet Librarian: Buffy J. Hamilton (2592) Dublin City Public Libraries (78)
Using public pages as virtual libraries! Netvibes June 19th 2009 at 06:59 PM A growing number of libraries use Netvibes public pages as virtual resource centers for their users.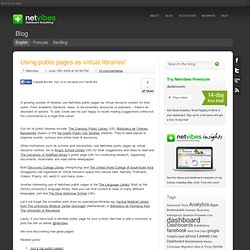 From academic literature, news, to documentary resources or podcasts – there's an abundant of options. To add, Users are not just happy to locate reading suggestions online but the convenience is a huge time saver! Our list of public libraries include: The Cranbury Public Library (US), Biblioteca de l'Ateneu Barcelonès (Spain) or the the Dublin Public City libraries (Ireland). They're ideal places to organise events, surveys and online tools & resources. Netvibes henkilökohtaisena oppimisympäristönä -tuntisuunnitelma.
Foursquare. Foursquare and Libraries ? Anything There? Foursquare is a location-based game.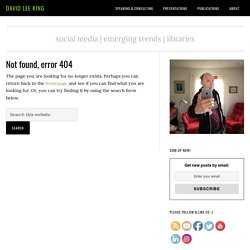 From Foursquare's website: "We're all about helping you find new ways to explore the city. We'll help you meet up with your friends and let you earn points and unlock badges for discovering new places, doing new things and meeting new people." Foursquare and Libraries – Definitely Something There! This is a follow-up post to my original post, Foursquare and Libraries – Anything There?
Lots of you left some great ideas in the comments, so I thought I'd do a little copy/paste and highlight some of them … because they're really very cool ideas! So – here are what some of are doing with Foursquare: Lauren's library blog - Lauren?s Top Tech Trend. Trendsters Jason Griffey and Lauren Pressley Now that Top Tech Trends has happened, I can post about my trend.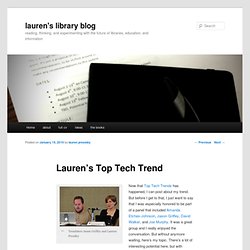 But before I get to that, I just want to say that I was especially honored to be part of a panel that included Amanda Etches-Johnson, Jason Griffey, David Walker, and Joe Murphy. Twitter. Tweeting for Companies 101. Why Twitter?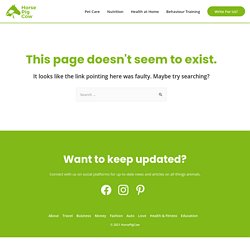 Twitter can be an amazingly powerful platform for connecting to your community as well as driving traffic to the various properties you want people to go. Having an event? Tweet it out! Launched a new bag? HOW TO: Help New Users Stay Engaged on Twitter. This Twitter Trends Series is supported by Bing.™ Check out the Bing Local Twitter Trends Map on Mashable.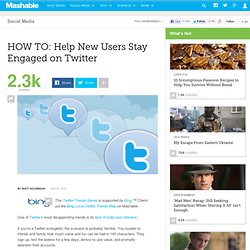 One of Twitter's most disappointing trends is its lack of solid user retention. If you're a Twitter evangelist, the scenario is probably familiar. You explain to friends and family how much value and fun can be had in 140 characters. They sign up, test the waters for a few days, derive no use value, and promptly abandon their accounts. To remedy this, we've outlined the common missteps of new users and some ways you can help prevent them from becoming part of the Twitter quitter trend. Using Twitter for Brands or Corporate Identities. As most of you know, we launched Shizzow last week, and we began using the Shizzow Twitter account with it. I've been doing most (but not all) of the tweeting from the Shizzow account, and I wanted to share some best practices for using a corporate Twitter account effectively without being spammy. Starting points This post assumes that you are already familiar with Twitter and are using it for a personal account, but if you are new to Twitter, you'll want to start by reading Tara Hunt's Tweeting for Companies 101.
I am also assuming that you have already read my post about Social Media and Social Networking Best Practices for Business. If not, you might want to start there. Website Monitoring Blog » Blog Archive » Twitter Facts & Figures (history & statistics) Facebook. Understanding How and Why Facebook Users Interact with Brands. This post originally appeared on the American Express OPEN Forum, where Mashable regularly contributes articles about leveraging social media and technology in small business. While much of finding what works for your business on social media sites is a process of trial and error, recent stats from e-mail marketing firm ExactTarget (which recently acquired social CRM platform CoTweet) shed some light on how the Facebook population uses the site, and specifically, how it interacts with brands.
First, the good news: Based on its study of 1,500 Facebook users, ExactTarget concluded that 38% of online U.S. consumers "Like" (formerly "Fan") a brand on the social networking site. And the average fan Likes nine different brands, giving you plenty of opportunity to find your way into potential customers' news feeds. TOP 100+ Finnish Brands on Facebook « Deceptive Cadence. What does facts about Facebook brand presence look like, really? With the relentless coverage in media, every man and his dog has an opinion about social media and Facebook. On the other hand, you have the social media gurus and true believers preaching about a revolution. On the other hand, you have the more traditional advertising pros who claim to understand the new more social approach to marketing, but continue doing things the old way.
The 8 Success Criteria For Facebook Page Marketing. 5 New Ways to Market Your Brand on Facebook. Facebook Statistics, Application Statistics, Page Statistics - Facebakers. Jo kolmasosa suomalaisista on Facebookissa / Viihde. Website Monitoring Blog » Blog Archive » Facebook Facts & Figures (history & statistics)
---