Love <3
Compatibility test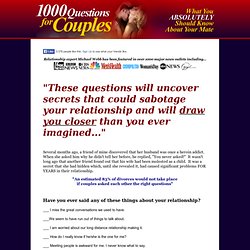 Relationship expert Michael Webb has been featured in over 1000 major news outlets including… "These questions will uncover secrets that could sabotage your relationship and will draw you closer than you ever imagined..." Several months ago, a friend of mine discovered that her husband was once a heroin addict. When she asked him why he didn't tell her before, he replied, "You never asked!" It wasn't long ago that another friend found out that his wife had been molested as a child.
1000 Questions for Couples - THE Book of Questions
a few seconds... Ever noticed that when you first meet someone, you always put your best foot forward? There's certainly nothing wrong with that, as long as it's the real you! Nobody wants to later feel like "I can't believe that they feel that way" So while you're in the "getting to know you" phase, here's some great and intimate questions to spur conversation and honesty. 1.What was the first thing that attracted you about me? 2.Do you think that physical attributes are more important to maintaining a successful relationship or do you think that friendship maintains a relationship?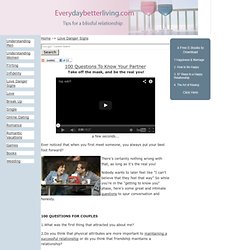 Long Distance Relationship Quotes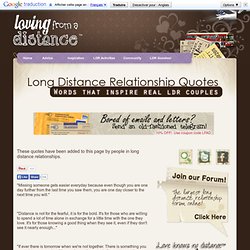 These quotes have been added to this page by people in long distance relationships. "Missing someone gets easier everyday because even though you are one day further from the last time you saw them, you are one day closer to the next time you will." "Distance is not for the fearful, it is for the bold.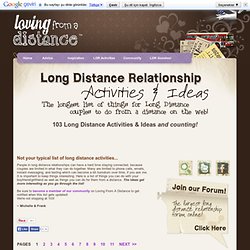 People in long distance relationships can have a hard time staying connected, because couples are limited in what they can do together. Many are limited to phone calls, emails, instant messaging, and texting which can become a bit humdrum over time, if you ask me. It is important to keep things interesting.
Treasuremytext
YourFonts.com is an online font generator that allows you to create your own OpenType fonts within a couple of minutes. Go make your own handwriting as a font! Your own handwriting turned into your very own font Create fonts with more than 200 characters Optionally include your signature and digitally sign your contracts You'll have your very own font within 15 minutes Preview your font for free Make as many fonts as you like Use your fonts on Windows, Mac OS X and Linux Personalize your digital scrapbook pages and invitations Make your own "family handwriting history" Use your fonts in Microsoft Word, PowerPoint and every program that you own Just $9.95 (plus $5.00 if you upload both template pages) - only purchase if you're satisfied! High Quality Personal Handwriting Fonts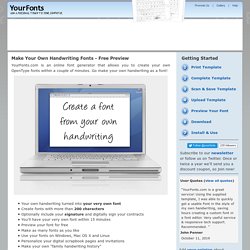 The Crossword puzzle maker is used to make simple crossword puzzles. It turns out that good crossword puzzles of the type found in newspapers are fairly hard to generate, and require a pool of lots of words, not all of which are used. This program puts all of the words you specify (no more, no less) into a simple crossword puzzle. The puzzle that is generated will remain on this server for about two months. If you want to ensure that you have a copy of the generated puzzle, make sure you save a copy. If you want help with international characters, you can call up an Alphabet chart to use for cutting and pasting letters that are hard to type.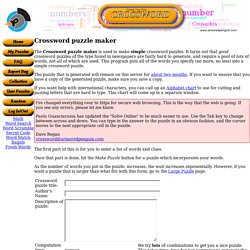 Sweet Home 3D is a free interior design application that helps you draw the plan of your house, arrange furniture on it and visit the results in 3D. (click on image to enlarge) You may download Sweet Home 3D to install it on your computer and/or use it online within your browser: Download Sweet Home 3D - Use Sweet Home 3D Online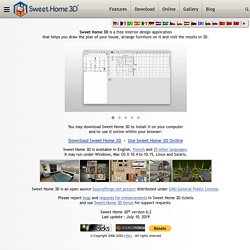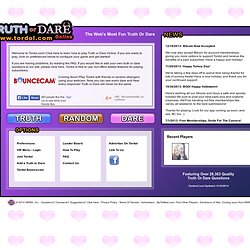 12/18/2013: Bitcoin Now Accepted We now also accept Bitcoin for account memberships, giving you more options to support Tordol and receive the benefits of a paid subscriber. Have a happy and holiday!
Truth Or Dare Online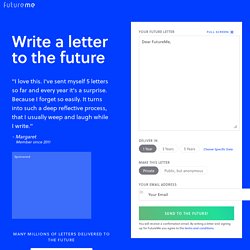 Amanda Car Dear FutureMe, Our daughter Amanda, today March 30 2006 has told us, after asking what kind of car she wanted for her 16th birthday that "I DO... sent 8 years into the future, to Today A LETTER FROM THE PAST Dear FutureMe, Hey, how are you?