Love <3
Compatibility test. 1000 Questions for Couples - THE Book of Questions. 100 Questions for couples. A few seconds...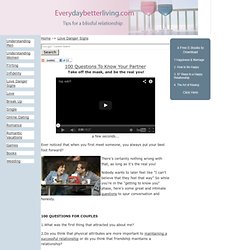 Ever noticed that when you first meet someone, you always put your best foot forward? There's certainly nothing wrong with that, as long as it's the real you! Nobody wants to later feel like "I can't believe that they feel that way" So while you're in the "getting to know you" phase, here's some great and intimate questions to spur conversation and honesty. 1.What was the first thing that attracted you about me?
2.Do you think that physical attributes are more important to maintaining a successful relationship or do you think that friendship maintains a relationship? Long Distance Relationship Quotes. These quotes have been added to this page by people in long distance relationships.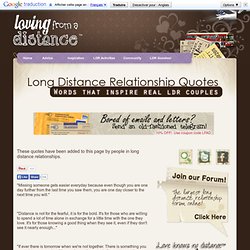 "Missing someone gets easier everyday because even though you are one day further from the last time you saw them, you are one day closer to the next time you will. " "Distance is not for the fearful, it is for the bold. 100 Things For LDR Couples To Do. People in long distance relationships can have a hard time staying connected, because couples are limited in what they can do together.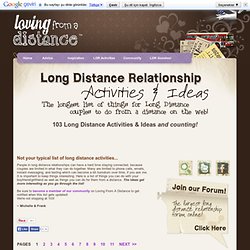 Many are limited to phone calls, emails, instant messaging, and texting which can become a bit humdrum over time, if you ask me. It is important to keep things interesting. Treasuremytext. Handwriting Font Generator. Crossword puzzle maker. The Crossword puzzle maker is used to make simple crossword puzzles.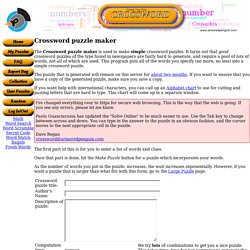 It turns out that good crossword puzzles of the type found in newspapers are fairly hard to generate, and require a pool of lots of words, not all of which are used. This program puts all of the words you specify (no more, no less) into a simple crossword puzzle. The puzzle that is generated will remain on this server for about two months. If you want to ensure that you have a copy of the generated puzzle, make sure you save a copy. If you want help with international characters, you can call up an Alphabet chart to use for cutting and pasting letters that are hard to type. Timetoast timelines. Sweet Home 3D. Truth Or Dare Online. Free Online Calendar.
FutureMe.org: Write a Letter to the Future.
---