Online Courses
The Super Bowl Will Stream Online in 2012. The 2012 Super Bowl will stream live online and to mobile devices.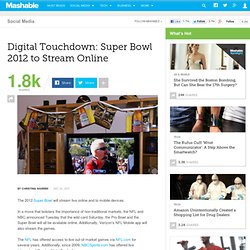 In a move that bolsters the importance of non-traditional markets, the NFL and NBC announced Tuesday that the wild card Saturday, the Pro Bowl and the Super Bowl will all be available online. Additionally, Verizon's NFL Mobile app will also stream the games. The NFL has offered access to live out-of-market games via NFL.com for several years. Academic Earth | Online Courses | Academic Video Lectures. MIT World | Distributed Intelligence.
Free Online Course Materials | MIT OpenCourseWare. Princeton WebMedia - Lectures. The James Martin 21st Century School - Video & Webcasts. 100 Incredible Lectures from the World's Top Scientists | Best C. Posted on Thursday June 18, 2009 by Staff Writers By Sarah Russel Unless you're enrolled at one of the best online colleges or are an elite member of the science and engineering inner circle, you're probably left out of most of the exciting research explored by the world's greatest scientists.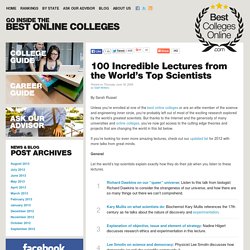 But thanks to the Internet and the generosity of many universities and online colleges, you've now got access to the cutting edge theories and projects that are changing the world in this list below. TechUniversity: Mac Video Tutorials & Screencasts.
---