Diy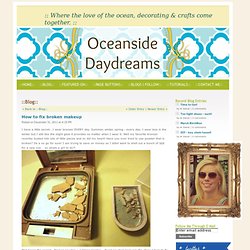 I have a little secret.. I wear bronzer EVERY day. Summer, winter, spring - every day. I wear less in the winter but I still like the slight glow it provides no matter when I wear it.
How to fix broken makeup -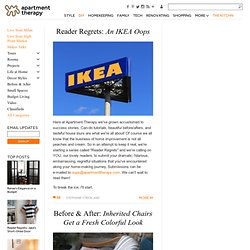 DIY
Name: Maxwell & Ursula Type of Project: Light renovation of a rental apt Location: Soho, NYC Type of building: Two bedroom apartment This pic above is from this morning, and, yes, I have to move in this Friday. While the counter and shelving won't be in yet, everything else should be clean and painted so that Ursula and I can at least land and camp out comfortably while functionality returns.
Fashion Worship
Area Rug: Contemporary? Handmade? .. Crochet??
I created this post for the Alt Summit blog. In case you missed it, I am posting it here at the blog. You guys know I like business cards ;) So here's a very simple business card DIY for you! - 1" round punch - Pre-cut business cards - 1 sheet of label/sticker paper - Information stamp (I got mine from vistaprint - they have some free stamp designs available or you can pay $2-$3 or something to upload your own design!)
diy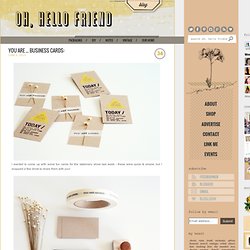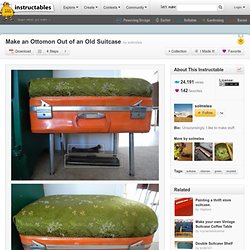 Make an Ottomon Out of an Old Suitcase
This is really easy to make and, if you have the right scavenging abilities (and luck), then you can find many of the ingredients at little to no cost. Recycling is always good! You can likely get the fabric, suitcase, plywood, and possibly the plumbing stuff all used/found in an alleyway or thrift store. Tools: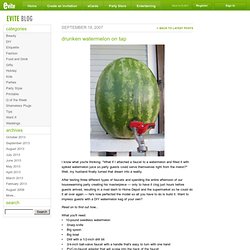 I know what you're thinking: "What if I attached a faucet to a watermelon and filled it with spiked watermelon juice so party guests could serve themselves right from the melon?" Well, my husband finally turned that dream into a reality. After testing three different types of faucets and spending the entire afternoon of our housewarming party creating his masterpiece — only to have it clog just hours before guests arrived, resulting in a mad dash to Home Depot and the supermarket so he could do it all over again — he's now perfected the model so all you have to do is build it.
Rose Barrettes
With Valentine's Day coming up I designed these little girl's barrettes in celebration of the rose. I liked the idea that they could add a little Valentine's spirit to any outfit, and also to be used long after the big day. --Molly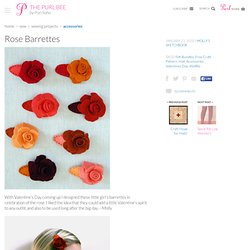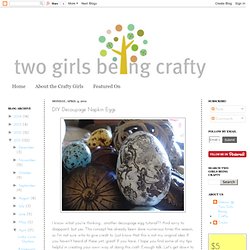 DIY Decoupage Napkin Eggs
I know what you're thinking... another decoupage egg tutorial?? And sorry to disappoint, but yes. This concept has already been done numerous times this season, so I'm not sure who to give credit to.
Sometimes Sharon and I are surprised by how much we're on the same page. I'm not talking about how we're on the same webpage--that's a given. But take for instance, this pillow: We each took pictures of it at our Local Pier 1 at separate times , each thinking "I could make that". A few days ago, Sharon was over at my house (for the purpose of crafting, what else?!) and I showed her my work in progress and she immediately knew which pillow I was knocking-off because she had intended to do the same thing! Great minds truly do think alike.
Crocheted Rose Pillow Tutorial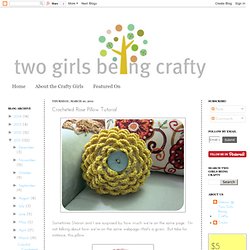 DOMESTIQUETTE
Decorate My Home, Part 13 – Hemp Ball Accents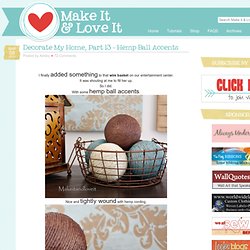 I finally added something to that wire basket on our entertainment center. It was shouting at me to fill her up. So I did.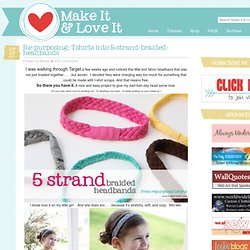 I was walking through Target a few weeks ago and noticed this little knit fabric headband that was not just braided together…….but woven. I decided they were charging way too much for something that could be made with t-shirt scraps. And that means free. So there you have it. A nice and easy project to give my bad-hair-day head some love.
Two Girls Being Crafty
100 Best DIY Sites on the Web Saturday, February 26, 2011 at 6:06pm by Site Administrator DIY offers a great way to take on personal projects and make things your own. Although often DIY focuses primarily on home improvement, the DIY ethic expands out to arts, technology, and so much more.
Celery Craft for Preschooolers - Kids Activities | Wondertime
burlap, lace, tweed OH MY | packaging bows | a tutorial
Why buy store-bought bows when you can make the prettiest ones ever? It adds such a nice handmade touch to even store bought presents. AND they are reusable!
There are just too many fun uses for these jars. My stash is ever growing, as I can't seem to make it through Walmart without picking up a case. They're just such a cheap investment. Craig thinks I'm nuts.
过窗花!?我剪出好多怪咔出来呢~嘻嘻 来自原创钉子户在堆糖网的分享
帅不?!我也自己做了! 来自早安_范范在堆糖网的分享
So, I was at Michael's last week, and happened upon a huge jar of mineral/sea salt, it was cheap so I had to buy it. I knew it would come in handy at some point. It did.
DIY Bath Salts | Gift in a Jar
i need to make this / diy ball jar soap dispenser
DIY Chalkboard Paint Ideas
DIY
7 Pretty, Practical Jewelry Organizing Ideas Photos | 7 Pretty, Practical Jewelry Organizing Ideas Pictures
Rye Apple Fiber Bread and Google Friends Is Going Away
Make an Awesome Lamp Out of Plastic Cups
- StumbleUpon