Physical Science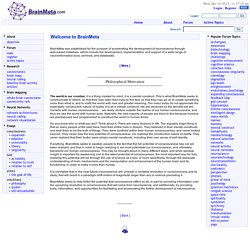 BrainMeta was established for the purpose of accelerating the development of neuroscience through web-based initiatives, which include the development, implementation and support of a wide range of neuroinformatics tools, services, and databases. [ More ] Philosophical Motivation The world is our creation, it is a thing created by mind, it is a mental construct. This is what BrainMeta seeks to communicate to others, so that they may open their eyes to this fact, so that they may go on to create something more than what is, and to instill the world with new and greater meaning. Too many today do not appreciate the essentially 'constructive nature' of reality.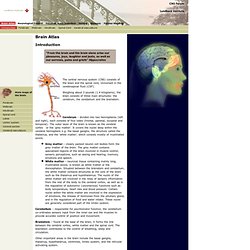 The central nervous system (CNS) consists of the brain and the spinal cord, immersed in the cerebrospinal fluid (CSF). Weighing about 3 pounds (1.4 kilograms), the brain consists of three main structures: the cerebrum, the cerebellum and the brainstem. Cerebrum - divided into two hemispheres (left and right), each consists of four lobes (frontal, parietal, occipital and temporal).
Cell Cycle Regulation and the Control of Cell Proliferation (Cell Growth + Cell Division) Cell Cycle Research - General resource with links to relevant recent literature, news and job listings. (Ion Channel Media Group) Cell Division - Undergraduate-level lectures on cell division. (Cell Biology Lectures, Mark Hill, University of New South Wales, Australia) The Eukaryotic Cell Cycle and Cancer - Introduction to the eukaryotic cell cycle as it relates to the genetics of cancer. (Phillip McClean, North Dakota State University) (Just above Beginner's Level) ICRF FACS Laboratory Cell Cycle Analysis - Methods for cell cycle analysis using flow cytometry.