Food
Limoncello Cheesecake. I can not believe I do not have any cavities.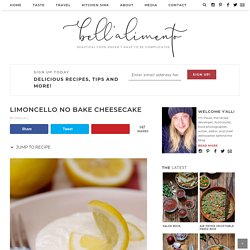 Seriously. I have the biggest sweet tooth. Always have. I suppose I can thank my Mom and her insistence on brushing and flossing 3 times a day ; ) In addition to having a little thing for desserts I also have a thing for cocktails. Hasselback Potatoes. These Hasselback potatoes looks beautiful, don't' they?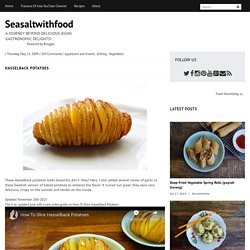 Here, I also added several cloves of garlic to these Swedish version of baked potatoes to enhance the flavor. It turned out great, they were very delicious, crispy on the outside and tender on the inside.. Updated: November 26th 2013 This is an updated post with a new video guide on How To Slice Hasselback Potatoes. How to Make Proper Barbecue Chicken.
There's a lot of misconception when it comes to "barbecue.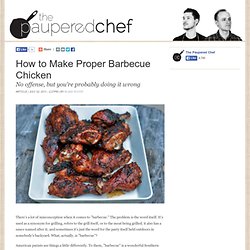 " The problem is the word itself. It's used as a synonym for grilling, refers to the grill itself, or to the meat being grilled; it also has a sauce named after it; and sometimes it's just the word for the party itself held outdoors in somebody's backyard. What, actually, is "barbecue"? American purists see things a little differently. To them, "barbecue" is a wonderful Southern tradition of slow-cooking with indirect heat and woodsmoke to transform cuts of meat, often inexpensive ones, into succulent, unbelievably delicious results. Vanilla cheesecake with strawberry compote & Cooking Blog. 8th December 2011By GuestPhotography by Adam A few weeks ago the industrial design team in Dunedin had a shared morning tea to celebrate a couple of birthdays.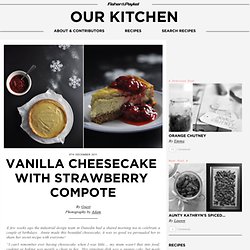 Annie made this beautiful cheesecake; it was so good we persuaded her to share her secret recipe with everyone! "I can't remember ever having cheesecake when I was little… my mum wasn't that into food; cooking or baking was merely a chore to her. Stay hungry my friends. Web's Tastiest: Pancakes Recipes. Everyone knows that breakfast is the most important meal of the day.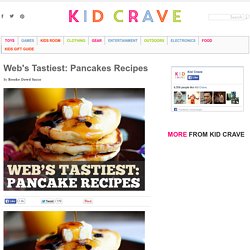 So of course you want to get off to a good, healthy start. However, anyone with kids knows that some mornings are just too special to worry about a properly balanced meal. Handmade charlotte :: DIY Pinata Cookies :: design for kids and the home. 60 Second Chocolate Chip Cookie A la Mode. I had so much fun developing this recipe.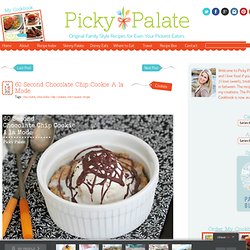 Talk about kinda dangerous though. This baby is baked in 60 seconds, no lie!! The cookie dough recipe is prepared right in your ramekin, so we are also talking about minimal dishes. Jasons Everlasting Recipes: Cheesecake Stuffed Strawberries. Ingredients:-1 lb large strawberries-8 oz. cream cheese, softened (can use 1/3 less fat)-3-4 tbsp powdered sugar (4 tbsp for a sweeter filling)-1 tsp vanilla extract-graham cracker crumbs Directions:1.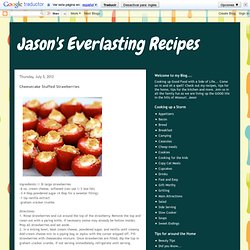 Rinse strawberries and cut around the top of the strawberry. Remove the top and clean out with a paring knife, if necessary (some may already be hollow inside). Cold-Brewed Iced Coffee. Update 4/2014: Be sure to check out my new, improved cold-brewed iced coffee tutorial with step-by-step instructions and lessons learned since first posting about cold-brewed iced coffee.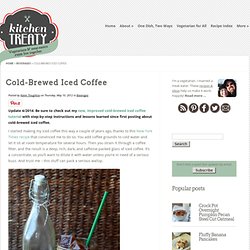 I started making my iced coffee this way a couple of years ago, thanks to this New York Times recipe that convinced me to do so. You add coffee grounds to cold water and let it sit at room temperature for several hours. Then you strain it through a coffee filter, and the result is a deep, rich, dark, and caffeine-packed glass of iced coffee. It's a concentrate, so you'll want to dilute it with water unless you're in need of a serious buzz. Getting High with Hi-Hat Cupcakes. I believe it was a year or two ago, before I started my little blog, that I first heard of Hi-hat Cupcakes.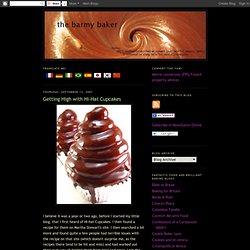 I then found a recipe for them on Martha Stewart's site. I then searched a bit more and found quite a few people had terrible issues with the recipe on that site (which doesn't surprise me, as the recipes there tend to be hit and miss) and had worked out their own way of making them from trial and error. I set the idea to make them aside and it got buried in my ever churning thought process.
Roast Pork in Milk Recipe. Katie Caldesi | Cook Italy | Kyle Books, 2010 Cooking meat in milk is common throughout north Italy because it results in moist meat and a wonderfully rich and flavorful sauce.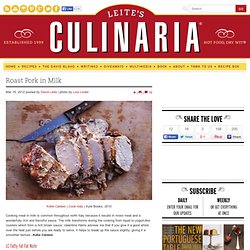 The milk transforms during the cooking from liquid to yogurt-like clusters which form a rich brown sauce. Valentina Harris advises me that if you give it a good whisk over the heat just before you are ready to serve, it helps to break up the sauce slightly, giving it a smoother texture. –Katie Caldesi LC Fatty Fat Fat Note. Punchfork — The best new recipes from top food sites. A Quick Guide to Bacon | Mark's Daily Apple. Scalloped Hasselback Potatoes | Tasty Kitchen Blog - StumbleUpon. "Scalloped" is an attractive word, isn't it? When I hear it I think of several things: first, there's scallops, as in the seafood—totally delicious.
Then there's the scalloped shape that can live on the edge of a pair of shorts or on the collar of a woman's blouse—always pretty and dainty. And of course scalloped potatoes also comes to mind, which carries my imagination to a land of crispy potato skins drenched in a sea of cheese and cream. I can think of no better place to exist, actually. So when I came across TK member Shelbi Keith's recipe for Scalloped Hasselback Potatoes, I knew we were going to become fast friends. Cheese & Burger Society - StumbleUpon. MarsBar Melts. There are two reasons you'll fall in love with these MarsBar Melts 1. They only need 4 ingredients.
---