Comics
#17 - Little League Comic
Goddess of Creativity
simple-logic
has been a repeat offender here at ComicsAlliance for the crime of blowing our minds with his l.
DC Universe, Year 1000
Birds
I can't let you in.
News: November 10, 2006 Heyo! Did some guest art for Drastic Comics. Also, fun fact: Marty keeps a book called "RF Electronics" next to his toilet.
Saturday Morning Breakfast Cereal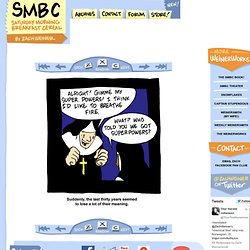 Lead Paint Comics
S*P and Other Comics