Programming
Learning to code is one of the most powerful and satisfying things you can ever do. If you're a designer, learning to code can help you understand what you're creating for, and if you're looking to build a startup from scratch, being a technical founder can make things exponentially easier for you. No matter why you want learn, the only thing you really need is curiosity. But if you're just starting out as a novice and don't know where to begin, here's a list of 7 ways to start learning how to code right now for free: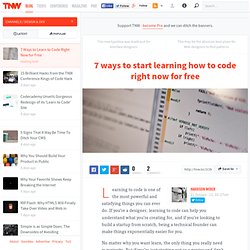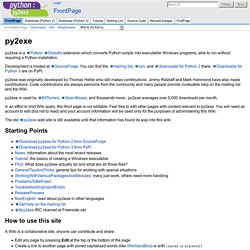 py2exe is a Python Distutils extension which converts Python scripts into executable Windows programs, able to run without requiring a Python installation. Development is hosted at SourceForge. You can find the mailing list, svn, and downloads there. py2exe was originally developed by ThomasHeller who still makes contributions, JimmyRetzlaff is the current maintainer, and MarkHammond also makes regular contributions. Code contributions are always welcome from the community and many people provide invaluable help on the mailing list and the Wiki. py2exe is used by BitTorrent, SpamBayes, and thousands more - py2exe averages over 5,000 downloads per month.
Update (2/20/09): Check out Useful unix tricks – part 3 and Useful unix tricks – part 4 I covered a bunch of unix command line tricks in my previous blog post: Useful unix tricks. Here are some more. Learn vi Even if you prefer another text editor (such as emacs), it is worth your time to learn vi. vi is installed on every unix box, whereas emacs and others are not.
Paul Grosss Blog - Useful unix tricks - part 2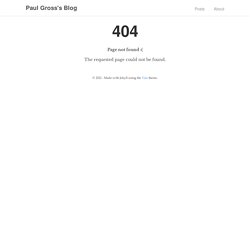 More Linux Commands - A practical reference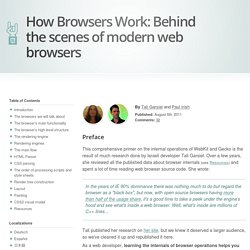 Web browsers are the most widely used software. In this primer, I will explain how they work behind the scenes. We will see what happens when you type google.com in the address bar until you see the Google page on the browser screen. The browsers we will talk about There are five major browsers used on desktop today: Chrome, Internet Explorer, Firefox, Safari and Opera.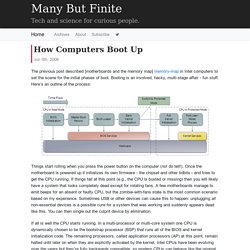 The previous post described motherboards and the memory map in Intel computers to set the scene for the initial phases of boot. Booting is an involved, hacky, multi-stage affair - fun stuff. Here's an outline of the process:
Great Linux Links
TIPS FOR LINUX EXPLORERSHelpful info for those learning Linux These Linux tips are meant to provide just enough information to whet your appetite for more. They are updated frequently and are not presented in any particular order. There is a site-search box at the end of this page.. . . . . . .
UNIX / Linux Command Summary access() Used to check the accessibility of files int Access(pathname, access_mode) Char* pathname; int access-mode; The access modes are. 04 read 02 write 01 execute (search) 00 checks existence of a file & operator execute a command as a background process. banner prints the specified string in large letters.
Linux Commands, Linux Commands Summary, Free Linux Commands Summary, Unix Commands, Unix Commands Summary - Laynetworks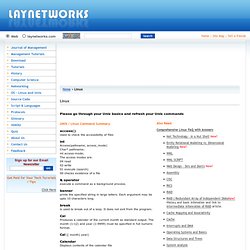 Windows 7 comes packed with a lot of new and interesting backgrounds. However Windows 7 fails to include an easy way to change the background you see every single time you login to your computer. Perhaps you want a little flavor, or maybe you just don't like the built-in background.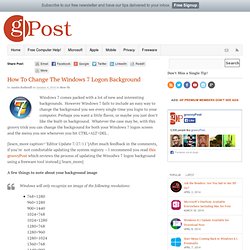 Tux in kernel source
In this article we try to mimic the great Dropbox. This part of the series deals with setting up basic file synchronization in Linux. Create a Central Repository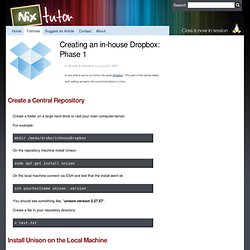 creating an in-house dropbox
Iterations[edit] Solutions requirements Solutions must: Use only standard C++.Be compilable.Be in accordance to general coding practices.