Recipes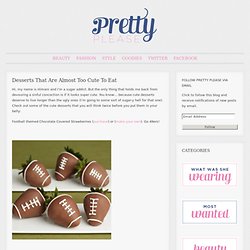 Hi, my name is Himani and I'm a sugar addict. But the only thing that holds me back from devouring a sinful concoction is if it looks super cute. You know… because cute desserts deserve to live longer than the ugly ones (I'm going to some sort of sugar-y hell for that one). Check out some of the cute desserts that you will think twice before you put them in your belly:
5-minute Ice Cream
Mom's Recipes - a set on Flickr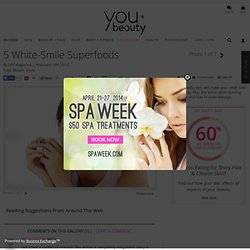 These healthy eats will make your smile look even better. Plus, the worst teeth-staining offenders and how to undo damage. Cheese Looks like the French are on to something with that postmeal fromage course. Cheese contains calcium, which strengthens teeth as well as the jaw.
5 White-Smile Superfoods - YouBeauty.com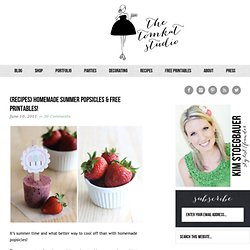 It's summer time and what better way to cool off than with homemade popsicles! These are my two favorite popsicle recipes and have never been able to pick which one I liked better, the strawberry coconut or the honeydew lime, so I decided to share them both with you! Need a reason to make these popsicles?
Healthy Luna
While that tub of ice cream in the back of the freezer may be what you crave when you're feeling blue, there is a long list of other (healthier!) foods that can cure a grouchy morning or a stressed-out afternoon. We talked to the experts to get the scoop on what to eat to make you feel better no matter what your mood.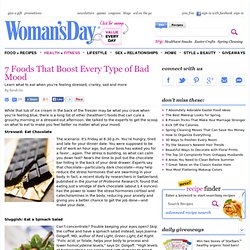 Directions Bring a large pot of salted water to a boil. Add the pasta and cook until very al dente, about 8 minutes, adding the peas in the last 2 minutes of cooking. Meanwhile, whisk the eggs, egg white, evaporated milk and 1/2 teaspoon salt in a bowl. Drain the pasta and peas; wipe the pot dry and return the pasta and peas to the pot. Add the butter and stir to coat.
Four-Cheese Pasta With Peas and Ham Recipe : Food Network Kitchens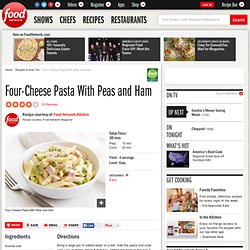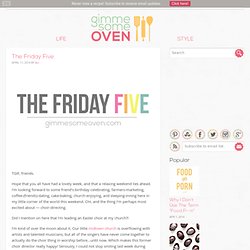 TGIF, friends. Hope that you all have had a lovely week, and that a relaxing weekend lies ahead. I'm looking forward to some friend's-birthday-celebrating, farmers-marketing, coffee-(friends)-dating, cake-baking, church-enjoying, and sleeping-inning here in my little corner of the world this weekend. OH, and the thing I'm perhaps most excited about — choir-directing. Did I mention on here that I'm leading an Easter choir at my church?! I'm kind of over the moon about it.
Mushroom Ramen Recipe : Food Network Kitchens
Bacon Smashed Potatoes Recipe at Epicurious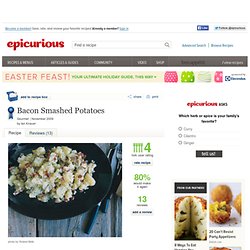 photo by Roland Bello yield Makes 8 servings active time 20 min total time 45 min Taking a cue from German potato salad, these Yukon Golds are smashed with a hot bacon dressing and then tossed with fresh dill. Steaming rather than boiling the potatoes keeps them fluffy.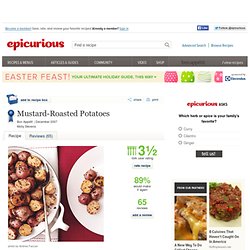 Mustard-Roasted Potatoes Recipe at Epicurious
photo by Andrea Fazzari yield Makes 10 servings The mustard coating on the potatoes gets crunchy and dark while the insides stay creamy and sweet.
Campbell's Kitchen: Lighter Green Bean Casserole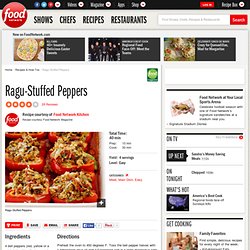 Ragu-Stuffed Peppers Recipe : Food Network Kitchens
Directions Preheat the oven to 450 degrees F. Toss the bell pepper halves with 1 tablespoon olive oil and 1/2 teaspoon salt in a large microwave-safe bowl. Cover and microwave until the peppers soften, 10 to 12 minutes.
Directions Gently mix the beef, egg, onion, cracker crumbs, sage, 1/2 teaspoon salt and a few grinds of pepper in a large bowl using your hands. Divide into 4 equal portions and shape into oval patties, about 1/2 inch thick. Heat 1 tablespoon butter in a large skillet over medium-high heat. Brown the patties, about 4 minutes per side. Transfer to a plate.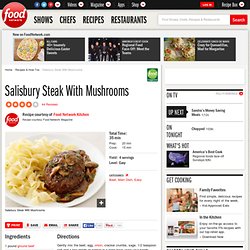 Salisbury Steak With Mushrooms Recipe : Food Network Kitchens
Maple-Glazed Chicken Recipe : Food Network Kitchens
Directions Pat the chicken dry and season all over with salt. Heat a large heavy skillet over high heat and add the olive oil. When the oil is hot, add the chicken skin-side down and cook, undisturbed, until the skin is browned and crisp, about 5 minutes. Turn the chicken and add the apples, shallots and sage to the skillet.
Chinese Hot-and-Sour Soup Recipe at Epicurious
Toss pork with dark soy sauce in a bowl until pork is well coated. Soak black and tree ear mushrooms in 3 cups boiling-hot water in another bowl (water should cover mushrooms), turning over black mushrooms occasionally, until softened, about 30 minutes. (Tree ears will expand significantly.) Cut out and discard stems from black mushrooms, then squeeze excess liquid from caps into bowl and thinly slice caps. Remove tree ears from bowl, reserving liquid, and trim off any hard nubs. If large, cut tree ears into bite-size pieces.
Moroccan Carrot Soup Recipe at Epicurious
I made some chicken broth today (which included an onion and large carrot)...so I decided to puree the carrot with some of the stock, added a few dashes of cumin, salt & pepper; reheated it on the stove with a dash of allspice and a squeeze of lemon--which gave me one DELISH bowl of soup!! Granted, my broth also had a few exotic things in it (including star anise, lemongrass, and a dried red pepper or two), but still. I'll definitely do this next I make stock instead of throwing out the carrot.
Marking a Milestone: Chocolate Whipped Cream Cookie Sandwiches March 31st, 2014 Dear readers, I'm back! Apologies for my extended absence, as the last few weeks were given over to finishing edits on my third cookbook. It's with a sense of relief and anticipation that I let go of the manuscript, and let the publisher take over.
Dessert First — A Passion for Pastry
Parmesan Scallion Biscuits