Reference
Get flash to fully experience Pearltrees
Just as every tree is different but still recognizably a tree, every story is different but contains elements that make it a story. By defining those before you begin you clarify the scope of your work, identify your themes, and create the story you meant to write. At Norwescon 2011 I sat in on a session called Outline Your Novel in 90-minutes led by Mark Teppo . I'll give you the brief, readable, synthesized version.
Tone/Attitude Words 1. accusatory-charging of wrong doing 2. apathetic-indifferent due to lack of energy or concern 3. awe-solemn wonder 4. bitter-exhibiting strong animosity as a result of pain or grief 5. cynical-questions the basic sincerity and goodness of people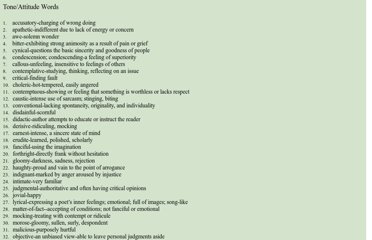 by Mark Nichol As English evolves, word meanings shift and turn, sometimes reversing themselves altogether. These ten words have shifted their senses over the years. In some cases, we are wise to likewise be flexible; in others, we relax our vocabulary at the expense of useful distinctions: 1.
Unsorted [/writers] James Patrick Kelly - Murder Your Darlings - "When time comes to make that final revision, however, you must harden your heart, sharpen the ax and murder your darlings." Greda Vaso - Determining the Readability of a Book - includes formulas for Gunning's Fog Index, Flesch Formula, Powers Sumner Kearl L. Kip Wheeler - Literary Terms and Definitions L. Kip Wheeler - Comp - Lit - Poetry - Links - more