Insights
Milwaukee Police News. The Clean Dictionary. Edits Quarterly × Ian Coyle. Swish - Betala enklare. Nizo for iPhone. Air Jordan 2012 - AJ2012. Yahoo! Axis - A new way to search and browse. UI Guidelines for Skeuomorphic Multi-Touch Interfaces. Gestural, multi-touch user interfaces have made using a computer interesting again.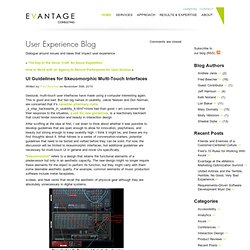 This is good and bad. But two big names in usability, Jakob Nielsen and Don Norman, are concerned that it's canadian pharmacy cialis _a_step_backwards_in_usability_6.html">more bad than good. I am concerned that their response to the situation, a call for new guidelines, is a reactionary backlash that could hinder innovation and beauty in interaction design. The ustwo™ Pixel Perfect Precision Handbook | ustwo™ We've now updated the Pixel Perfect Precision Handbook to version 2 – visit this blog post to download and read all about it.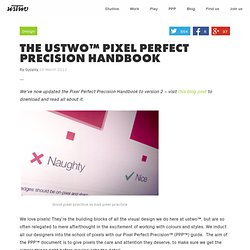 Good pixel practice vs bad pixel practice We love pixels! They're the building blocks of all the visual design we do here at ustwo™, but are so often relegated to mere afterthought in the excitement of working with colours and styles. We induct all our designers into the school of pixels with our Pixel Perfect Precision™ (PPP™) guide. The aim of the PPP™ document is to give pixels the care and attention they deserve, to make sure we get the simple things right before moving onto the detail. BACK TO THE FUTURE 2 (2011) : Irina Werning - Photographer. Riff Raff 1976 & 2011 London Andy 1967 & 2011 Los Angeles Johanes 1994 & 2011 Hamburg Maarje 1990 & 2011 Amsterdam.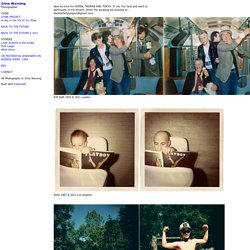 Home. Deadlines. Platform for social projects - 100% of your donations are forwarded. Loans that change lives. The Top Creative Minds in Digital. Unleashed into the digital wilds, creatives have responded with innovative, far-reaching ideas that leverage interactive's unique attributes.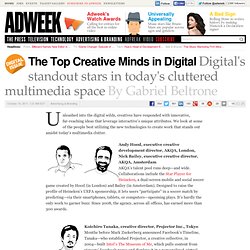 We look at some of the people best utilizing the new technologies to create work that stands out amidst today's multimedia clutter. Andy Hood, executive creative development director, AKQA, London, Nick Bailey, executive creative director, AKQA, Amsterdam AKQA's talent pool runs deep—and wide. Collaborations include the Star Player for Heineken, a dual-screen mobile and social soccer game created by Hood (in London) and Bailey (in Amsterdam).
Insights 2012. Marketing at the Intersection of Communications and Commerce We live in interesting times.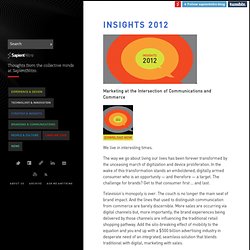 The way we go about living our lives has been forever transformed by the unceasing march of digitization and device proliferation. In the wake of this transformation stands an emboldened, digitally armed consumer who is an opportunity — and therefore — a target. The challenge for brands? Get to that consumer first … and last.
---