baking
Get flash to fully experience Pearltrees
Looks yummy, right? And let me tell you, this cinnamon bread really is yummy!
I had so much fun developing this recipe.
They are probably the best Oreo cakes I have ever tried. A lot of cake's that I have experimented with before are like a vanilla cake with bits of Oreo in them, which didn't really give them enough Oreo flavor.
Carrot cake is one of those desserts that I am always tempted to try wherever I see it on the menu.
Cheesecake Stuffed Strawberries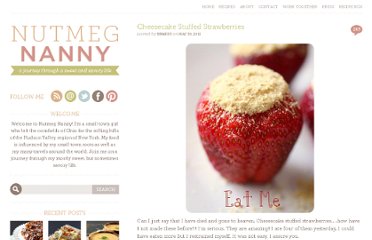 Ingredients: 4 large eggs 1/4 cup sugar (or agave nectar) 1/2 cup whipping cream (not whipped) 1/2 cup salted butter, melted 1 tsp vanilla extract 1/3 cup blanched almond flour 1/2 tsp ground cinnamon 1/4 tsp salt 4 large ripe pears, peeled, cored, and sliced
I have been experimenting with different mug cakes every since I heard about them about a year ago. None of them have been winners. They were either too chewy, too dry, or not sweet enough.
Now, I have a chocolate chip cookie recipe that I swear by.
Cowboy turkey meatloaf Cowboy turkey meatloaf, with the flavors of BBQ baked inside. Tags:
It's September, so apples are on the brain, can you tell? With apple cards , candy apples , yarn apples , I can't seem to get enough. Well, as I was browsing Pinterest , which I'm addicted to, I came across this post from Muses of Megret on baking your cupcakes into Valentine hearts .
I'm sorry. I know it's Monday morning and you probably came here for some pretty pictures of food that you could glance at, and then move on with your day… and here I go thrusting warm, soft cinnamon sugar bread in your face. It's not fair.