Booksmart
Get flash to fully experience Pearltrees
A slightly increased chance of cancer would have been likely, if those miners had lived long enough to develop cancer, which in general they would not have. A single bit of damage to DNA won't give you cancer, it's always cumulative, and even then relies on chance to actually knock something out that actually regulates cell-growth to even start causing problems. As you said, toxic components in make-up and such would probably have posed a greater danger in many cases, especially since the elite would have tended to live longer, allowing for greater cumulative doses. 3/20/11 11:44am <p style="text-align:right;color:#A8A8A8"></p>
Dear valued user, In 2010, Cramster joined forces with Chegg. Since then, we've been hard at work building the best of Cramster into Chegg.
" Buffalo buffalo Buffalo buffalo buffalo buffalo Buffalo buffalo " is a grammatically valid sentence in American English , used as an example of how homonyms and homophones can be used to create complicated linguistic constructs. It has been discussed in literature since 1972 when the sentence was used by William J. Rapaport , an associate professor at the University at Buffalo . [ 1 ] It was posted to Linguist List by Rapaport in 1992. [ 2 ] It was also featured in Steven Pinker 's 1994 book The Language Instinct as an example of a sentence that is "seemingly nonsensical" but grammatical.
Art by Laetitzia As we all know, communication is essential in society.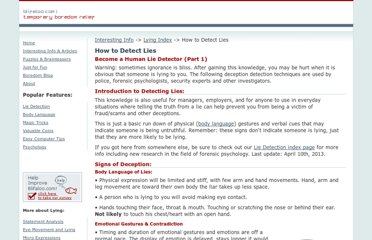 Interesting Info -> Lying Index -> How to Detect Lies Become a Human Lie Detector (Part 1)
The following is a guest post by Bailey Harris. There are many different sites offer free books online. Within minutes, you could find enough reading material in the form of e-books and audio books to keep you and your family entertained for months, if not years. The following sites provide free books that can be enjoyed online, downloaded to your computer, or transferred to an e-reader or MP3 player. E-books
Many cognitive biases have been demonstrated by research in psychology and behavioral economics . These are systematic deviations from a standard of rationality or good judgment.