Cooking Blogs
Millionaire's Shortbread. Since one half of the blue-eyed baking squad is currently blogging from waaaay across the pond in London, we figured we'd bake you lovely duckies a British treat.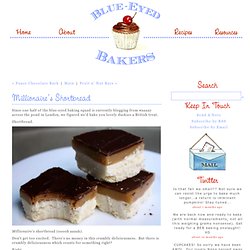 Shortbread. Millionaire's shortbread (ooooh aaaah). Don't get too excited. There's no money in this crumbly deliciousness. But there is crumbly deliciousness which counts for something right? A Tasty Recipe: Stuffed French Toast. Since Ree is somewhere in D.C. right now with her gushing armpits (sorry for that visual on a cooking blog), we've invited a very special guest to host the Tasty Recipe post this week.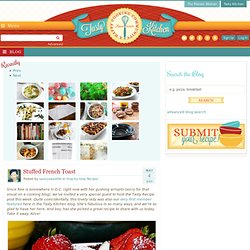 Quite coincidentally, this lovely lady was also our very first member featured here in the Tasty Kitchen blog. She's fabulous in so many ways, and we're so glad to have her here. And boy, has she picked a great recipe to share with us today. Take it away, Alice! Single Serving Pie in a Jar. These are individual-sized pies made in little glass jars that can go straight from your freezer to your oven to your mouth.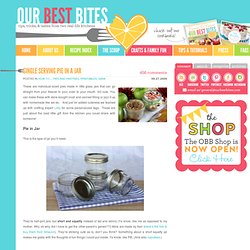 SO cute. You can make these with store-bought crust and canned filling or jazz it up with homemade like we do. And just for added cuteness we teamed up with crafting expert Lolly for some personalized tags. These are just about the best little gift from the kitchen you could share with someone! Pie in Jar. TasteSpotting | a community driven visual potluck. How to Make Focaccia Bread, Rosemary Focaccia Bread Recipe. 1 Stir the yeast into the 1/3 cup of slightly warm-to-the-touch water and let it rest for 10 minutes. 2 In a large bowl, pour in 2 1/4 cups of tepid water and 2 tablespoons olive oil.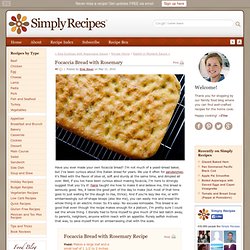 After the yeast has rested for 10 minutes and has begun to froth, pour it into the water-oil mixture. 3 Whisk in 2 cups of flour (either the bread flour or the all purpose, at this stage it doesn't matter which) and the tablespoon of salt. Add the rosemary. Then, cup by cup, whisk in the rest of the flour (both the bread flour and all purpose). Snickers Caramel Cheesecake Cookies. Happy Thursday!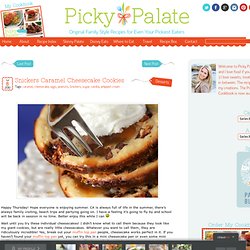 Hope everyone is enjoying summer. CA is always full of life in the summer, there's always family visiting, beach trips and partying going on. I have a feeling it's going to fly by and school will be back in session in no time. Devil's Cake Balls. If you haven't heard of cake balls yet, I recommend that you check out Bakerella's website to see what the fuss is all about.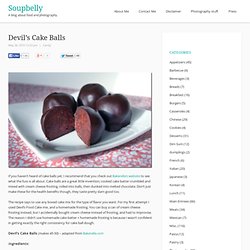 Cake balls are a great little invention; cooked cake batter crumbled and mixed with cream cheese frosting, rolled into balls, then dunked into melted chocolate. Don't just make these for the health benefits though, they taste pretty darn good too. The recipe says to use any boxed cake mix for the type of flavor you want. Noble Pig. Fried Dough Mozzarella Bites. These weren't as crazy amazing(cramazing?)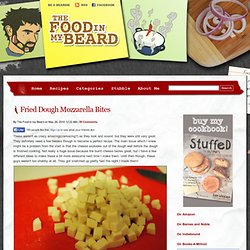 As they look and sound, but they were still very good. They definitely need a few tweaks though to become a perfect recipe. The main issue which I knew might be a problem from the start is that the cheese explodes out of the dough well before the dough is finished cooking. Not really a huge issue because the burnt cheese tastes great, but I have a few different ideas to make these a bit more awesome next time I make them. Until then though, these guys weren't too shabby at all. Zebra cake recipe, Zebra Cheesecake recipe @Not Quite Nigella. You know the story - girl meets recipe and falls in love after seeing recipe across the crowded internet.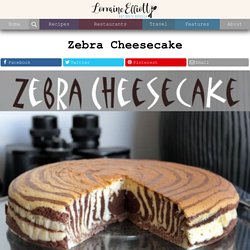 The recipe looks a bit different from what she is used to so girl is instantly intrigued. After the first tempting glimpse, girl can't get recipe out of her mind. Recipe even features in girl's dream that evening. Girl wakes up, thanks the gods of culinary fate that she has the ingredients to make that recipe and so begins the love story of the girl who met a Zebra cake. Tuty's lovely blog Scent of Spice was the blog that first introduced me to this amazing Zebra cake. The Domestic Mama & The Village Cook. The Pastry Affair - Home. Forkable. 101 Cookbooks - Healthy Recipe Journal. Cake batter blondies. | girl meets life. I don't say this very often.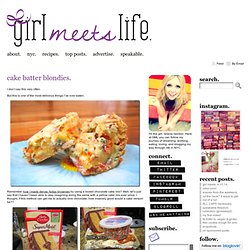 But this is one of the most delicious things I've ever eaten. Remember how I made dense, fudgy brownies by using a boxed chocolate cake mix? Well, let's just say that I haven't been able to stop imagining doing the same with a yellow cake mix ever since. I thought, if this method can get me to actually love chocolate, how insanely good would a cake version be?? Top Secret Recipes from Todd Wilbur | Restaurant Recipes and Name Brand Recipes.
---