Cooking
100 Painless Ways to Cut Calories. "Losing weight can be as simple as cutting out a meatball here and an egg roll there.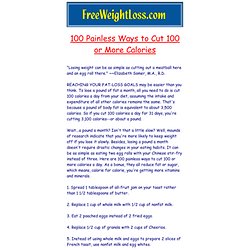 " ~~Elizabeth Somer, M.A., R.D. REACHING YOUR FAT-LOSS GOALS may be easier than you think. Halloween Cupcakes - Spooky Martha Stewart Halloween Cupcake Ideas. Prepare the vanilla or chocolate cupcake recipe.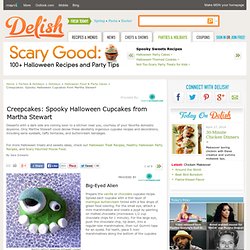 Spread each cupcake with a thin layer of meringue buttercream tinted with a few drops of green food coloring. For the small eye, attach a mini marshmallow and create a pupil by painting on melted chocolate (microwave 1/2 cup chocolate chips for 1 minute). For the large eye, push the chocolate chip, tip down, into a regular-size marshmallow, then cut Gummi tape for an eyelid. CalorieConnect.com. Camping PA - Readers Favorite Breakfast Recipes - StumbleUpon. Circle B Kitchen - Circle B Kitchen. Meatless Monday Enchilada Stacks. If you're like me (and I like to think that you are), you love enchiladas, but just don't have the time or inclination to make them as often as you'd love to be eating them.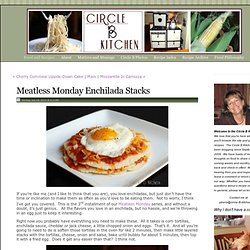 Not to worry, I think I've got you covered. This is the 3rd installment of our Meatless Monday series, and without a doubt, it's just genius. All the flavors you love in an enchilada, but no hassle, and we're throwing in an egg just to keep it interesting. Cinnamon Raisin Bread. I mean who doesn't love raisin cinnamon bread??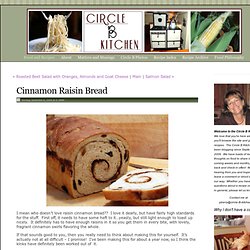 I love it dearly, but have fairly high standards for the stuff. First off, it needs to have some heft to it…yeasty, but still light enough to toast up nicely. It definitely has to have enough raisins in it so you get them in every bite, with lovely, fragrant cinnamon swirls flavoring the whole. If that sounds good to you, then you really need to think about making this for yourself. It's actually not at all difficult – I promise! Cinnamon Toast&Rolls. The USDA released its new food pyramid the other day (which is actually a plate now instead of a pyramid), and I am sorely disappointed to report that cinnamon rolls did not appear anywhere on that plate.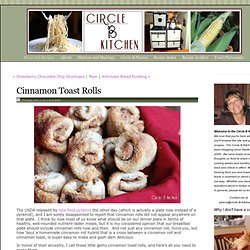 I think by now most of us know what should be on our dinner plate in terms of healthy, well-rounded nutrient-laden meals, but it is my considered opinion that our breakfast plate should include cinnamon rolls now and then. And not just any cinnamon roll, mind you, but how 'bout a homemade cinnamon roll hybrid that is a cross between a cinnamon roll and cinnamon toast, is super easy to make and gosh darn delicious. In honor of their ancestry, I call these little gems cinnamon toast rolls, and here's all you need to make them… The Infamous Jacques Torres Chocolate Chip Cookies.
Now, I have a chocolate chip cookie recipe that I swear by.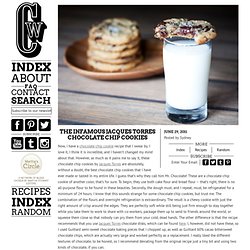 I love it, I think it is incredible, and I haven't changed my mind about that. However, as much as it pains me to say it, these chocolate chip cookies by Jacques Torres are absolutely, without a doubt, the best chocolate chip cookies that I have ever made or tasted in my entire life. I guess that's why they call him Mr. Miniature-reeses-cheescakes-with-peanut-butter-glaze from sweettmakesthree.com - StumbleUpon. Calories in Various Foods. Healthy Baked Chicken Nuggets | Ginas Skinny Recipes. Chunks of all white meat chicken breasts coated in breadcrumbs and parmesan cheese then baked until golden.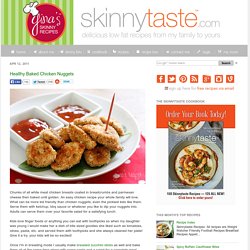 An easy chicken recipe your whole family will love. What can be more kid friendly than chicken nuggets, even the pickiest kids like them. Serve them with ketchup, bbq sauce or whatever you like to dip your nuggets into. Adults can serve them over your favorite salad for a satisfying lunch.
---