Helpful Websites (Used Weekly)
EasyCBM.com. Simply Learning Centers: Vocabulary Center. Print Free Fourth Grade Worksheets for Home or School. The fourth grade worksheets found here are meant to be used to supplement the work your child is already doing in school.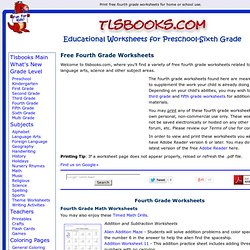 Depending on your child's abilities, you may wish to review these third grade and fifth grade worksheets for additional practice materials. You may print any of these fourth grade worksheets for your own personal, non-commercial use only. These worksheets may not be saved electronically or hosted on any other web site, blog, forum, etc. US States: Area and Ranking. Reading Strategies, Instruction, Worksheets | K-12 Teachers and Parents | The Differentiator. Try Respondo!
→ ← Back to Byrdseed.com The Differentiator. Medium Group Size - Icebreaker games collection. Passages to practice advanced phonics skills, fluency, and comprehension - FreeReading. Math Worksheets | Printable Math Worksheets for Various Math Topics. Fun Science Experiments for Kids - Cool Projects & Easy Ideas for Children. If you're looking for some fun science experiments for kids then you've come to the right place.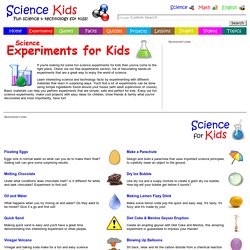 Check out our free experiments section, full of fascinating hands-on experiments that are a great way to enjoy the world of science. Learn interesting science and technology facts by experimenting with different materials that react in surprising ways. You'll find a lot of experiments can be done using simple ingredients found around your house (with adult supervision of course). Basic materials can help you perform experiments that are simple, safe and perfect for kids. Readers Theatre Scripts. © 2013 Chase Young.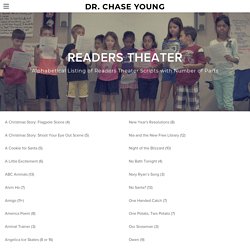 All rights reserved. Scrabble Letters ©Leo Reynolds. Some Rights Reserved. Highest, Lowest, and Mean Elevations in the United States. 1.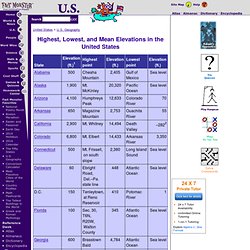 Approximate mean elevation. 2. Below sea level. Source: U.S. ReadWorks.org. Fourth Grade Reading Comprehension Worksheets. Symbols Homepage. Clip_chart_ebook.pdf. Print Free Fourth Grade Worksheets for Home or School. New York State Elementary Test Prep- ELA Grade 3. Reading Comprehension - 4th Grade Worksheets. Students read the passages and answer the questions that follow to check reading comprehension.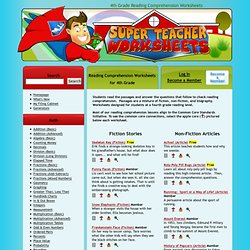 Passages are a mixture of fiction, non-fiction, and biography. Worksheets designed for students at a fourth grade reading level. Most of our reading comprehension lessons align to the Common Core Standards Initiative. To see the common core connections, select the apple core ( Reducing Behavior Problems in the Elementary School Classroom. Storyline Online. Genius Addition, Subtraction, and Multiplication Math Facts Test. Measurement Worksheets. Welcome to the measurement worksheets page at Math-Drills.com where you can measure up, measure down or measure all around!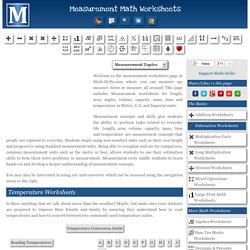 This page includes Measurement worksheets for length, area, angles, volume, capacity, mass, time and temperature in Metric, U.S. and Imperial units. Measurement concepts and skills give students the ability to perform tasks related to everyday life. Length, area, volume, capacity, mass, time and temperature are measurement concepts that people are exposed to everyday. Point of View Worksheets. Identifying the narrator's view point is an essential reading skill that is often assessed on standardized tests.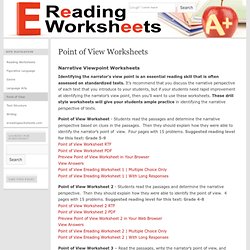 It's recommend that you discuss the narrative perspective of each text that you introduce to your students, but if your students need rapid improvement at identifying the narrator's view point, then you'll want to use these worksheets. These drill style worksheets will give your students ample practice in identifying the narrative perspective of texts. Point of View Worksheet - Students read the passages and determine the narrative perspective based on clues in the passages.
Then they should explain how they were able to identify the narrator's point of view. 4th Grade Rainbow Rockets - Transition Words and Phrases. Sequence: again, also, and, and then, besides, finally, first...second...third, furthermore, last, moreover, next, still, too, the next step, this takes us to Time: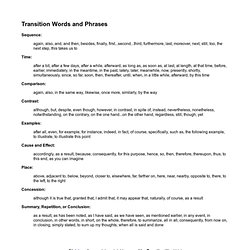 Worksheet Genius - free printable worksheets that can be differentiated and randomized at the touch of a button. Flash Card Printer. This generator prints Flash Cards in several different sizes with a selection of fonts and border styles.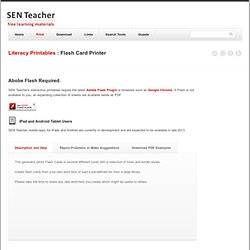 Create flash cards from your own word lists or load a pre-defined list from a large library. Please take the time to share any new word lists you create which might be useful to others. Add an idea for this particular printable or report a mistake on it. These A4 downloads were created by saving as PDF. Print directly using the above tool for higher quality printing up to and including A3 paper size. Super Teacher Worksheets.
Ordinal Numbers to 10 Worksheets. Fourth Grade Math Practice. WorksheetWorks.com. Curriculum and Instruction - Student Center Activities, Grades 4-5 - Student Center Activities, Grades 4-5. Frequently Asked Questions about the K-5 Student Center Activities.
Introduction During the Spring 2004 Florida Reading First school site visits, staff from the Florida Center for Reading Research (FCRR) determined that teachers may benefit from classroom materials that would be immediately useful in implementing independent Student Center Activities. In 2004-2005, a team of teachers at FCRR reviewed current research, collected ideas, and created materials for use in kindergarten and first grade classrooms. These Student Center Activities, Teacher Resource Guide, and accompanying Professional Development DVD can be accessed at: Welcome to Discovery Education. Login. Pearson SuccessNet Your Personalized Path to Classroom Success New Year Rollover This year, the New Year Rollover process for Pearson SuccessNet is scheduled for July 11-12, 2014.
This process is needed to remove classes and student progress data from Pearson SuccessNet in preparation for the new school year. Note that this year only one date will be offered. We will send out another message reminding you of this date along with information about exporting your student progress data. Top 100 Speeches of the 20th Century by Rank. Mrs. Santillana's 3rd Grade Resources. Words Their Way ; Online Course for Teachers, 5th Edition. FREE READABILITY FORMULAS TOOLS : FREE READABILITY TESTS FOR YOUR TEXT.
---