UsefulSites
Linux Command Directory
WhatFontIs: Online Font Identifier
Web designers nowadays use some pretty amazing fonts but sometimes they are so unique that they become hard to identify. WhatFontIs is a free online font identifier that can help you with that. Simply upload an image with the font you want to identify or specify the URL of the image. WhatFontIs will tell you the name of the font and in most cases also let you download it. You can also specify the tool to only display free fonts or free alternative fonts, display commercial fonts or to simply display all related fonts.
Photoshop CS5 for the Web
Basic Biology Offers Clues to Better Treatments By studying tumor biology at the molecular level, researchers are gaining a deeper understanding of drug resistance — and how to avoid it by designing pediatric cancer treatments tailored to specific mutations in a child's DNA. In a fruitful collaboration, pediatric oncologists and biochemists are targeting neuroblastoma, an often-deadly childhood cancer of the peripheral nervous system. Read More
Home
Groundbreaking, patient-focused and multidisciplinary One of the things that makes the Cancer Center at CHOP one of the best pediatric cancer programs in the nation is its long-standing commitment to pediatric cancer research. Driving this commitment is the Center for Childhood Cancer Research (CCCR), a Center of Emphasis at the Children's Hospital of Philadelphia Research Institute. The goal of CCCR is to find new treatments and cures for childhood cancer and to help eradicate the pain and suffering it causes. Our pediatric cancer research encompasses highly integrated basic, translational and clinical research involving physicians, nurses, psychologists, scientists and other health professionals who are all experts in their respective fields.
Pediatric Cancer Research | The Children's Hospital of Philadelphia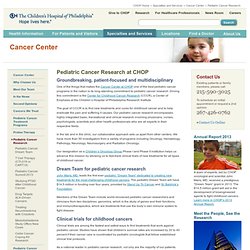 Pediatric Cancer Patient Stories | The Children's Hospital of Philadelphia
Welcome to The Children's Hospital of Philadelphia Research Institute
Joshua Kahan Fund: Home
bjankord/Hi-Res-Images
abstraction of css
Extensis |  Font Management, Web Font, and Digital Asset Management Solutions and Software
Cloud-based Mobile App Builder
Anthony Robertson || Web Interface Designer
Kuler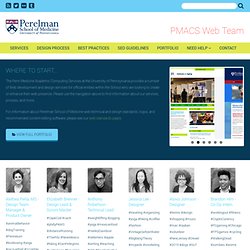 Where to Start... The Penn Medicine Academic Computing Services at the University of Pennsylvania provides a number of Web development and design services for official entities within the School who are looking to create or enhance their web presence. Please use the links below to find information about our services, process, and more. For information about Perelman School of Medicine web technical and design standards, logos, and recommended content editing software , please see our web standards pages .
Home || Web Team || Perelman School of Medicine at the University of Pennsylvania