Design inspiration
For Real: Music Video by André Gaspar. Drawing ARCHITECTURE. Brooding Cityscapes Painted with Oils by Jeremy Mann. San Francisco-based artist Jeremy Mann executes these sublime, moody cityscapes using oil paints.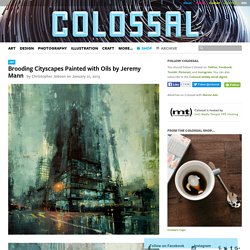 To create each work he relies on a wide range of techniques including surface staining, the use of solvents to wipe away paint, and the application of broad, gritty marks with an ink brayer. The resulting paintings are dark and atmospheric, urban streets seemingly drenched in rain and mystery. Masks. Designer Bertjan Pot created these masks out of a material experiment.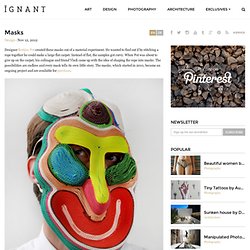 He wanted to find out if by stitching a rope together he could make a large flat carpet. Instead of flat, the samples got curvy. When Pot was about to give up on the carpet, his colleague and friend Vladi came up with the idea of ​​shaping the rope into masks. The possibilities are endless and every mask tells its own little story. The masks, which started in 2010, became an ongoing project and are available for purchase. KNITTING CLOCK. The 365 Knitting Clock by Sirene Elise Wilhelmsen is stitching the time as it passes by.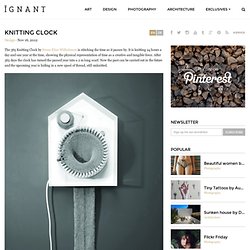 It is knitting 24 hours a day and one year at the time, showing the physical representation of time as a creative and tangible force. After 365 days the clock has turned the passed year into a 2 m long scarf. Now the past can be carried out in the future and the upcoming year is hiding in a new spool of thread, still unknitted. All images © Miriam Lehnart. Monika Traikov. Monika Traikov weckt mit ihren Collagen nostalgische Erinnerungen an vergangene Tage.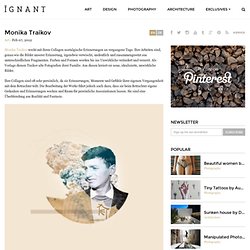 Ihre Arbeiten sind, genau wie die Bilder unserer Erinnerung, irgendwie verwischt, undeutlich und zusammengesetzt aus unterschiedlichen Fragmenten. Farben und Formen werden bis ins Unwirkliche verändert und verzerrt. Als Vorlage dienen Traikov alte Fotografien ihrer Familie. Aus diesen kreiert sie neue, idealisierte, unwirkliche Bilder. Ihre Collagen sind oft sehr persönlich, da sie Erinnerungen, Momente und Gefühle ihrer eigenen Vergangenheit mit dem Betrachter teilt. Le Cercle Fermé. The notion of space is central to understand 'Le Cercle Fermé' by Martine Feipel and Jean Beachameil.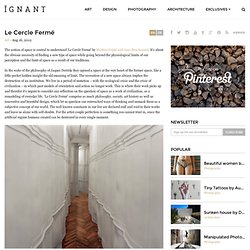 It's about the obvious necessity of finding a new type of space while going beyond the physiological limits of our perception and the limit of space as a result of our traditions. In the wake of the philosophy of Jaques Derrida they opened a space at the very heart of the former space, like a little pocket hidden insight the old meaning of limit. The recreation of a new space always implies the destruction of an instituiton. We live in a period of mutation – with the ecological crisis and the crisis of civilization – in which past models of orientation and action no longer work. Chris Fraser. Eine 'Camera obscura' ist ein dunkler Raum oder Behälter, in den durch ein kleines Loch Licht hineinfallen kann.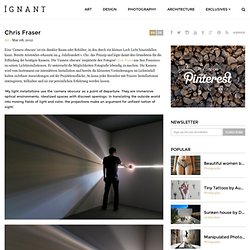 Bereits Aristoteles erkannte im 4. Jahrhundert v. Chr. das Prinzip und legte damit den Grundstein für die Erfindung der heutigen Kamera. Chromosaturation. The Chromosaturations by Carlos Cruz-Diez relate to the idea that in the origin of every culture lies a primary event as a starting point.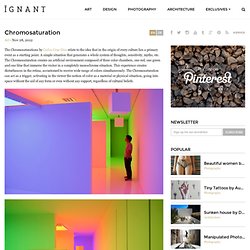 A simple situation that generates a whole system of thoughts, sensitivity, myths, etc. The Chromosaturation creates an artificial environment composed of three color chambers, one red, one green and one blue that immerse the visitor in a completely monochrome situation. This experience creates disturbances in the retina, accustomed to receive wide range of colors simultaneously. The Chromosaturation can act as a trigger, activating in the viewer the notion of color as a material or physical situation, going into space without the aid of any form or even without any support, regardless of cultural beliefs. All images © Carlos Cruz-Diez. INSTA FAVS #18: Julia Manchik. Julia Manchik is a photographer and graphic artist who is based in Seattle with her husband, best friend, and business partner Yuriy.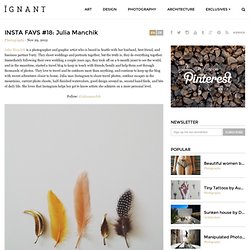 They shoot weddings and portraits together, but the truth is, they do everything together. Immediately following their own wedding a couple years ago, they took off on a 6-month jaunt to see the world, and in the meantime, started a travel blog to keep in touch with friends/family and help them sort through thousands of photos. Yaron Steinberg. Der 29-jährige Yaron Steinberg stammt aus Jerusalem, Israel und hat dort sein Diplom in visueller Kommunikation an der Bezalel Arcademy of Arts and Design absolviert.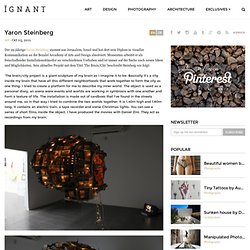 Momentan arbeitet er als freischaffender Installationskünstler an verschiedenen Vorhaben und ist immer auf der Suche nach neuen Ideen und Möglichkeiten. Sein aktuelles Projekt mit dem Titel 'The Brain/City' beschreibt Steinberg wie folgt: 'The brain/city project is a giant sculpture of my brain as I imagine it to be. Basically it's a city inside my brain that have all this different neighborhoods that work together to form the city as one thing. I tried to create a platform for me to describe my inner world.
Aesthetic Oiseau: Origami Lamp Shades. My recent Etsy wanderings introduced me to some beautiful paper lamp shades by shop Studio Snowpuppe based in the Netherlands.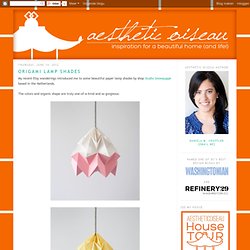 The colors and organic shape are truly one-of-a-kind and so gorgeous: I've never seen anything like it, have you? I think these are a great option if you're looking for a modern light fixture, but nothing too cold or harsh. These are modern in their aesthetic but warm in their shape and form. Don't you love that Etsy lets us tap into global creativity? Cat Inspired Lighting by House of MiCha. Lighting | March 28, 2011 2:41 PM | Leave a Comment Lighting takes a cute turn with these cat inspired lamps by House of MiCha. The black cat is given a whole new interpretation with these cat shaped designs - instead of meaning something ominous, it is a bearer of light.
Strand installation by Stuart Haygarth at Macmillan Cancer Centre. Combs, lighters and babies' dummies are among the hundreds of objects found washed up on British beaches and then hung in the atrium of a new London cancer centre by designer Stuart Haygarth. Stuart Haygarth was asked by University College London Hospitals NHS Foundation Trust to create a permanent installation for a new Macmillan cancer centre in central London. Called Strand, the artwork comprises hundreds of objects found during a 500-mile coastal walk from Gravesend in Kent to Land's End in Cornwall.
The objects were categorised by colour and suspended from the hospital's atrium as if exploding outwards, an approach that Haygarth has used before to make chandeliers from debris such as spectacle lenses and plastic bottles. "You can see from the collections of objects the variety is immense - an archive of mass production," Haygarth told Dezeen. Zieharsofika upholstery made by folding foam mats by Meike Harde.
Product news: German design graduate Meike Harde has designed a range of upholstered benches and stools simply by folding foam mats and fixing them to wooden frames with elastic bands. Meike Harde created the furniture with the motivation to explore new methods of upholstery construction, aiming to create a stiff cushion from a flat foam mat. "Other upholstery products are trying to use fabric without wrinkles. I want to use the natural creases in a big dimension as ornamentation, and to construct stiffness," explains Meike, adding that stretching fabric over foam to create a flat finish requires a difficult construction process that takes a lot of time.
By contrast, the simple, fast construction method that Meike has invented uses just three components: foam, rubber bands and wood. CMYK lamp by Dennis Parren. Dutch Design Week: this lamp by designer Dennis Parren casts a network of coloured shadows. Three different-coloured LEDs project light upward from a circular platform at the base of the CMYK lamp, past thin white metal bars that split the light to cast cyan, magenta and yellow shadows onto surrounding surfaces. Red, green and blue shadows are created where the different colours overlap.
Cyan, magenta and yellow, along with black, make up the CMYK subtractive colour model used in printing, while red, green and blue make up the RGB additive colour model common to electronic screens. Parren explains how the properties of LED bulbs enabled him "to show how the primary colors of light - red, green and blue - on the one hand, and the pigment colours - cyan, magenta and yellow - on the other, interact. The effect it produces may be called the aesthetics of LED light. " RSA House chandeliers by Troika. These chandeliers by London designers Troika use large fresnel lenses to shape the light from LEDs suspended below them into overlapping geometric patterns on the ceiling of the Royal Society of Arts' headquarters in London. The two chandeliers form part of a refurbishment project by Matthew Lloyd Architects, due for completion this summer. Corian rings frame the lenses, suspended above the polished brass cradles that each contain eight high-power LEDs.
Troika's studio is on Laburnum Street in Hackney and Matthew Lloyd Architects are on Kingsland Road. Check out our showcase of design from the borough here. Main : it's raining elephants. Wasseraufbereitung in der DDR on Behance. I need a guide. Artists - Pohoda. Tube Map Radio by Yuri Suzuki for Designers in Residence. Reinier de Graaf of OMA presents "architecture with a social conscience" Biennale Interieur 2012: Biennale in the City, City in The Biennale. Structure of Shadow by Bohyun Yoon. A Quiet Celebration brass mirrors by Morie Nishimura. Hypnagogia set design by Ryo Matsui Architects. The Dovecote Studio by Haworth Tompkins. Hallo Light by 45 Kilo. #17 | ascending projections - The Draftery. The Inspiration Grid : Design Inspiration, Illustration, Typography, Photography, Art, Architecture & More.
The Inspiration Grid : Design Inspiration, Illustration, Typography, Photography, Art, Architecture & More. Building by Earnest Studio and Emilie Pallard. Negative utopias and forewarning images of the horrors which. I want to be where you are. Jack the sound barrier. Bring the noise. Evolution is Convenient. We are sick with space. Don't fall in love with everyone you see. ... not to reproduce what we can already see, but to make visible. All you pretty things looking for somebody. Three quarks for Muster Mark! Designjunction announces exhibitor line-up. Tiny Travelling Theatre by Aberrant Architecture. Serpentine Gallery Pavilion 2012 by Herzog & de Meuron and Ai Weiwei. OWEN by Tacklebox. Casa Roc by Nook Architects.
Mike Mitchell. Sweet Station. Christine Kim. Eric Standley. Paper500project.files.wordpress.com/2012/02/2. Spiritual emptiness is a universal disease. Our environment is a complex of frequencies and angles.
Aurora Robson's Ethereal Plastic Art Uses up to 20,000 Recycled Bottles Recycled Plastic Art by Aurora Robson. La Bohème by AVA Architects. AS Aperitivo by Nika Zupanc. Wood Warm Wight Apartment by Peter Kostelov. Bits of Wood by Pepe Heykoop. Secret Stash. Tuft Pula byNumen/For Use. Designed in Hackney: East London Furniture.
The Blocks by Studio Toogood. Dragon Skin Pavilion by LEAD (HK/NL) and EDGE (FI) 28 Series Desk Lamp by Omer Arbel for Bocci. Tiny Travelling Theatre by Aberrant Architecture. The Bank by Liz Muller for Starbucks. Tea House by Archi-Union. NikeFuel Station at Boxpark. Days Lost by Katja Mayer and Peter Chadwick. Le Turk. Makoto Aida. Takanori Aiba. Red Bull Music Academy by Langarita-Navarro Arquitectos. Starbucks Coffee at Dazaifu Tenman-gū by Kengo Kuma and Associates. Place Paul Verlaine. The Inspiration Grid : Design Inspiration, Illustration, Typography, Photography, Art, Architecture & More. The Kimball Art Centre by BIG. Beautiful/Decay Cult of the Creative Arts - StumbleUpon. Hildur Bjarnadottir. Hearth House by AOC. Living Pavilion. Singel by Laura Álvarez Architecture. Sweet Alchemy by Kois Associated Architects. Fugga | The Strange Attractor. Raphael volkmer: intenso - the intensive table.
Valentin loellmann: m.&mme new pieces. Gradation and Cube Air Vases by Torafu Architects for Ligne Roset. Red Pif Restaurant and Wine Shop by Aulík Fišer Architekti. Art video of the month - LIGHT SCULPTURES. Urbanears at Boxpark by 42 Architects. Slice of Pizza Sleeping Bag.
---