Keithscovell
KeithScovell
CPG & Retail Industry - Market focused Business Models - Pull Based Social Channel and Its Impact on CPG/Retail Industry - Market Sensing and Market Stimuli -
"When I ask my team about customer service, I get high-five reviews. When I meet with my customers, I get thumbs-down feedback. I find the measurement of customer service to be one of the most difficult."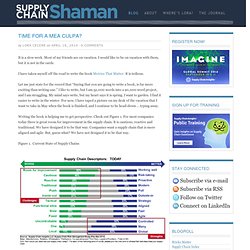 Supply Chain Shaman | Lora Cecere – Supply chain excellence
Why Cloud Geography Matters in a Post-Snowden/NSA Era Getting to Know Your Cloud Provider's Jurisdiction Is More Important than Ever Download the Quark snapshot This Quark examines what's at stake in data center location, and reports on how one U.S. cloud identity innovator, OneLogin, is thinking more strategically about geography, with a significant commitment to new data centers in Europe. Read MoreJanuary 21, 2014 | Analyst: Steve WilsonLog in to Purchase
Home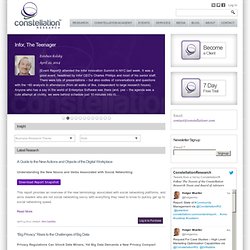 As an analyst and research firm focused on disruptive business trends, our clients and others frequently ask us what we are paying attention to and what we are researching. With this in mind, below we share key research themes — four business disruptions — that have the potential to significantly impact organizations and consumers during the next three years. Everything Digital: An increasingly digital landscape – including data, devices, platforms and experiences –- that will envelop consumers and businesses. Everything Digital is the increasingly digital environment that depends on an evolving ecosystem of interoperable data, devices, platforms –- experienced by people and business.
Research Themes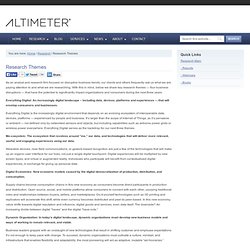 The crowd is bypassing traditional companies by sharing goods, services, space, and money with each other in the Sharing Economy. People are being empowered to build their own goods in the Maker Movement by crowd funding, tapping global marketplaces, and preparing to accelerate this with 3D printing. You see, the crowd, is starting to perform like a company: self-financing, self-designing products, self-manufacturing, and self-selling to each other. So, what does this growing trend mean for traditional businesses? In my closing slides to corporate audiences about the Collaborative Economy, I attempt to tie everything together on this one summary slide. While it's best understood after the full presentation, the slide can, hopefully, stand on its own.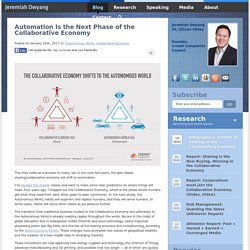 Web Strategy by Jeremiah Owyang | Social Media, Web Marketing
Click the local Home Depot ad and your email address gets handed to a dozen companies monitoring you. Your web browsing, past, present, and future, is now associated with your identity. Swap photos with friends on Photobucket and clue a couple dozen more into your username.
Tracking the Trackers: Where Everybody Knows Your Username | Stanford Center for Internet and Society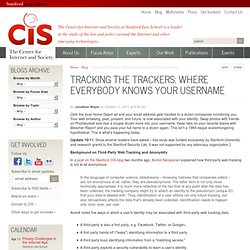 A coalition of Internet giants including Google Inc. GOOG +1.67% Google Inc. Cl C U.S.: Nasdaq $564.14 +9.24 +1.67% April 9, 2014 4:00 pm Volume (Delayed 15m) : 3.08M AFTER HOURS $564.83 +0.69 +0.12% April 9, 2014 4:04 pm Volume (Delayed 15m): P/E Ratio 14.80 Market Cap $375.09 Billion Dividend Yield N/A Rev. per Employee $1,250,730 04/08/14 Turkey Slightly Loosens Grip o... 04/03/14 Mozilla CEO Brendan Eich Steps... 04/03/14 Microsoft Frames Itself as Und... More quote details and news » GOOG in Your Value Your Change Short position has agreed to support a do-not-track button to be embedded in most Web browsers—a move that the industry had been resisting for more than a year.
Web Companies Agree to Support 'Do Not Track' System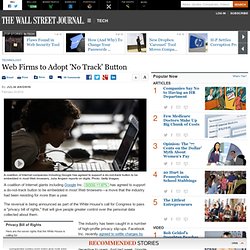 One of the fastest-growing online businesses is the business of spying on Internet users. Using sophisticated software that tracks people's online movements through the Web, companies collect the information and sell it to advertisers. Every time you click a link, fill out a form or visit a website, advertisers are working to collect personal information about you, says Joseph Turow, a professor at the Annenberg School for Communication at the University of Pennsylvania. They then target ads to you based on that information.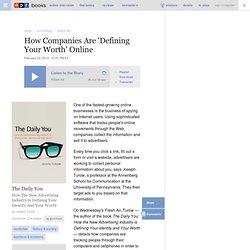 Joseph Turow: How Companies Are 'Defining Your Worth' Online
http://gigaom.com/cloud/the-supreme-court-big-data-and-1984/
On Tuesday, the Supreme Court of the United States heard oral arguments in a case that could decide how connected the concept of big data is to constitutional expectations of privacy. The case, United States v. Jones, is specifically about whether police needed a search warrant to place a GPS device on a suspect's car and monitor his movements for 28 days, but the Court's holding could have a much broader effect. Several justices seized upon a very important question: How much data is too much before allowable surveillance crosses the line into an invasion of privacy? Technology is at the core of the discussion.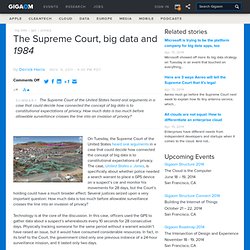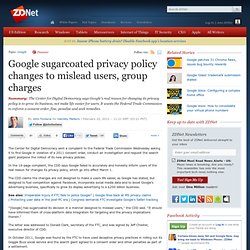 Google sugarcoated privacy policy changes to mislead users, group charges
The Center for Digital Democracy sent a complaint to the Federal Trade Commission Wednesday asking it to find Google in violation of a 2011 consent order, conduct an investigation and request the search giant postpone the rollout of its new privacy policies. In the 16-page complaint, the CDD says Google failed to accurately and honestly inform users of the real reason for changes its privacy policy, which go into effect March 1. The CDD claims the changes are not designed to make a users life easier, as Google has stated, but designed to fuel competition against Facebook, incorporate social media data and to boost Google's advertising business, specifically to grow its display advertising to a $200 billion business.
The Internet has become indispensable for most of us. Shopping. Connecting with friends. Banking. Blogging. Reviewing medical records.
National Strategy for Trusted Identities in Cyberspace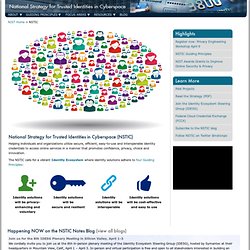 David Birch: Identity without a name
Google Busted With Hand in Safari-Browser Cookie Jar | Threat Level
Google intentionally circumvented the default privacy settings of Apple's Safari browser, using a backdoor to set cookies on browsers set to reject them, in the latest privacy debacle for the search and advertising giant. Google immediately disabled the practice after the Wall Street Journal disclosed the practice Thursday night, which was discovered by Stanford researcher Jonathan Mayer and confirmed by security consultant Ashkan Soltani. Safari, which accounts for about 6% of desktop browsing and more than 50% of mobile browsing, is the only major browser to block so-called third-party cookies by default. When you visit a website, all browsers, including Safari, allow that site to put a small tracking file on your computer, which allows the site to identify a unique user, track what they've done and remember settings. However, many sites also have Facebook "Like" buttons, ads served by third parties, weather widgets powered by other sites or comment systems run by a third party.
Jerry - Articles About Big Data
Welcome! New and Improved Areas Words I Love My Beliefs My Event Schedule
Manage (and make cash with?) your data online
Personal lets users store data from multiple sites and then decide whom, if anyone, they want to share it with. New companies seek to help Web users take better control of their personal data One company, Personal, says users could one day trade data for perks, cash Singly offers data lockers that developers will use for personalized apps Google, Facebook and others have made billions by harnessing user data
Issues Final Commission Report on Protecting Consumer Privacy
The Federal Trade Commission, the nation's chief privacy policy and enforcement agency, issued a final report setting forth best practices for businesses to protect the privacy of American consumers and give them greater control over the collection and use of their personal data. In the report, "Protecting Consumer Privacy in an Era of Rapid Change: Recommendations For Businesses and Policymakers," the FTC also recommends that Congress consider enacting general privacy legislation, data security and breach notification legislation, and data broker legislation. "If companies adopt our final recommendations for best practices – and many of them already have – they will be able to innovate and deliver creative new services that consumers can enjoy without sacrificing their privacy," said Jon Leibowitz, Chairman of the FTC.
Blasts illegal use of "plastic drones" to spy on Americans in their backyards Steve Watson Infowars.com May 16, 2012 Judge Andrew Napolitano has warned Congress not to act "like potted plants" regarding the increased use of unmanned surveillance drones without warrants over US skies by military, government, and law enforcement agencies. Echoing the recent comments of his Fox News colleague Charles Krauthammer, Napolitano also said that "The first American patriot that shoots down one of these drones that comes too close to his children in his backyard will be an American hero."
» Judge Napolitano: First Patriot To Shoot Down A Government Spy Drone Will Be A Hero Alex Jones
How open is your internet? An interactive map | Technology
Map: Where are the gun permits in your neighborhood? | The Journal News | LoHud.com | lohud.com
Latest in Web Tracking: Stealthy 'Supercookies'
The Advertising Industry Has Quietly Launched One Of History's Biggest Efforts In Social Profiling - Business Insider
Dick Hardt dot org
Avi Rubin: All your devices can be hacked
The New Pay Phone and What It Knows About You
Massive Data Breach Strikes Visa, MasterCard, Others
The CIA wants to spy on you through your TV: Agency director says net-connected gadgets will 'transform' surveillance
How Companies Learn Your Secrets
Big Data and the Stalker Economy
March 2012 | Retail Insight Blog
Google deliberately stole information but executives 'covered it up' for years
Webcam Hacker Luis Mijangos: Newsmakers
Facebook, Google to Stand Trial in India
Cookie Law Solutions | PredictiveIntent
Spectrum Crunch: The cell phone industry hits its limits - Feb. 21
Outlook: Monetizing mobile bandwidth
Mobile's Coming Costs Put CFOs on the Spot CIO
Blog Archive » Shopatron redefines Vendor Relationships
Is Procter & Gamble Losing Its Edge on the Competition? | News
F-Commerce Trips as Gap to Penney Shut Facebook Stores: Retail
Brands Give Facebook F-Commerce an F
How Facebook Can Improve Upon Its 'F' Grade in F-Commerce
Infographic: A look into the future of Facebook 2012 - 2025
Understanding And Engaging The Digital Shopper - SymphonyIRI Group
Brands struggling to follow consumer journey online, finds IAB
Why QR Codes Won't Last
Marketing Infographics
Clay Christensen's Milkshake Marketing
Amex Invests $100 Million In Its Future: Digital Ecosystem, Not The Plastic Card
The "Unhyped" New Areas in Internet and Mobile
Google's Mobile Sales Head: US Smartphone Ownership Grew 7% Last Year — Plus, Predictions
Amazon Has Tried Everything to Make Shopping Easier. Except This.
BloomReach Crunches Big Data To Deliver The Future Of SEO and SEM
The 5 Must-Reads on Enterprise Social within the Last Month
5 Paradoxes Shaping the Future of Mobile Commerce
The Everything Project: Building A Google For The Mobile Web App Ecosystem