Kids
Tie Dye Window Decorations | Wendolonia. We've been having a lot of rainy weather around here and the kids have been stuck inside for over a week now.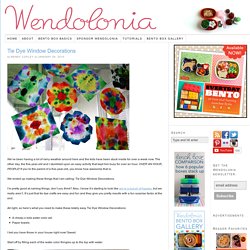 The other day, the five-year-old and I stumbled upon an easy activity that kept him busy for over an hour. OVER AN HOUR, PEOPLE! Melted Crayons Favor: DIY Wedding Ideas. Posted on May 23, 2011 by Christina If you are inviting kids to your wedding, you will love these favors made from melted crayons!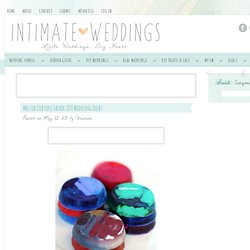 My girls and I had a blast making these melted crayons and we loved the final result. Simply a stack of three or four crayon pucks and tie with a ribbon or some raffia. Add a notepad or coloring book and you have the perfect wedding favor for the kids at your wedding! Hippo Paint. Make your own jellyfish in a bottle. & BhoomPlay. ~ Note for Thai fans ~ เป็นโพสเก่าที่มีแฟนบล๊อกจากต่างประเทศขอมาให้เขียนเป็นภาษาอังกฤษนะคะส่วนแฟนบล็อกที่ยังไม่เคยอ่านเรื่องนี้เลย ฉบับภาษาไทยดูที่นี่ค่ะ The other day, while I was thinking to get something to put in the water bottle for Bhoom to shake for fun.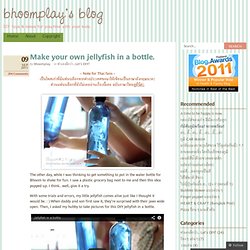 I saw a plastic grocery bag next to me and then this idea popped up. I think.. well, give it a try. How to turn "water" into marbles. Tot Treasures: SLIME. Don't you LOVE it when your little one is over the moon about an activity you shared together?!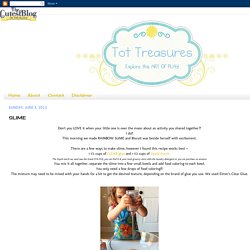 I do!! This morning we made RAINBOW SLIME and Biscuit was beside herself with excitement. There are a few ways to make slime, however I found this recipe works best ~ 1 1/2 cups of CLEAR glue and 1 1/2 cups of liquid starch. Wedding High: DIY Cloud Lights for your Wedding. How amazing would these look hung around your reception hall or indeed at an outdoor ceremony!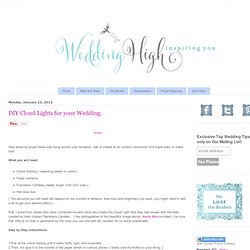 And super easy to make too!! What you will need: How To Mix Chalkboard Paint in Any Color. We love using chalkboards as backdrops for displays and parties (like this one here!).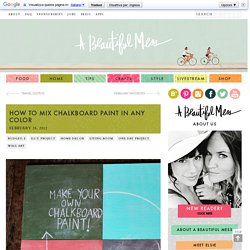 So we were super excited to learn that you can create your own custom colors-and it's really easy! We first learned how from Martha Stewart whose tutorial you can read here. She recommends that you use latex paint, but we tried it out with acrylic paints with much success. Here's how you too can create your own chalkboard paint... Knitty Gritty | Toddler Crafts. Absorbing Artwork | Toddler Crafts. Crafts: Pierced Sun Catcher | Tween Crafts - Fun, Cool Crafts for Tweens | FamilyFun. 52 Weeks Project. How To Felt Over Soap - Mielkes Fiber Arts. How to felt over a bar of soap!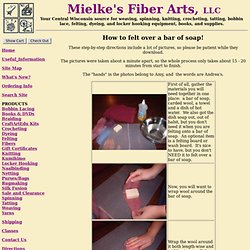 These step-by-step directions include a lot of pictures, so please be patient while they download. The pictures were taken about a minute apart, so the whole process only takes about 15 - 20 minutes from start to finish. The "hands" in the photos belong to Amy, and the words are Andrea's. P.S. Since posting these directions, we've had a lot of questions about felted soap. 31 Insanely Easy And Clever DIY Projects. - StumbleUpon. Posted by: Cathy on May 22, 2012 Tagged in: Untagged I just loved this Paint swatch chandelier!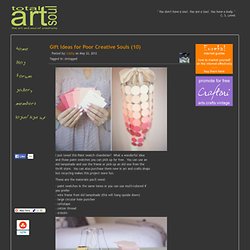 What a wonderful idea and those paint swatches you can pick up for free. "Stained Glass" Votive Holders. By Jenny Ryan Many times when I'm at the grocery or drug store, I can't resist throwing a few scented votive candles in my cart.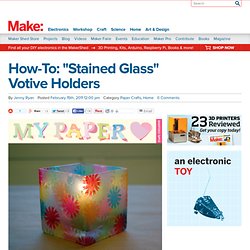 When I'm ready to burn them, it's easy enough to sit one on a cute little vintage china saucer, but I recently decided to try and find a fancier display solution for them. I also wanted the project to be inexpensive, and the materials used to be things I already had on hand. I was inspired by memories of making faux-stained glass in elementary school and came up with these fun little glass votive holders. Do stuff! & Ten minute no-sew recycled t-shirt bag! Tutorial time!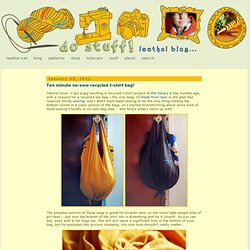 I got a gig teaching a recycled t-shirt project at the library a few months ago, with a request for a recycled tee bag – the only bags I'd made from tees in the past had required sturdy sewing, and I didn't want hand-sewing to be the only thing holding the bottom closed in a class version of the bags, so I started brainstorming about some kind of hand-sewing-friendly or no-sew bag idea…. and here's what I came up with! The simplest version of these bags is great for smaller tees, or the more light-weight kind of girl-tees – just turn the bottom of the shirt into a drawstring and tie it closed!
As you can see, even with a not huge tee, this will still leave a significant hole in the bottom of your bag, but for purposes like grocery shopping, this size hole shouldn't really matter… But to make smaller holes, just make more than one of them! Here's a bag bottom with 2 holes:
---