Divers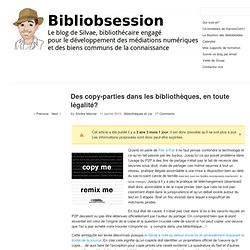 Quand on parle de Pair à Pair il ne faut jamais confondre la technologie et ce qu'on fait passer par les tuyaux.
Des copy-parties dans les bibliothèques, en toute légalité?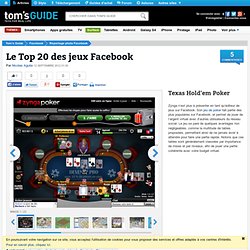 Zynga n'est plus à présenter en tant qu'éditeur de jeux sur Facebook. Son jeu de poker fait partie des plus populaires sur Facebook, et permet de jouer de l'argent virtuel avec d'autres utilisateurs du réseau social. Le jeu se pare de quelques avantages non négligeables, comme la multitude de tables proposées, permettant ainsi de ne jamais avoir à attendre pour faire une partie rapide. Notons que ces tables sont généralement classées par importance de mises et par niveaux, afin de jouer une partie cohérente avec votre budget virtuel.
Le Top 20 des jeux Facebook : Texas Hold'em Poker
Dave Kerpen is the CEO of Likeable, a social media agency that has worked with more than 200 leading brands including 1-800Flowers.com, Verizon and Neutrogena. He is author of Likeable Social Media. Any brand worth their social media salt has a presence on Facebook.
8 Brands That Have Found Success on Facebook & What We Can Learn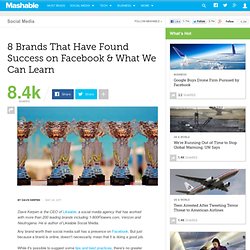 David Spark is a veteran tech journalist reporting for the branding firm Liquid Agency.
Why Sharing Online Content Might Be Too Easy
It's the blogging question that people have been asking for years. I see it on Twitter all the time. Which is better, short or long blog posts?
Long Posts vs. Short Posts: 10 Things To Consider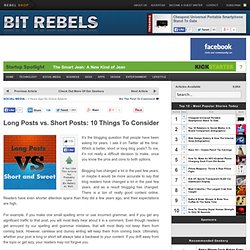 Des scientifiques attrapent des requins à main nue - curiosphere
Web Cuts | Ocean10 | National Geographic
Photo of Enric Sala on board the National Geographic Endeavour by TED/James Duncan DavidsonAnother morning walk on land to watch iguanas, frigatebirds, and sea lions.
Videos, TV Shows & Photos - UK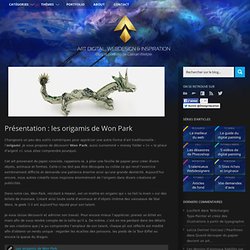 Changeons un peu des outils numériques pour apprécier une autre forme d'art traditionnelle : l'origami.
Présentation : les origamis de Won Park « Design Spartan : Graphisme, Webdesign, Digital painting, Illustration…