Twitter
Brands. Client. Customer. VW. Michaeljackson. Firefox. FT. A tiny thread. Twitter Tees by Threadless - Tweets on Tees. Awesome! Beth's Blog: How Nonprofits Can Use Social Media: Alistair. This was originally published at the Rednod blog by Alistair Croll, Sarah Severson, and Alex Bowyer.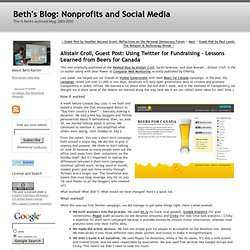 Alistair Croll is the co-author along with Sean Power of Complete Web Monitoring recently published by O'Reilly. Last week, we helped out our friends at Visible Government with their Beers for Canada campaign. In the end, the campaign raised just over $1,000 in two days; donations will help open government data to citizens and promote transparency in public offices. #ukhols Map. Why Retweet works the way it does. .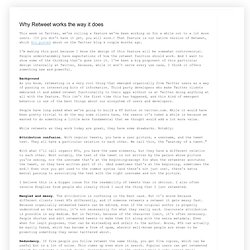 Part of the beauty of Twitter is that you can follow your friends, organizations, public figures, or strangers you find interesting. But no matter how carefully you've groomed your following list, out of the millions of tweets written today, are you seeing the absolute most relevant ones to you? » Commercial Twitter spamming tool hits the market | Zero Day |
Last week, a commercial Twitter spamming tool (tweettornado.com) pitching itself as a "fully automated advertising software for Twitter" hit the market, potentially empowering phishers, spammers, malware authors and everyone in between with the ability to generate bogus Twitter accounts and spread their campaigns across the micro-blogging service.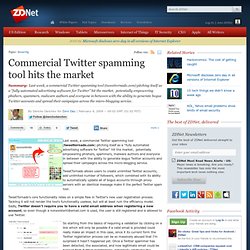 TweetTornado allows users to create unlimited Twitter accounts, add unlimited number of followers, which combined with its ability to automatically update all of bogus accounts through proxy servers with an identical message make it the perfect Twitter spam tool. TweetTornado's core functionality relies on a simple flaw in Twitter's new user registration process. Tackling it will not render the tool's functionality useless, but will at least ruin the efficiency model. #primeval - ITV's social media (Twitter) experiment for the. Twitter passes Bebo and Linkedin while MySpace heads earthwards. Though you may think that Twitter gets, oh, far too much attention, the reality is that this is something that is growing fast.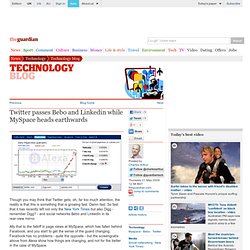 Damn fast. So fast that it has recently left not only the New York Times but also Digg - remember Digg? - and social networks Bebo and LinkedIn in its rear-view mirror. Participatory Marketing Network: Gen Y's Are Not Yet Taking. Participatory Marketing Network Study: Gen Y's Are Not Yet Taking Flight on Twitter Social networking is hot for Gen Y, but Twitter has yet to catch on FROM TWTRCON '09 – SAN FRANCISCO (June 1, 2009) — The Participatory Marketing Network (PMN), an organization that helps marketers transition from push and permission marketing to participatory marketing, today released results of a new study showing that only 22 percent of Generation Y consumers are using Twitter.
When asked about social network usage, however, 99 percent of this same group reports having an active profile on at least one social networking site. PMN conducted the study in May 2009 with its research partner, the Lubin School of Business' Interactive and Direct Marketing (IDM) Lab at Pace University, by questioning 200 PMN panel members and consumers between the ages of 18-24. How the revolting Twittermobs are devaluing Whuffie. The Twitter Lynchmob kicked off when a UK Twitterer dared to find Stephen Fry "a bit boring" has made the New York Times.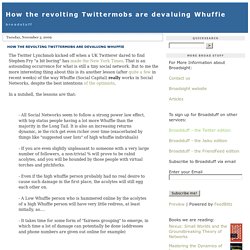 That is an astounding occurrence for what is still a tiny social network. But to me the more interesting thing about this is its another lesson (after quite a few in recent weeks) of the way Whuffie (Social Capital) really works in Social Networks, despite the best intentions of the optimists. In a nutshell, the lessons are that: - All Social Networks seem to follow a strong power law effect, with top status people having a lot more Whuffie than the majority in the Long Tail. 5 More Twitter Related Trends to Watch Right Now. Just a month ago we talked about real-time search engines, verified accounts, trending Twitter giveaways, sponsored tweets, and Twitter chat as the five trends that you should be watching right now.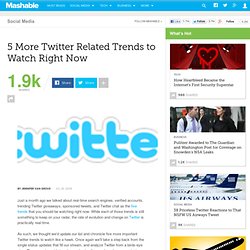 While each of those trends is still something to keep on your radar, the rate of evolution and change on Twitter is practically real-time. As such, we thought we'd update our list and chronicle five more important Twitter trends to watch like a hawk. Once again we'll take a step back from the single status updates that fill our stream, and analyze Twitter from a birds-eye view. Twitter Guide Book – How To, Tips and Instructions by Mashable. 25 Twitter Apps to Manage Multiple Accounts. It may seem like an impossible task to keep up with all the Twitter apps that have come to market as of late.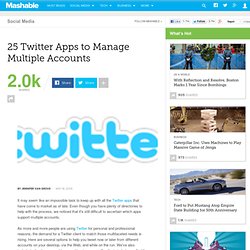 Even though you have plenty of directories to help with the process, we noticed that it's still difficult to ascertain which apps support multiple accounts. As more and more people are using Twitter for personal and professional reasons, the demand for a Twitter client to match those multifaceted needs is rising. TweetMeme - Hottest Stories on Twitter. Study: Twitter Audience Does Not Have A Return Policy. Ignore Twitter? Major brands learn they'd better respond -- Sears is among a growing number of companies that are joining social media… (Associated Press ) Amazon.com Inc. shut like a book.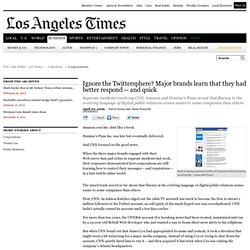 Domino's Pizza Inc. was late but eventually delivered. Twitdom » The Twitter Applications Database. WTF is Twitter and why should I care? QuoteURL - Share Twitter Conversations. Breaking Tweets | World News Twitter-Style. Updated 10th Feb 09: UK Local Council Twitter Followers 10th Jan. HOW TO: Create Groups for Twitter. One of the most demanded features for Twitter has been the ability to create groups, allowing members to focus on different sets of people they're following.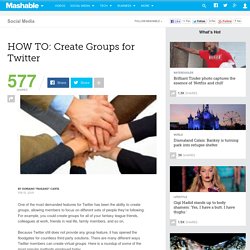 For example, you could create groups for all of your fantasy league friends, colleagues at work, friends in real life, family members, and so on. Because Twitter still does not provide any group feature, it has opened the floodgates for countless third party solutions. There are many different ways Twitter members can create virtual groups. Here is a roundup of some of the most popular methods employed today. Have another method to tell us about? Tencommandments. Drew B's take on tech PR: A guide to Twitter: 10 ways Twitt. TwitterFriends - Your relevant network on Twitter. Technology | Tweet smell of success over Digg. Tesco takes up Twitter for Fresh & Easy - Brand Republic New. BBC Internet Blog. A simple event manager twitter app. Simple & Useful Each of our products are simple and yet powerful.
You're not going to see a lot of cool effects, they're supposed to be useful! Great Customer Service The founder personally replies every email and answers our live chat support. TwitterFriends statistics for katierocket. CoTweet || Team workflow for twitter. Twist - see trends in twitter. Tool for Tracking brands on Twitter. Came across a cool little tool for tracking brands on twitter, called Tweetscribe.
It allows you to track conversations about brands, people and products and get the searches via an RSS feed. The thing that is really cunning [IMHO] is the fact that you can do pretty thorough searches: by key words, by twitterer [is that the right name for someone who twitters?]
---