Twitter
How to Spend Only 10 Minutes Per Day on Twitter
The No. 1 complaint from businesses new to social media is: "I just don't have time."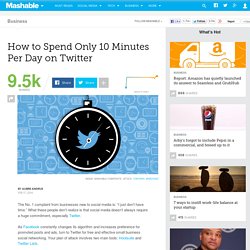 A Useful Twitter Advanced Search Sheet for Teachers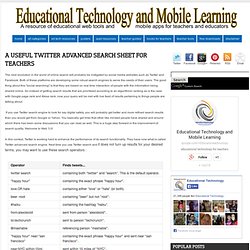 The next revolution in the world of online search will probably be instigated by social media websites such as Twitter and Facebook. Both of these platforms are developing some robust search engines to serve the needs of their users.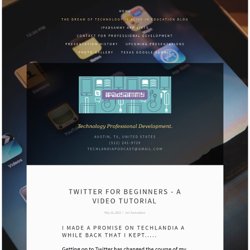 Twitter For Beginners - A Video Tutorial — iPadSammy
Getting on to Twitter has changed the course of my teaching career. I went from ignorance, to lurking, to participating. I now, VERY occasionally, get asked to keynote conferences and speak at them all the time.
60 Ways To Use Twitter In The Classroom By Category
Twitter for Teachers
Social media offers some great opportunities for learning in the classroom, bringing together the ability to collaborate, access worldwide resources, and find new and interesting ways to communicate in one easily accessible place. Teachers around the world have found innovative ways to use Twitter as a teaching tool (including TeachThought's favorite), and we've shared many of these great ideas here with you. Read on, and we'll explore 60 inspiring ways that teachers and students can put Twitter to work in the classroom. Communication
60 Ways To Use Twitter In The Classroom By Category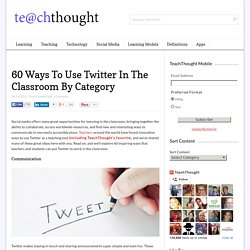 Twitter 101: Tips & Tricks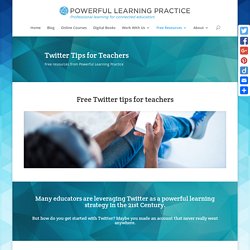 Many educators are leveraging Twitter as a powerful learning strategy in the 21st Century.
60 Inspiring Examples of Twitter in the Classroom "An expansive list of up to 60 great examples of using Twitter in the classroom is presented here in this article by the folks at Online Universities. These are really great ideas for using the social media power of Twitter as a proficient teaching and learning tool. " via Online Universities
How teachers can use twitter to find resources
EdTechSandyK: How to Decode a Tweet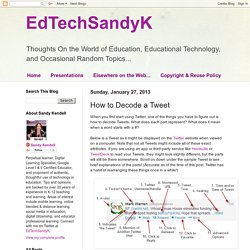 When you first start using Twitter, one of the things you have to figure out is how to decode Tweets.
How to Twitter: the infographic « Learning in the Social Workplace
January 12, 2013 by tomwhitby
Building a professional learning network on Twitter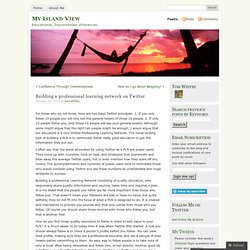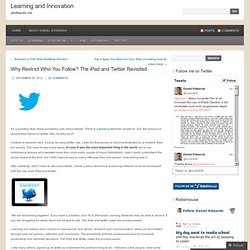 It's a question that I have pondered over recent weeks.
Why Restrict Who You Follow? The iPad and Twitter Revisited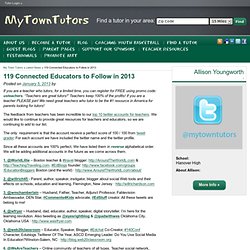 119 Connected Educators to Follow in 2013
If you are a teacher who tutors, for a limited time, you can register for FREE using promo code: usteachers.
I am big on reflection. As educators, looking back on our practice is one of the most important things we can do. I try to set aside time each day to just think about how I did a workshop or something I said or a resource I looked at.
What I wish I Knew Before Using Twitter
I recently discovered TeachThought.com, and boy, am I glad I did. I've already found a number of great reads on the site and certainly plan on making this site a regular stop on my internet tour. One thing that jumped out to me was the post, 100 Twitter Tips for Teachers. The tips are broken down into several catergories: The Basics, Connecting, Classroom, Professional Life, Pro Tools, Who to Follow, and Applications to Emmulate. The list is a good one, with a ton of great tips, but if I was sharing Twitter tips with others, I wouldn't have such a big list.
11 Twitter Tips for Educators | chadlehman.com
Twitter for Teachers … a great video introduction – Technology Enhanced Learning Blog
Twitter may have started off as a fun social media site for keeping up with friends and sharing updates about daily life, but it's become much more than that for many users over the past few years as the site has evolved and grown. These days, Twitter is a powerhouse for marketing, communication, business, and even education, letting people from around the world work together, share ideas, and gain exposure. It has become a staple at many online colleges and campuses as well, leaving many academics wondering just how and if they should be using Twitter both in the classroom and in their professional lives. So we've revised our original 2009 list to get you started or up to date.
100 Twitter Tips For Teachers
24 Twitter Shortcuts That Will Save You Time
Twitter is too big to ignore. You see hashtags in commercials, sponsored tweets, posts, news broken on Twitter, etc. It's quickly become an indispensable tool for teachers, admins, parents, and students too. Right now, there are still many (MANY) in education not using Twitter.
100 Simple Ways To Effectively Use Twitter
The beauty and challenge of Twitter is stuffing your most sophisticated thoughts and feelings into a measly 140 characters (or less). Unfortunately, our traditional methods of communication have proven to be a poor training ground for micro-messaging, and even the most savvy platform users have sighed in exasperation as those bright red negative character signs mock our basic intelligence. But, perhaps even worse, no good tweet is ever going to be 140 characters because it's impossible to share, respond or reference a tweet that's already at it's max. If you want to make a big statement with a small message, you have to trim the fat. Thankfully, a special subset of finite abbreviations and techniques have cropped up to help optimize your own Twitter lingo. These handy snippets of language — some no more than a single symbol — have been instrumental in fostering more sophisticated sharing and discourse simply because they are small.
Our Guide to Twitter's Language
Why Educators Should Join Twitter - Finding Common Ground
The Power Of The Lurker
A Beginner's Guide to Twitter
An Educators Guide To Twitter
Two dozen great Twitter tips to live by
Twitter Lists – What they are and How to Use Them Effectively
My 5 Biggest Twitter Tips
A Parents' Guide to Twitter and Education
Twitter_At_A_Glance - IMPROVED!
10 Steps to Kick Start Your Twitter Network
Creative Twitter Tools
Tutorials on social media
Favorite Tweets of 2011
The A-Z Dictionary of Educational Twitter Hashtags
Top Ten Twitter Hashtags for Educators
Internet Catalogue
The 2012 A-Z List Of Educational Twitter Hashtags
Educational Twitter Hashtags, the infographic (updated)
23 Twitter Tools To Help You Tweet Like A Pro
5 Useful Tools to Monitor Twitter Hashtags
The Top 100 Twitter Tools of 2012 (Categorized)
Twitter for Professional Development
Literacy, Languages and Leadership
45 Simple Twitter Tips Everyone Should Know About