Professional Learrning
Deeper Learning: A Collaborative Classroom Is Key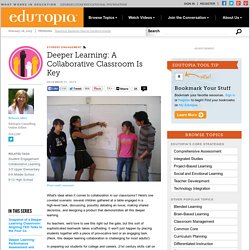 What's ideal when it comes to collaboration in our classrooms? Here's one coveted scenario: several children gathered at a table engaged in a high-level task, discussing, possibly debating an issue, making shared decisions, and designing a product that demonstrates all this deeper learning.
As a new teacher I remember getting into my classroom for the first time. I set up the space like classrooms I had seen before and enjoyed; I got my lesson plans in order; packed the filing cabinets with resources; started to make copies of overhead slides; put together an area for reading and stacked the shelves with books I had picked up in college or from my parents house. Then the students arrived, and all my plans went out the window. I realized very quickly that the type of teaching I had been exposed to and grew up with, and the type of teaching taught at many undergrad programs…was quickly becoming a past practice. That's not to say many of the pedagogical and instructional strategies I learned don't stick with me today (the good ones always will) but these students were different learners than I was…and at the time I was only 22 years old.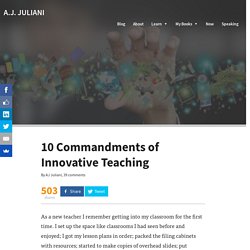 10 Commandments of Innovative Teaching – A.J. Juliani
HOW TO SUCCESSFULLY INTEGRATE TECHNOLOGY INTO THE 21st CENTURY CLASSROOM – PART 1: WEB TOOLS | Aysin Alp's Blog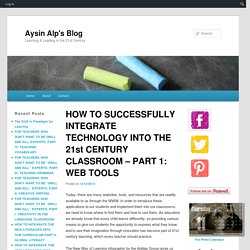 Today, there are many websites, tools, and resources that are readily available to us through the WWW. In order to introduce these applications to our students and implement them into our classrooms, we need to know where to find them and how to use them. As educators we already know that every child learns differently, so providing various means to give our students the opportunity to express what they know and to use their imagination through innovation has become part of 21st century teaching, which every teacher should practice. The New Way of Learning infographic by the Adidas Group gives us hints about why and how we should transform learning: Even if they aren't familiar with technology and consequently don't feel comfortable with it, each teacher should give it a try to transform teaching and learning as it is worth doing.
100+ Presentations for the Professional Development of Teachers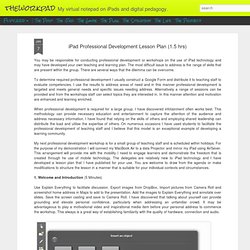 You may be responsible for conducting professional development or workshops on the use of iPad technology and may have developed your own teaching and learning plan. The most difficult issue to address is the range of skills that are present within the group. There are several ways that the dilemma can be overcome. To determine required professional development I usually construct a Google Form and distribute it to teaching staff to evaluate competencies. I use the results to address areas of need and in this manner professional development is targeted and meets general needs and specific issues needing address. Alternatively a range of sessions can be provided and from the workshops staff can select topics they are interested in.
iPad Professional Development Lesson Plan (1.5 hrs)
As the year ends, I am republishing the Opinion Drive-thru's seven most viewed posts of 2013. This is #1During the first meetings of my Leadership in Technology College of Education course (ED 6270) at Madonna University I have used some short YouTube movies for both the face-to-face and online versions of the course. Developing Professional Learning Networks This is a one minute movie about an Australian teacher training program that shows teachers the benefits in using Twitter.
Larry's Opinion Drive-thru: Movies to Develop Leadership in Educational Technology
Twitter
Preparing our students for Web 3.0 learning
You're probably knee-deep in the new school year worrying about the Common Core State Standards, if students are paying attention, and if you're really getting through to your students. However, many teachers and administrators are starting to think about something else. They're figuring out how to integrate technology into the curriculum, the classroom, and at home. One of the most popular pieces of edtech is, of course, the iPad. We talk about it all darn day here on Edudemic and that's because it's seen widespread adoption and it's the single device we hear the most questions about.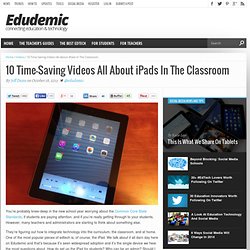 10 Time-Saving Videos All About iPads In The Classroom
An Interesting Collection of Handy iPad Tips for Teachers and Students
Today while I was attending an iPad workshop I noticed that some teachers are using their iPads in a time-wasting manner. I am not sure if they are new to iPad or not but the first thing one can do when he/she got a new piece of these smart gadgetry ( a phone , a tablet, chromebook) is to head over to YouTube and type in the name of that gadget followed by the word " tutorial" and you will get all kinds of videos on tips and tricks related to that device. Most of people do not bother going through those thickly written guides accompanying the newly purchased gadgets. Videos and visual tutorials are better alternatives. If you have an iPad and you want to get the maximum out of in order to enhance your iPadding experience and improve your productivity on it, the tutorials below are part of what you need.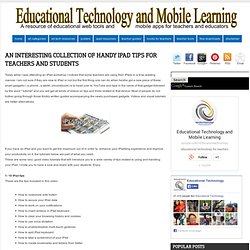 7 Key Characteristics Of Better Learning Feedback
by Grant Wiggins, Ph.D, Authentic Education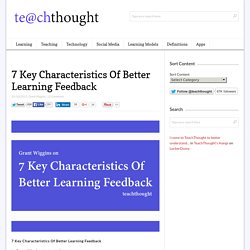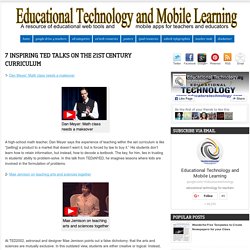 7 Inspiring TED Talks on the 21st Century Curriculum
The rigid teacher-centered instruction does not fit in the 21st century classroom.
4 Presentations Every Teacher Should See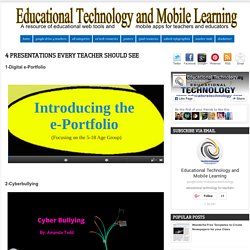 Below are some wonderful presentations on four different topics namely: Digital Portfolio, Cyber bullying, Social Media 101, and The Destruction of Non-linear learning.
70+ Web Tools Organized For Bloom's Digital Taxonomy
The number of web tools currently available to teachers, administrators, and students is downright absurd. You can't swing an iPad without hitting a free web tool looking to revolutionize your classroom.
2 Must Watch Videos on The Importance of Technology Integration in Education
Do you feel stuck when trying to come up with solid arguments in favor of your use of technology in your teaching ? Do you want some inspiration on how and why this technology should be part of the curriculum you teach ?
Doesn't just focus on "what" kids learn, it focuses more on "how" kids learn best...
The 21st century classroom
100 Best YouTube Videos for Teachers | Smart Teaching
With the increasing use of technology in classrooms , it's no wonder that teachers have a growing interest in using YouTube and other online media sharing sites to bring information into their classrooms. Here are 100 YouTube videos that can provide supplementary information for the class, give inspiration, help you keep control of class and even provide a few laughs here and there. History
Changing Society: Why Teachers Need to Embrace Technology
Changing Society: Why Teachers Need to Embrace Technology By Guy Weaver closeAuthor: Guy Weaver Name: Guy WeaverSite: About: See Authors Posts (2)Missouri Baptist University Artifacts: Pre-Columbian Civilizations Webquest (http://zunal.com/webquest.php?
Educational Technology and Mobile Learning: 23 Excellent Professional Development Tools for Teachers
Educational Technology and Mobile Learning: 10 Great Guides for Better Professional Learning Network
Educational Technology and Mobile Learning: 15 Geat Teaching and Learning iPad Apps
20 Tips for Creating a Professional Learning Network - Getting Smart by Miriam Clifford
50 Educational Podcasts You Should Check Out
Top 100 Tools for Learning
Education Is My Life | Instructional Technology Professional Development by Design
The Pros and Cons of Computer Labs
Educational Technology and Mobile Learning: Top 10 Videos on 21st Century Learning
Educational Technology and Mobile Learning: Teacher's Comprehensive List of Great Educational Technology Resources
20 Tips for Creating a Professional Learning Network
Videos Suggested for Back to School Faculty Meetings and other educational audiences
How to use Education Technology quickly.
How to Create a Quality PD Plan for Technology
21k12 in 2012: My Year in Blogging, including Two Top Ten Lists
Top 10 Posts of 2012: Deep, Meaningful and Creative Learning
Three Professional Reads That are Worth Your Time
Good Schools Start With Good Goals - Getting Smart by Tom Vander Ark
An Introduction to Technology Integration
Apps for Professional Development
Socrative: A New Way to Teach on Tildee
Ten Common Mistakes in Building an eLearning Strategy by Marc J. Rosenberg
50 Excellent Online Professional Development Resources for Teachers
Blog Tool, Publishing Platform, and CMS
21CTools - home
The Best Places To Learn Web 2.0 Basics
e-learning
Here Are Ten Rules to Create Engaging Elearning
20 Technology Skills that Every Educator Should Have
The Complete Educator's Guide to Using Google Reader
The 21st century pedagogy teachers should be aware of
The 21st-Century Digital Learner
The 20 Best Pinterest Boards About Education Technology
Figuring Out Pinterest
SCIL Snapshot Tours — Calendar
PLN
Create a Personal Learning Network
23 Resources about Personal Learning Networks (PLNs)
Professional Development with the Experts Through Twitter - Finding Common Ground
Response: The Best Ways To Use Tech In The Classroom - Classroom Q&A With Larry Ferlazzo
Technology Integration Matrix
Free technology teacher training videos for teachers
3 EdTech Tips (resolutions?) for 2012
6 Alternatives To Bullet Lists
Creating Learning Experiences That Connect, Inspire, and Engage
Icebreakers
Ten Online Training Do's and Dont's
Background Information for Your Next E-Learning Course
15 Great Free iPad Apps for Professional Development
My 35 Favorite Free Apps for Teaching
How a 1:1 Staff iPad Initiative Can Impact Teacher Professional Learning - iPads in Education
Top 7 Guides on how to Use iPad in your Classroom
Learning Technology Trends To Watch In 2012
Planning for Responsible Tech Integration
5 Questions to Ask Before Implementing Technology in Your Classroom
Professional Development Learning Design | PLANE