Ipad Apps
Apps Are Better Than Textbooks. Here Are 10 Compelling Examples. Apps Are Better Than Textbooks.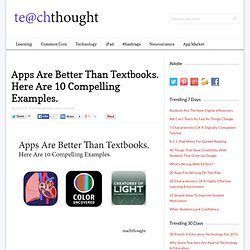 Here Are 10 Examples. We've theorized before that apps are the new textbook. That was back in 2012, and this hasn't proven true for a variety of reasons. 6 Good iPad Apps for Teaching Vocabulary to Young Learners. February 15, 2014 iPad has made teaching vocabulary to young learners way easier and much more fun.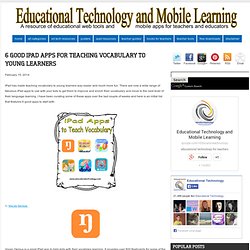 There are now a wide range of fabulous iPad apps to use with your kids to get them to improve and enrich their vocabulary and move to the next level of their language learning. I have been curating some of these apps over the last couple of weeks and here is an initial list that features 6 good apps to start with. 1- Vocab Genius. 25 iPad Apps for Learning Spelling. February 5, 2014 While working on this list of iPad apps for learning spelling I came across over a hundred app which are all supposedly geared towards helping kids and young learners with their spelling but going through them I came out with only 25 and the rest was just a waste of time and effort.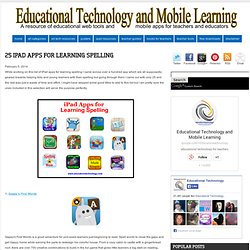 I might have skipped some good titles to add to this list but I am pretty sure the ones included in this selection will serve the purpose perfectly. 1- Gappy's First Words Gappy's First Words is a good adventure for pint-sized learners just beginning to read. iPad Picture Dictionaries. Picture Dictionaries are useful in a number of different educational situations.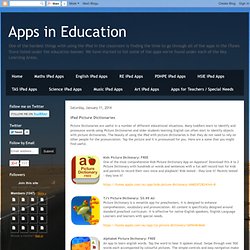 Many toddlers learn to identify and pronounce words using Picture Dictionaries and older students learning English can often start to identify objects with picture dictionaries. The beauty of using the iPad with picture dictionaries is that they do not need to rely on other people for the pronunciation. Tap the picture and it is pronounced for you. Here are a some that you might find useful. Kids Picture Dictionary: FREE One of the most comprehensive Kids Picture Dictionary App on Appstore! Pinterest. Creating a Quiz or taking a Poll on the iPad.
I love the fact that the iPad can be used to assess student understanding instantly.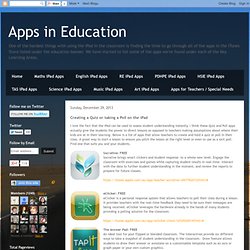 I think these Quiz and Poll apps actually give the students the power to direct lessons as opposed to teachers making assumptions about where their kids are at in their learning. Below is a list of apps that allow teachers to create and hold a quiz or poll in their class. A great way to start a lesson to ensure you pitch the lesson at the right level or even to use as a exit poll. 7 Wonderful iPad Apps to Learn about Human Body in 3D. Technology has radically revolutionized the human science and provided us with profound insights that were not knowable to us before.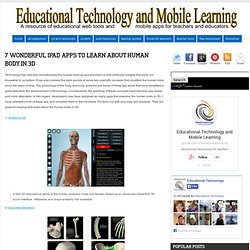 It has also cracked the dark secrets of some key scientific concepts that mystified the human mind since the dawn of time. The physiology of the body and body anatomy are some of these key areas that have benefited a great deal from the advancement of technology. 55 Free iPad Apps for Practicing Reading. Christopher Pappas Christopher Pappas is founder of The eLearning Industry's Network.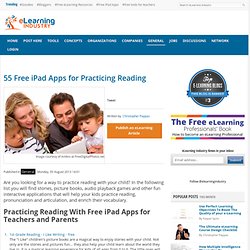 Currently, the eLearning Industry has a network of more than 75,000 professionals involved in the eLearning Industry and runs the following sites: Special Needs iPad Resources.
Curation apps
Professional Learning Apps. 250 best iPad apps: education. The Top 20 iPhone And iPad Apps of 2011. Editor's note: Contributor Brad Spirrison is the managing editor of mobile app discovery services Appolicious, AndroidApps.com and AppVee.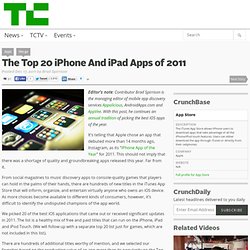 With this post, he continues an annual tradition of picking the best iOS apps of the year. It's telling that Apple chose an app that debuted more than 14 months ago, Instagram, as its "iPhone App of the Year" for 2011. This should not imply that there was a shortage of quality and groundbreaking apps released this year. Far from it. From social magazines to music discovery apps to console-quality games that players can hold in the palms of their hands, there are hundreds of new titles in the iTunes App Store that will inform, organize, and entertain virtually anyone who owns an iOS device.
Top 5 iPhone Apps and Accessories | TiPb. This website would like to remind you: Your browser (Firefox 17) is out of date.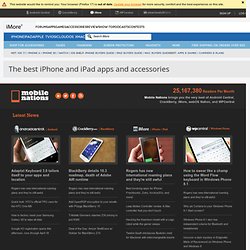 Update your browser for more security, comfort and the best experience on this site. Skip to main content. Pack for iPhone: Our List of the Best iPhone Apps. AppShopper, Luxylight, Zite, Verbs, Prompt, Yelp (until iOS6), Groupon, OpenTable, Cineplex, and SoundHound Infinity And for the built in apps: Messages, Notes, Camera, Reminders, Clock, and Calculator I recommend using Viggle.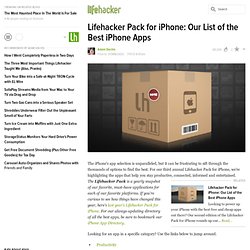 Its a reward program app that you gain rewards for watching TV. Best Apps for Kids : reviews, news and promo codes for iPhone / iPad / iPod apps | Surprisingly Educational Apps. I have to say "Surprisingly Educational" apps appears to be the most popular topic on our "appy hours 4 u" show to date. In these shows we feature mostly free *(some apps may have been free for a limited time) edutainment apps and discuss integration ideas for each app that span across content areas and multiple grade levels. To support this app-erific surprisingly educational phenomenon, I was inspired to create a Symbaloo web mix to house the apps from our previous and upcoming Surprisingly Educational Shows.
BrainPop Featured Movie is No. 1 on the Editor's Top 15! (FREE app!) It's taken much longer than I anticipated, but we've finally come to the end of the Editor's Top 15 countdown. No. 1 on the list, by a fairly wide margin, is BrainPop Featured Movie. This free app provides an excellent, short animated educational video per day and is the first app I would recommend to another parent. Please read my awesome five-star review : iPad. Apple's handheld and tablet devices can be valuable for teaching and learning. An iPad, iPod touch, or iPhone can be so many things: a camera, a book, a canvas, a calculator, a timer, a reference, a notebook, an audio recorder, a word processor, a camcorder, a video editing station, a videoconferencing device, a movie player, a scanner, a student response system, an instrument, a flash drive, a presentation station, and much more.
30 Examples of Stunning iPad App Interface Design. The iPhone ushered in an era of beautiful interface design unlike anything we'd ever seen on a mobile device. This trend is now being revived and pushed further than ever on the iPad's larger screen and the results are amazing. We've combed through the App Store to bring you 30 iPad apps with gorgeous interfaces. Best iPad Apps. There's an App for That -- Using iPads to Support Literacy Instruction in the Classroom. Teaching Appz | A directory of educational apps that can be used in the classroom. 1,000 Education Apps Organized By Subject & Price.
How Students Benefit From Using Social Media 13.56K Views 0 Likes A lot of criticism has been leveled at social media and the effect it has on the way students process and retain information, as well as how distracting it can be. However, social media offers plenty of opportunities for learning and interactivity, and if you take a moment to think about it, it's not too hard to see how students benefit from using social media. 10 African-American History Month Teaching Resources. APPitic - 1,300+ EDUapps.
40 Amazingly Educational iPad Apps for Kids. The Top 50 Apps for Kids: Our favorite picks for education, music, art, and more! 50 Must-Download Apps For Lifelong Learners. Top 12 apps. 8 of the BEST Apps to Add to Your New iPad! 30 Cool Educational iPad Apps for Science Lovers - Creative Can Creative Can. The Top 100 Apps for Kids: 1-10. 2012 Apps for Teachers. Another 10 Great Apps for Teachers. The Top Educational iPad Apps Every Teacher and Student should Know about ( 100+)
Maths Apps. Literacy apps. 50 Must-Have Educational Apps. App Gems: Honorable mentions. The Very First App You Should Load on Your New iPad. 10 Best iPad PDF Readers. Best iPad Apps. Apps to Use as Student ePortfolios. iPhone/iPad AppGuides by AppAdvice. iPhone Games - ABCya! The Best Education Apps at FETC. iPads in Schools. iPads in the Classroom. App Learning Tasks By Brad Wilson www.21innovate.com. Learning and Teaching with iPads. Teaching with ipads. iPad apps - yiskg. InClass - An App for Text, Audio, and Video Notes.
Helping Students Make Better Movies on iPad (or any device)
I Education Apps Review - I Education Apps Review. Ps10ipads - App List. 10 Educational iPad Apps Recommended by Explore Knowledge Academy. iPad App Evaluation for the Classroom. Web sites that review education apps. Best Education Apps | Unbiased, Data-Driven Comparisons. The 10 Types of Educational Apps and When To Use Them. Must Have iPad Apps for Education.
Top 10 Sites for Educational Apps. TCEA-Recommended iPad Apps. Teacher Reviewed Educational Apps for 2012. What Students And Parents Think About Mobile Technology.
Special Needs Apps. Education - Apps. Apps for Grading Assessments. iPad and games for learning. Quixey - Find apps that do what you want. These are a few of my favorite apps! My Pinterest iPad boards. AnAPPforTHAT. iPad Apps In Education. Happly For iPad Helps Curious Kids Discover The Web…Safely. Creating an Appropriate App Collection within your School Budget. How Important Have Apps Become?
---
bucharesttutor Feb 11 2012

Absolutely peach of pearls shared here Kathy, would you like to them up?

kathycasey Jan 23 2012

For some free options, you could look at the ecove software or maybe TeacherPal. The pearls in the Special Ed area have links to Spectronics, which also may have something of interest.

staciawalker Jan 21 2012

Nice job Kathy! I was wondering if you had any suggestions for an app the records student behaviors for Rti. Preferably free or cheap. Thanks!

syded Jan 7 2012

I agree very easy to follow and use - thanks

kathycasey Jan 2 2012

Thanks, I appreciate the feedback.
Kathy

kpjete Jan 2 2012

Great pearls...even for non professionals and parents.

kpjete Jan 2 2012

Kathycasey- found myself enjoying many of the pearls you have for teachers...great collection!
---