Psychology
Intention-Focused Design: Applying Perceptual Control Theory to Discover User Intent. By Alex O'Neal Published: July 9, 2012 "Intention-focused design is a specific UX strategy that can help you to discover hidden and shared user narratives."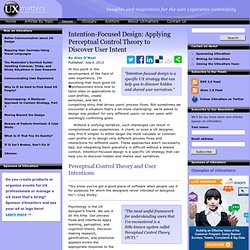 At this point in the development of the field of user experience, I'm assuming that most good UX professionals know how to tailor sites or applications to user profiles, create personas, and tell a compelling story that drives users' process flows. But sometimes we encounter a situation that's a bit more challenging: we're asked to design one product for very different users—or even users with seemingly conflicting goals. How walking through a doorway increases forgetting. Like information in a book, unfolding events are stored in human memory in successive chapters or episodes.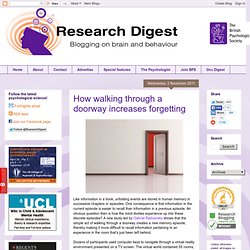 One consequence is that information in the current episode is easier to recall than information in a previous episode. An obvious question then is how the mind divides experience up into these discrete episodes? A new study led by Gabriel Radvansky shows that the simple act of walking through a doorway creates a new memory episode, thereby making it more difficult to recall information pertaining to an experience in the room that's just been left behind. Dozens of participants used computer keys to navigate through a virtual reality environment presented on a TV screen. Explore your blind spot (free ebook) I've written an ebook called 'Explore your blind spot'.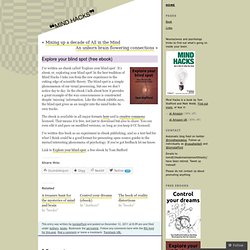 It's about, er, exploring your blind spot! In the best tradition of Mind Hacks I take you from the raw experience to the cutting edge of scientific theory. The blind spot is a simple phenomenon of our visual processing, but one we don't notice day to day. In the ebook I talk about how it provides a great example of the way consciousness is constructed despite 'missing' information. The Psychologist's View of UX Design. Dr.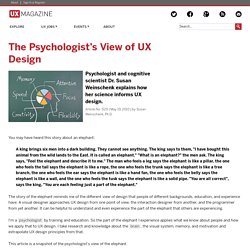 Susan Weinschenk has been applying psychology to the design of technology for 30 years. She has a Ph.D. in Psychology and is the author of How to Get People To Do Stuff, 100 Things Every Designer Needs To Know About People, 100 Things Every Presenter Needs to Know About People, and Neuro Web Design: What makes them click.
---