Plant based
Peas and Thank You. Finding Vegan | Vegan food photos - Vegan Recipes - Vegan Products. Quinoa Salad with Sweet Potatoes, Kale, & Dried Cranberries. Quinoa Salad with Roasted Sweet Potatoes, Kale, Dried Cranberries, & Red Onion Last week we were on a sugar high from all of the Halloween candy recipes I posted.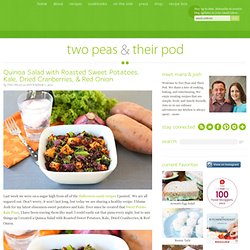 We are all sugared out. Don't worry, it won't last long, but today we are sharing a healthy recipe. I blame Josh for my latest obsession-sweet potatoes and kale. Ever since he created that Sweet Potato Kale Pizza, I have been craving them like mad. Stacked roasted vegetable enchiladas. I'm thrilled that Jenna asked me to write a guest post for her beautiful blog!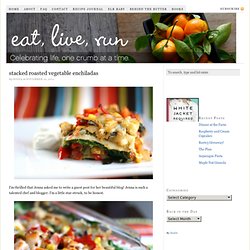 Jenna is such a talented chef and blogger. I'm a little star-struck, to be honest. I'm Natalie, a mom of two little girls (3 and 4), and I blog over at Perry's Plate where I focus on whole-food, family-friendly recipes. (Read = My goal is to cram my kids full of vegetables. V e g a n D a d. Healthy. Happy. Life. | Vegan Blog | Vegan Recipes.
All Recipes at Fatfree Vegan Recipes. Vegan Lunch Box. Mean Green Edamame Soy Burger. With Spicy Slaw. Confession, I'm bored with black bean veggie burgers.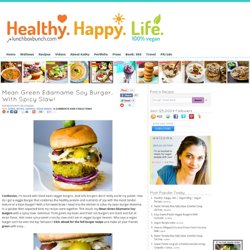 And tofu burgers don't really excite my palate. How do I get a veggie burger that combines the healthy protein and nutrients of soy with the moist tender texture of a bean burger?
---