Productivité
Softmatic developer profile - software title list and all other information available. Skitch - Annotate, edit and share your screenshots and images...fast. Developer Tools Overview. Xcode 5 does more than ever to help you create high-quality apps.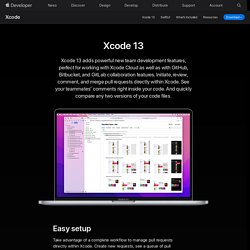 It automatically configures your apps to use the latest Apple services, manages images in a unified asset catalog, and helps you design stunning interfaces for iOS 7 and OS X. It also makes it easy to analyze your code, monitor performance, and test your apps, and with access to continuous integration built right in, your team can create better apps than ever before. Automatic Configuration Xcode 5 automatically configures your app to enable Apple services such as iCloud, Passbook, or Game Center, directly within the IDE. SketchBook — iPhone, iPad, Android Sketching App — Autodesk. Interactive Wireframe Software and Mockup Tool. Klok Free Time Tracking, Klok Pro Time Tracking, Klokwork Team Time Tracking. Aggregate reporting across Klok Pro users and projects Track time across multiple team members No hosting fees No servers to set up Windows/Mac Klokwork Team Connector.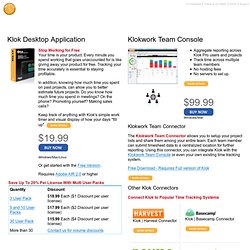 Appmodo. Blog Archive » Softmatic's 'Pick' Makes Color Identification a Breeze. By Marianne Schultz If you're in marketing or website design and frequently need to find the exact value for a color on the web or in a digital document, Sofmatic's new Pick application for the Mac is a great choice at the best price ever: free.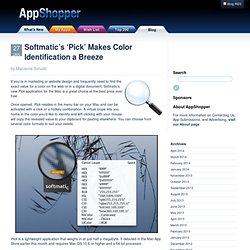 Once opened, Pick resides in the menu bar on your Mac and can be activated with a click or a hotkey combination. A virtual loupe lets you home in the color you'd like to identify and left-clicking with your mouse will copy the revealed value to your clipboard for pasting elsewhere. You can choose from several color formats to suit your needs. Pick is a lightweight application that weighs in at just half a megabyte. Simplifiez-vous la vie. Navigateur Web Firefox | Fonctionnalités : Plus rapide, plus sûr et plus personnalisable | Mozilla Europe. Haut de la page Navigation facilitée Barre intelligente.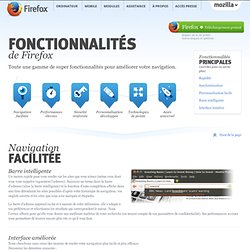 Klok Free Time Tracking and Klok Pro Time Tracking - Features. Getting Started with Klok 2 New to Klok?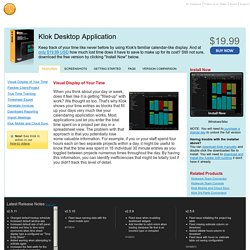 No problem. Here's a quick guide of what you'll need to be productive with Klok. Create a Project...or two Before you can track your time you will need to add some projects to track time against. Xampp. Peter Borg Apps » Smultron 4. ActionScript, Active4D, Ada, AMPL, Apache, Applescript, Assembler x86, Assembler MIPS, Assembler PPC, ASP - JavaScript, ASP - VB, ASP.NET - C#, ASP.NET - VB, AWK, Batch, C, C++, C#, Cobol, CoffeeScript, ColdFusion, Csound, CSS, CUDA, D, Dart, Diff, Dylan, Eiffel, Erlang, eZ Publish, F#, Fortran, FreeFem++, GEDCOM, GIFT, GNU Assembler, Go, Groovy, Haskell, Header, HTML, IDL, Java, JavaFX, JavaScript, JSON, JSP, LaTeX, Lilypond, Lisp, Logtalk, LSL, Lua, Make, Markdown, Matlab, MetaPost, MEL, Metaslang, Multi User Forth, MySQL, Nemerle, NEURON, Objective Caml, Objective-C, Ox, Pascal, PDF, Perl, PHP, Plist, PostScript, PowerShell, Prolog, Python, R/S-PLUS, RHTML, Ruby, Sass/SCSS, Scala, Scheme, Servoy JavaScript, SGML, Shell, SML, SQL, Stata, Stylus, SuperCollider, SVG, Tcl/Tk, TorqueScript, Udo, UnityScript, VB, Verilog, VHDL, XML, YAML.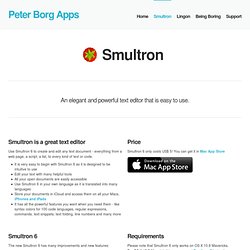 MindNode. Souvenez-vous de tout. Adobe Labs | Previews, prereleases and beta software from Adobe. Belgique.
---