Analytics & SEO
Learn Web Design, Web Development, and iOS Development - Treehouse. Content marketing software for WordPress. Awwwards: Website Awards - Best websites around the World. Web Design - Tutorials, Templates, Site Showcases, Free Stuff. W3Schools Online Web Tutorials. Fast Analytics and Rapid-fire Business Intelligence from Tableau Software.
11 Website Design Best Practices for Nonprofits. The following is an excerpt from Chapter 1 of the newly released book Social Media for Social Good: A How-To Guide for Nonprofits.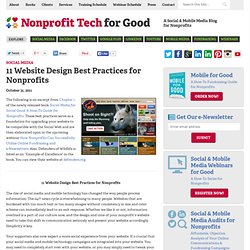 These best practices serve as a foundation for upgrading your website to be compatible with the Social Web and are then elaborated upon in the upcoming webinar How Nonprofits Can Successfully Utilize Online Fundraising and e-Newsletters. Also, Defenders of Wildlife is listed as an "Example of Excellence" in the book. You can view their website at defenders.org. 11 Website Design Best Practices for Nonprofits. Grunge In Web Design: Samples And Best Practices. With the major focus for web design lately shifting to the minimal designs, apple inspired designs and clean cut layouts, it's about time someone stands up and showcases the awesomeness that is grunge!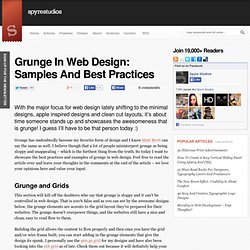 I guess I'll have to be that person today :) Grunge has undoubtedly become my favorite form of design and I know Matt Brett can say the same as well. I believe though that a lot of people misinterpret grunge as being sloppy and unappealing – which is the furthest thing from the truth. So today I want to showcase the best practices and examples of grunge in web design. Web Development & Design Foundations with HTML5, 6th Edition. A First Course in Web Development Web Development & Design Foundations with HTML5 is the perfect textbook for your first semester web development course.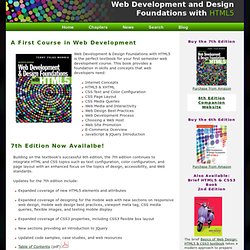 This book provides a foundation in skills and concepts that web developers need: Internet Concepts HTML5 & XHTML CSS Text and Color Configuration CSS Page Layout CSS Media Queries Web Media and Interactivity Web Design Best Practices Web Development Process Choosing a Web Host Web Site Promotion E-Commerce Overview JavaScript & jQuery Introduction. Missing Persons Alert: Analytics Superhuman. Andrew Edwards | February 13, 2012 | 9 Comments inShare29 Companies looking for the caped crusader of analytics are probably hoping in vain.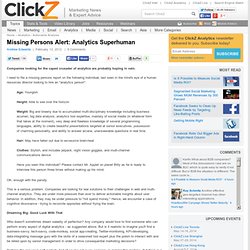 I need to file a missing persons report on the following individual, last seen in the mind's eye of a human resources director looking to hire an "analytics person": Age: YoungishHeight: Able to see over the horizonWeight: Big and brawny due to accumulated multi-disciplinary knowledge including business acumen, big data analysis, analytics tool expertise, mastery of social media (in whatever form that takes at the moment), very deep and flawless knowledge of several programming languages, ability to create beautiful presentations targeted at senior executives, possession of charming personality, and ability to answer arcane, unanswerable questions in real timeHair: May have fallen out due to excessive brain-heatClothes: Stylish, and includes jetpack, night vision goggles, and multi-channel communications deviceHave you seen this individual?
GA Visual - Google Analytics data visualization tool, users paths analyzer. GA Data Grabber — Welcome. FlowingData | Data Visualization, Infographics, and Statistics. Your Web Metrics: Super Lame or Super Awesome? Web Analytics Association.
Analytics | Application Gallery. Google Analytics Individual Qualification Tips – I Just Passed My Test | dannytalk ™ A Danny Ng Blog. I just passed my Google Analytics Individual Qualification (GAIQ) test today and scored 94%!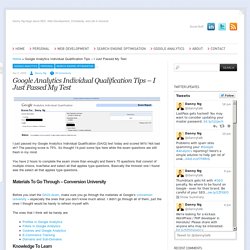 Not bad eh? The passing score is 75%. So thought I'd post some tips here while the exam questions are still fresh in my mind.
---