Psychology
Get flash to fully experience Pearltrees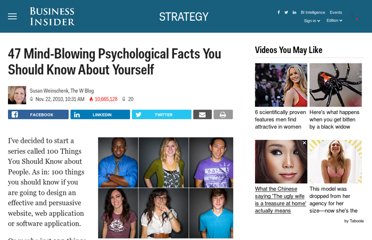 WHAT YOU ARE ABOUT TO READ IN THE NEXT PARAGRAPH IS COMMONLY BELIEVED, BUT NOT TRUE – You read by recognizing the shapes of words and groups of words. Words that are in all capital letters all have the same shape: a rectangle of a certain size. This makes words displayed in all uppercase harder to read than upper and lower case (known as "mixed case"). Mixed case words are easier to read because they make unique shapes, as demonstrated by the picture below.
Why do so many people believe in completely improbable conspiracy theories? Everywhere you turn these days, someone is promoting some wacky-sounding conspiracy theory. Everything from the old classics like the government shot John F. Kennedy and the government was in on 9/11, to the most far-out stories like Denver Airport is the secret headquarters of the Illuminati, and world leaders are actually reptilian aliens wearing electronic disguises.
Psychological ("personality") Types According to Jung's theory of Psychological Types we are all different in fundamental ways. One's ability to process different information is limited by their particular type. These types are sixteen.
The authors test the hypothesis that low-effort thought promotes political conservatism. In Study 1, alcohol intoxication was measured among bar patrons; as blood alcohol level increased, so did political conservatism (controlling for sex, education, and political identification). In Study 2, participants under cognitive load reported more conservative attitudes than their no-load counterparts. In Study 3, time pressure increased participants' endorsement of conservative terms. In Study 4, participants considering political terms in a cursory manner endorsed conservative terms more than those asked to cogitate; an indicator of effortful thought (recognition memory) partially mediated the relationship between processing effort and conservatism. Together these data suggest that political conservatism may be a process consequence of low-effort thought; when effortful, deliberate thought is disengaged, endorsement of conservative ideology increases.