Photographie
Get flash to fully experience Pearltrees
Yesterday I came across a slightly mysterious website -- a collection of Polaroids, one per day, from March 31, 1979 through October 25, 1997. There's no author listed, no contact info, and no other indication as to where these came from. So, naturally, I started looking through the photos. I was stunned by what I found.
As a photographic phenomenon, light graffiti is growing in popularity around the world. The concept is different for every photographer and each has his or her own method to capture their artistic expression. The technique involves moving a light source against the backdrop of a night sky or dark room while adjusting the camera's shutter speed. The end result? A colorful design so spectacular you'll wonder if it's real. From a flower garden to a stick man, check out 12 pieces of graffiti that leave no traces behind.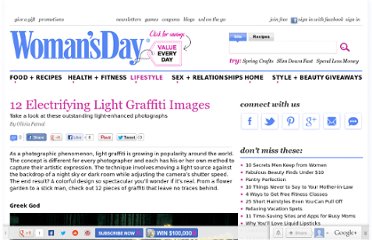 It never ceases to amaze me: just when I think I've seen every possible permutation of an artform or technique—be it figurative sculpture, stop motion animation, or in this case, high speed photography—somebody comes along and manages to do something radically different. German photographer Heinz Maier says that he began taking photographs less than a year ago in late 2010. He claims to not know what direction he's heading in just yet, right now he's experimenting with macro photography, mostly insects, animals, and these delicate high speed water droplets. Personally, I think he's found a great direction. There are so many things happening here to make these photographs simply outstanding: the lighting, the colors, the occasional use of symmetry in the reflection of water, let alone the skill of knowing how to use the camera itself.