Out of the Ordinary Art
Artistic Toasts: 20 Pictures of Creatively Made Toast-art. MAIN : Marion Bolognesi. Pano4.jpg (JPEG Image, 1500x761 pixels) - Scaled (67%) Art-to-please-and-tease. RALEIGH — For now, Wake County's new parking deck in downtown Raleigh is a cinderblock facade - a stark reminder of an ambitious plan thwarted by recession.
But over the next two weeks an enormous piece of artwork composed of 15 fantasy-themed banners will color the walls that now face Davie and McDowell streets. The gray will be transformed into a scene of roaring oceans, violet clouds, a polar bear, a dragon and a slew of characters chasing each other through the sky. The original plan from developer Greg Hatem's Empire Properties was for an L-shaped building with ground-level retail and office space to shield the parking deck. Staples Art.
16_banksy. Dalton Ghetti creates amazing art on the tips of used pencils. Most of us will agree with the age-old saying that "patience is a virtue."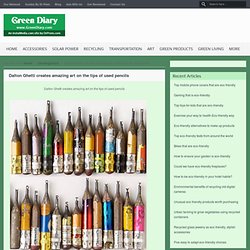 How many of you, however, would actually hang on for two years and a half to bring a piece of art into existence? Dalton Ghetti, 49, a Bridgeport artist, has spent 25 good years working with a razor blade, a sewing needle and a sculpting knife for carving his unique art on the graphite of pencil. The artist says: I don't make money from it but I would love a gallery owner in England to fly me over and put on a show. Underwater Sculpture by Jason deCaires Taylor. Drowning Beautiful |
Won Park – The Master of Origami Paper Folding. Origami is the traditional Japanese art of paper folding.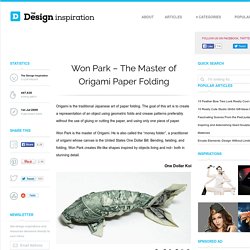 The goal of this art is to create a representation of an object using geometric folds and crease patterns preferably without the use of gluing or cutting the paper, and using only one piece of paper. Won Park is the master of Origami. He is also called the "money folder", a practitioner of origami whose canvas is the United States One Dollar Bill. Bending, twisting, and folding, Won Park creates life-like shapes inspired by objects living and not– both in stunning detail. Interviews vidéos exclusives – Muti Randolph. Only Have Eyes For Disney: Pics, Videos, Links, News. Rebel:art | connecting art and activism. Awesome Pencil Drawings by Jayaraj Paul. Home » Drawing » Awesome Pencil Drawings by Jayaraj Paul 1.2K Flares1.2K Flares × Today we are showcasing awesome pencil drawings by Jayaraj Paul.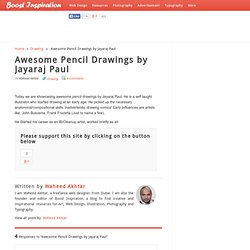 He is a self taught illustrator who started drawing at an early age. He picked up the necessary anatomical/compositional skills, inadvertently, drawing comics! Early Influences are artists like, John Buscema, Frank Frazetta (Just to name a few). Nightstream by Vandeyk Contemporary Cycles | Yatzer™ Photo © Vandeyk Contemporary Cycles We usually consider canvas, oil and a frame as pieces of art and know that there might be one, two or a few more around the world and that's it.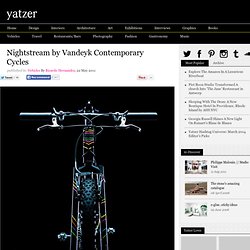 The innate uniqueness, inspiration and creative pursuit gives value to the product and that is the vision and mission of the team at Vandeyk Contemporary Cycles, a unique team of creative professionals developing limited edition bicycle out of Stuttgart, Germany. They are not compromising quality or aesthetics in their process. They also are committed to offering consumers limited edition bikes by only manufacturing 25 per collection and not a single more. Their first collection, Nightstream, is a special line as it is built by one of the best framebuilders in Europe, Georg Blaschke, the Vandeyk head of engineering and framebuilding.
---