Vertical Gardens & Living Walls
A Rooftop Garden is a Fun and Exciting Way to Container Garden.
Rooftop Garden Advantages They cool and shade buildings, which reduces the 'heat island' effect of a city. Retains and utilizes rainwater, provides wildlife habitat, and enhances the roof membrane life. Has an aesthetic appeal creating a private haven. Removes heavy metals such as: cadmium, copper, and lead from runoff. Reduces greenhouse gas emissions and improves the air quality by trapping and absorbing nitrous oxides, volatile organic compounds, and airborne particulate matter.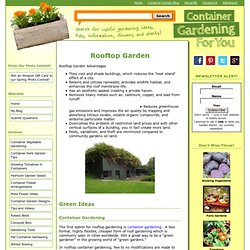 Los Gatos Atrium's living walls | Urban Zeal Planters
home from dreamingreen.nl
Rustic Gardens & Backyard Ideas|Gardening Junky
Successfully Growing cucumbers in a container vertically
aquaponics up and running part 11 Vertical grow
Aquaponics Double decker bus and Vertical grow experiments update
It's approaching the end of summer and rather than saying good-bye to your herbs why not go inside and try an indoor vertical herb garden? But, if you live in an apartment and have space restrictions a permanent vertical herb garden might just be the solution for you – where you can have herbs inside all year round. You may also like to get creative and add colour by adding succulents.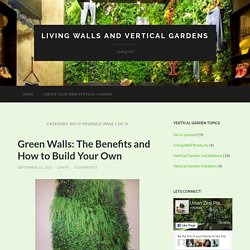 Urbanization has robbed Mother Nature of space to place her beautiful brood of plants and flowers. Known also as a living wall, green wall or sky farm, vertical gardens are well-suited for an urban environment where space is limited. So if you can't go wide, what do you do? You go up! Many business establishments are going green in their step towards being both environmentally-friendly in today's urban jungle.
How To Build A Vertical Garden & DIY Guides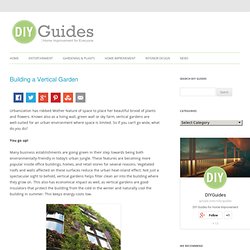 Urbio Urban Vertical Garden
www.schiavello.com.au/pdf/Editorial/Better Homes & Gradens_VG.pdf
Vertical gardening is a fun, creative way to grow plants in urban spaces! Below is just a sample of what you can create using vertical gardening systems and kits. The first few images are of GroVert Vertical Gardening Systems by Bright Green.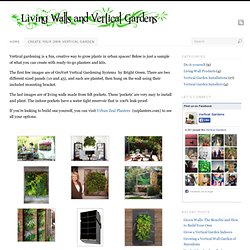 Vertical gardens may be beautiful, but did you know they can also help conserve energy? Japanese company Kyocera embarked on a project to cool their buildings with "green curtains." By blocking sunlight with foliage, they managed to decrease the temperature of their buildings by as much as 27° F, thus reducing the need for air conditioning.
Look! Kyocera's Energy-Saving Green Curtains Plus Instructions To Grow Your Own | Apartment Therapy Re-Nest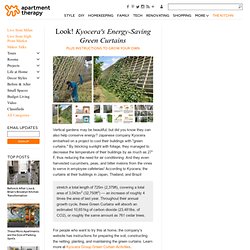 With the Atlantis Gro-Wall® modules you can create lush, beautiful vertical gardens, indoor or outdoor. Vertical gardens are created with ease utilising natural soil mixes to retain nutrients. This modular system enables localised moisture retention and access to individual plants, creating optimum conditions for a successful vertical garden.
Gardens go vertical with Atlantis Gro-Wall®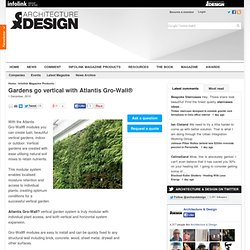 Tube Planters | Grow Anywhere