Comisión Europea
Research - Standing Committee on Agricultural Research: National Research Systems. Standing Committee on Agricultural Research - cross-country comparison. Innovation Union Information and Intelligence System - I3S - European Commission. Conference "Enhancing innovation and the delivery of research in EU agriculture" (Brussels, 07/03/2012) - Agriculture and rural development. Fostering research, knowledge transfer and innovation in the agricultural sector is vital for improving productivity, sustainability and competitiveness.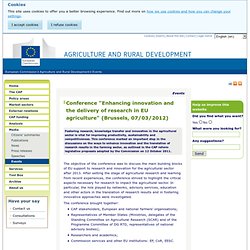 This conference marked an important step in the discussions on the ways to enhance innovation and the translation of research results in the farming sector, as outlined in the CAP reform legislative proposals adopted by the Commission on 12 October 2011. The objective of the conference was to discuss the main building blocks of EU support to research and innovation for the agricultural sector after 2013. After setting the stage of agricultural research and learning from recent experiences, the conference strived to highlight the critical aspects necessary for research to impact the agricultural sector.
Welcome | Network of Excellence in InterNet Science (EINS) Europe 2020 – Europe's growth strategy. Home page - Horizon 2020 - the Framework Programme for Research and Innovation. European Research Area - ERA. NETWATCH: Platform on ERA-NETs and transnational R&D programme collaboration. European Research Area - ERA instruments. Conferences and Events for Research - Research & Innovation. (Picture by DafneCholetSome rights reserved) New Events - most recently added events appear first in this feed.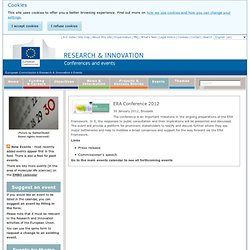 There is also a feed for past events. Home page - Innovation Union. 24 April 2014 ONE Conference Brussels 2014: Policies (R)Evolution and Every European Digital, Brussels The Future has begun.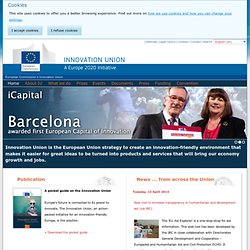 Member States and regions must lose no time in preparing the next generation of EU programmes for growth, says Commissioner Hahn after MEPs' vote on radical reform of EU Regional Policy in July 2013. The new programming period brings new investment budgets for Member States, seeking synergies between Regional Policy and Horizon 2020 in order to maximise the innovation opportunities. European Union of Science Journalists' Associations. Home. CIRCA - Communication & Information Resource Centre Administrator. Homepage. The Institute for Prospective Technological Studies. El Instituto de Prospectiva Tecnológica (IPTS) es uno de los siete institutos de investigación del Centro Común de Investigación de la Comisión Europea.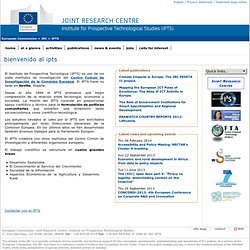 El IPTS tiene su sede en Sevilla, España. Desde el año 1994 el IPTS promueve una mejor comprensión de la relación entre tecnología, economía y sociedad. La misión del IPTS consiste en proporcionar apoyo científico y técnico para la formulación de políticas comunitarias que entrañen una dimensión tanto socioeconómica como científico-tecnológica.
---