Europe 2020 - EU Strategy for smart, sustainable and inclusive growth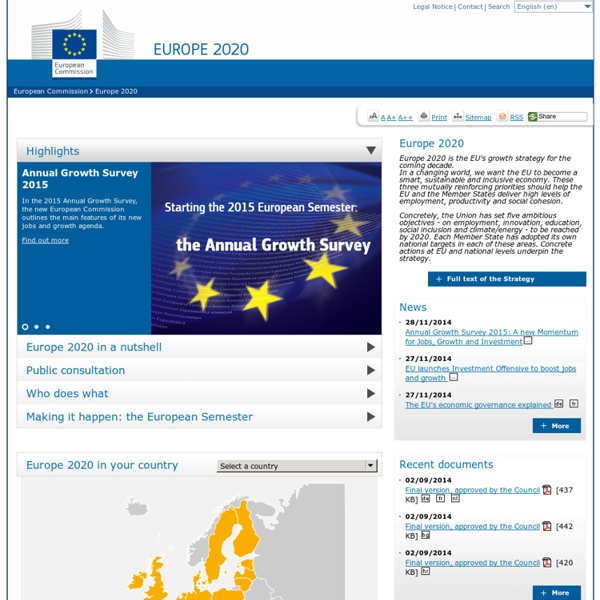 Europe 2020 is the EU's growth strategy for the coming decade. In a changing world, we want the EU to become a smart, sustainable and inclusive economy. These three mutually reinforcing priorities should help the EU and the Member States deliver high levels of employment, productivity and social cohesion. Concretely, the Union has set five ambitious objectives - on employment, innovation, education, social inclusion and climate/energy - to be reached by 2020. Each Member State has adopted its own national targets in each of these areas. Concrete actions at EU and national levels underpin the strategy.
http://ec.europa.eu/europe2020/index_en.htm
Dialogue Social • Politiques européennes • Economy & Jobs • EU 2020 • União Europeia
Dialogue social interprofessionnel - UE Additional tools Le dialogue social interprofessionnel couvre l'ensemble de l'économie et des travailleurs. Son objectif est de permettre un dialogue entre les syndicats et les employeurs sur les grands sujets horizontaux du domaine de l'emploi et des affaires sociales. Il produit des résultats et des normes qui s'adressent à toutes les entreprises et travailleurs en Europe. Les grandes politiques communautaires Quelles sont les grandes politiques communautaires ?| vie-publique.fr | Repères | Découverte des institutions Menu de navigation Vous êtes ici: Accueil Repères Découverte des institutions European Employment Strategy Additional tools To respond to the crisis and to speed up its economic growth, Europe needs to focus its efforts in a coordinated manner and with an eye on priorities. The Annual Growth Survey (AGS) charts a clear direction on where Europe should be heading in the next cycle of the "European Semester" , changing the way governments shape their economic and fiscal policies.
CIP COSME 2014-2020 Cookies This site uses cookies to offer you a better browsing experience. Find out more on how we use cookies and how you can change your settings. European Commission Enterprise and Industry Accessibility tools Go to content Latest News > Responses to European Territorial Co-operation 2014-2020 Consultation Responses to European Territorial Co-operation 2014-2020 Consultation 28 November 2012 The consultation organised by the SEUPB on 'Preparing a new EU Programme for Cross Border Co-Operation (INTERREG V) and a new Programme for Peace and Reconciliation (PEACE IV)' closed on 20 November 2012. LOI n° 2010-751 du 5 juillet 2010 relative à la rénovation du dialogue social et comportant diverses dispositions relatives à la fonction publique (1) L'Assemblée nationale et le Sénat ont adopté, Le Président de la République promulgue la loi dont la teneur suit : La loi n° 83-634 du 13 juillet 1983 portant droits et obligations des fonctionnaires est ainsi modifiée : 1° Le dernier alinéa de l'article 8 est supprimé ; 2° Après l'article 8, il est inséré un article 8 bis ainsi rédigé : « Art. 8 bis.
PAC : Dév rural (FEADER) Aux côtés de ce qu'on appelle « le premier pilier de la PAC » qui permet de soutenir les marchés et les revenus agricoles dans le cadre de la politique agricole commune, l'Union européenne a mis en place une politique spécifique pour le développement rural. Le Fonds européen agricole pour le développement rural (FEADER) est un instrument de financement de la politique agricole commune (PAC). Il est consacré au développement rural. Europe can't cut and grow | Sony Kapoor and Peter Bofinger Overspending by governments, we have been told, triggered this crisis. The cure thus lies in immediate austerity, hence last month's German-led push for a eurozone fiscal compact and the UK's pursuit of similar policies. But, as demonstrated by the experiences of Greece, Portugal and Spain, this course leads to biting, deep recessions and worsens public indebtedness.
Useful Links | CESlink CESlink Search: Skip to navigation Skip to content You are at: Home / Themes / Europe 2020 / Useful Links Détail d'un texte L'article 11 de la loi n° 86-33 du 9 janvier 1986 portant dispositions statutaires relatives à la fonction publique hospitalière est ainsi modifié : 1° Les 2° et 3° sont ainsi rédigés : « 2° Des représentants des employeurs publics territoriaux et des représentants des employeurs publics hospitaliers désignés par les organisations les plus représentatives des établissements mentionnés à l'article 2 ; « 3° Des représentants des organisations syndicales représentatives des fonctionnaires des établissements mentionnés à l'article 2. Les sièges attribués aux organisations syndicales sont répartis entre elles proportionnellement au nombre de voix qu'elles ont obtenues aux élections organisées pour la désignation des représentants du personnel aux comités techniques d'établissement et aux comités consultatifs nationaux.
Programme de Dév Rural Hexagonal (PDRH) Le programme de développement rural « hexagonal » (PDRH) couvre l'ensemble du territoire métropolitain hors Corse. Il se compose d'un socle commun de mesures applicable dans l'ensemble des 21 régions et de volets régionaux spécifiques dont la programmation est confiée aux préfets de région. Au sein du socle national sont programmées des mesures qui pour des raisons d'équité et de solidarité nécessitent un traitement identique sur l'ensemble du territoire du programme. Il s'agit des indemnités compensatrices de handicaps naturels, du soutien à l'installation en agriculture (dotation jeune agriculteur et prêts bonifiés), de la poursuite des aides à la reconstitution des forêts après tempêtes (plan chablis), des aides visant à l'amélioration de la valeur économique des forêts ainsi que de la desserte en forêt pour la mobilisation de la ressource en bois.
The Myth of Europe - by Gareth Harding When the euro officially entered circulation at the stroke of midnight on Jan. 1, 2002, fireworks lit up the night sky across Europe to celebrate the scrapping of the French franc, German deutsche mark, Greek drachma, and a clutch of other ancient currencies. Brussels hosted an extravagant sound-and-light show, while Frankfurt unveiled a five-story statue of the freshly minted euro as a pop band belted out "With Open Arms (Euro World Song)." "I am convinced," European Central Bank President Wim Duisenberg declared, that the launch of euro coins and banknotes "will appear in the history books in all our countries and beyond as the start of a new era in Europe." The early 2000s did feel like the European moment.
Subsidy for Health Social innovation for health promotion Topic / Target >HEALTH.2013.3.3-1 Social innovation for health promotion EU research should aim to identify, develop and better understand innovative approaches to reduce sedentary behaviour and enhance the level of physical activity in the population. Research should include the evaluation of innovative on-going initiatives that reduce sedentary behaviour, enhance the level of physical activity combined with dietary or other interventions. In this context, research should include the identification of "good practices", as well as the analysis of their economic and social benefits and impact. Correlates will have to be detected (such as cultural, environmental, economic, psychological and others) that inhibit or promote the individuals capacity to increase physical activity, reduce sedentary behaviour and self-regulate their dietary or other relevant behaviour.
Clash au cœur de l'appareil du Medef - social Jean-Charles Simon, co-directeur général du Medef au côté d'Héléne Molinari, a démissionné hier suite à une réunion houleuse des directeurs de l'organisation. Après les contestations externes c'est désormais le cœur de l'appareil Medef qui tangue. Mardi 5 janvier, le co-directeur général délégué du Medef, Jean-Charles Simon, en poste depuis septembre démissionné et exprimé son désir de quitter sur le champ la maison sans effectuer son préavis.
Dialogue social • Revisar