Music
- StumbleUpon. Most underrated songs by the most overrated artists. Songs for when you're stuck in the friend zone… Requested by Big Teddy Bear · Compiled by BFFE Man, do I know the feeling. 01.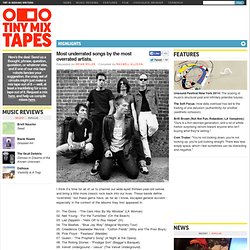 Imagine-a-jump-john-lennon-vs.-van-halen by jackstanleywp. ► There Goes The Fear by Doves | For your awkward bedroom dancing needs. | basementperson | 8tracks. The Beatles Player. ► The Middle by Jimmy Eat World | For when you're stressed and freaking out and ready to give up | popeye072 | 8tracks. Listen to a Wall of rock Music. Seaquence. (2:58) Use Somebody - Daniela Andrade.
Inudge.net - Nudge. SHINE (IN YOUR MIND) by The Apples In Stereo - happy playlist. Songs to lie on your bed and stare at the ceiling to | lytebryte25 | 8tracks. INCREDIBOX [ Official website ] Otomata. New!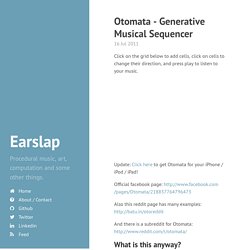 If you like Otomata, check out my new instrument Circuli by clicking here! Update: Click here to get Otomata for your iPhone / iPod / iPad! Bill Withers. What does English sound like to foreign ears? We've all heard examples of fake Chinese or German from speakers who lack familiarity with either language.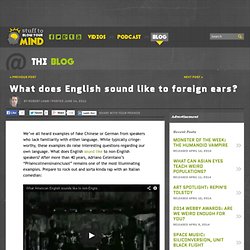 While typically cringe-worthy, these examples do raise interesting questions regarding our own language. What does English sound like to non-English speakers? After more than 40 years, Adriano Celentano's "Prisencolinensinainciusol" remains one of the most illuminating examples. Prepare to rock out and sorta kinda rap with an Italian comedian: Eric Clapton, Buddy Guy, Robert Cray & Jimmy Vaughan - Sweet Home Chicago. Haikaa Work of Art - Global Project.
My playlist | My playlists | Listen to songs online | Music To Listen To By Your Mood. Day of the Dreamweavers - Holy Soul's Top 100 Soul Songs (The Complete List) Andrew Bird - Tenuousness live In The Basement. Running songs for 10:00 kilometers (Page 3) Lists | New Music. Smitten, You Know When You Are :) | SmileAgain02 | 8tracks.
---