Scientific writing and publishing
PLOS Collections : Article collections published by the Public Library of Science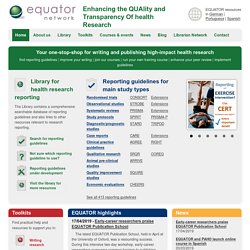 EQUATOR highlights 4/12/2013 - Support transparent and accurate publication of health research The EQUATOR Network has recently received numerous endorsements recognising its role in working to improve the reliability and value of medical research literature by promoting transparent and accurate reporting of research studies.
Equator > Home
Equator > Home
Equator > Home
<p class="nojs"><strong>Warning:</strong> The NCBI web site requires JavaScript to function. <a href="http://www.ncbi.nlm.nih.gov/corehtml/query/static/unsupported-browser.html#enablejs" title="Learn how to enable JavaScript" target="_blank">more...</a></p>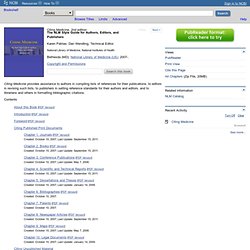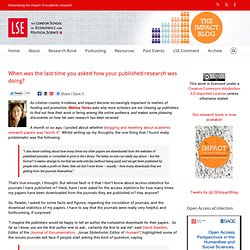 As citation counts, h-indexes, and impact become increasingly important to matters of funding and promotion, Melissa Terras asks why more scholars are not chasing up publishers to find out how their work is faring among the online audience, and makes some pleasing discoveries on how her own research has been received. A month or so ago, I posted about whether blogging and tweeting about academic research papers was "worth it". Whilst writing up my thoughts, the one thing that I found really problematic was the following: "I also know nothing about how many times my other papers are downloaded from the websites of published journals, or consulted in print in the Library. The latter, no-one can really say about – but the former? It seems strange to me that we write articles (without being paid) and we get them published by people who make a profit on them, then we don't even know – usually – how many downloads they are getting from the journals themselves."
When was the last time you asked how your published research was doing?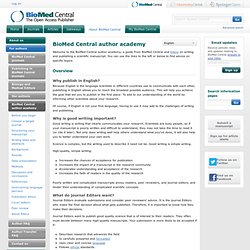 BioMed Central | BioMed Central author academy
Welcome to the BioMed Central author academy, a guide from BioMed Central and Edanz on writing and publishing a scientific manuscript. You can use the links to the left or below to find advice on specific topics. Why publish in English? Because English is the language scientists in different countries use to communicate with each other, publishing in English allows you to reach the broadest possible audience. This will help you achieve the goal that led you to publish in the first place: To add to our understanding of the world by informing other scientists about your research. Of course, if English is not your first language, having to use it may add to the challenges of writing and publishing.
We significantly increase your chances of acceptance for publication | edanz editing global
Academic publishing: Open sesame
Arrant Pedantry » Blog Archive » It's Not Wrong, but You Still Shouldn't Do It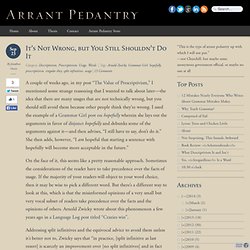 A couple of weeks ago, in my post "The Value of Prescriptivism," I mentioned some strange reasoning that I wanted to talk about later—the idea that there are many usages that are not technically wrong, but you should still avoid them because other people think they're wrong. I used the example of a Grammar Girl post on hopefully wherein she lays out the arguments in favor of disjunct hopefully and debunks some of the arguments against it—and then advises, "I still have to say, don't do it." She then adds, however, "I am hopeful that starting a sentence with hopefully will become more acceptable in the future." On the face of it, this seems like a pretty reasonable approach. Sometimes the considerations of the reader have to take precedence over the facts of usage. If the majority of your readers will object to your word choice, then it may be wise to pick a different word.
By Robert A. Giacalone The journal-review process is always the subject of some scorn among scholars. I've been in the academic profession for nearly 30 years, and while I've heard few people unequivocally applaud blind reviews, it seems that in the last five years, more colleagues at all levels have expressed consternation with the process.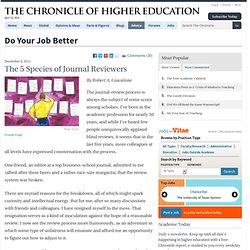 The 5 Species of Journal Reviewers - Do Your Job Better
Effective Scientific Writing -- Manuscripts and Grants
scientific peer review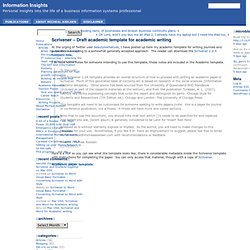 Scrivener – Draft academic template for academic writing | information insights
At the urging of Twitter user beautyiswhatudo, I have posted up here my academic template for writing journals and publications according to a somewhat generally accepted approach. The reader can download the Scrivener 2.0.4 template here. I do have some notes for someone intending to use this template; these notes are included in the Academic template. To the user:This Scrivener 2.04 template provides an overall structure of how to proceed with writing an academic paper in Scrivener. Much of this generated table of contents etc is based on research in the social sciences (Information Systems discipline). Other advice has been sourced from the University of Queensland RHD Handbook (included as part of the research materials at the bottom), and from the publication Turabian, K.
September 2001 - Volume 76 - Issue 9 : Academic Medicine
AuthorAID: supporting researchers from developing countries
Tutorial Home Page: How to Recognize Plagiarism, School of Education, Indiana University at Bloomington
Tutorial Home Welcome! The academic community highly values the acknowledgment of contributions to knowledge. When you properly acknowledge the contributions to knowledge made by other people, you are showing respect for their work. You are giving credit where credit is due.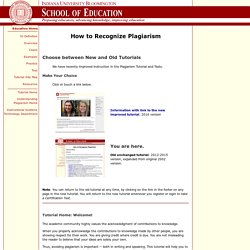 ICMJE: Uniform Requirements for Manuscripts Submitted to Biomedical Journals
Mulford Library: Instructions to Authors. Welcome
A one-sentence overview of the poster concept[please do not plagiarize this page] A large-format poster is a big piece of paper (or wall-mounted monitor) that can communicate your research at a conference, and is composed of a short title, an introduction to your burning question, an overview of your novel approach, your amazing results in graphical form, some insightful discussion of aforementioned results, a listing of previously published articles that are important to your research, and some brief acknowledgement of the tremendous assistance and financial support conned from others — if all text is kept to a minimum, a person could fully read your poster in under 5 minutes (really). Jump to any section you'd like …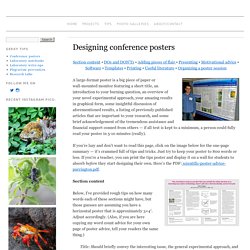 On Being a Scientist: A Guide to Responsible Conduct in Research: Third Edition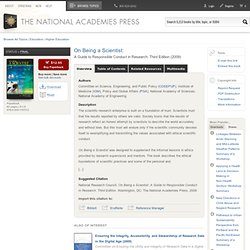 The scientific research enterprise is built on a foundation of trust. Scientists trust that the results reported by others are valid. Society trusts that the results of research reflect an honest attempt by scientists to describe the world accurately and without bias. But this trust will endure only if the scientific community devotes itself to exemplifying and transmitting the values associated with ethical scientific conduct. On Being a Scientist was designed to supplement the informal lessons in ethics provided by research supervisors and mentors.
The Academic Phrasebank is a general resource for academic writers. It aims to provide you with examples of some of the phraseological "nuts and bolts" of writing organised according to the main sections of a research paper or dissertation (see the menu on the left). Other phrases are listed under the more general communicative functions of academic writing. The resource was designed primarily for academic and scientific writers who are non-native speakers of English. However, native speaker writers may still find much of the material helpful. The phrases, and the headings under which they are listed, can be used simply to assist you in thinking about the content and organisation of your own writing, or the phrases can be incorporated into your writing where this is appropriate.
Mignon Fogarty is the creator of Grammar Girl and the founder and managing director of Quick and Dirty Tips. A magazine writer, technical writer, and entrepreneur, she has served as a senior editor and producer at a number of health and science web sites. She has a B.A. in English from the University of Washington in Seattle and an M.S. in biology from Stanford University. Mignon believes that learning is fun, and the vast rules of grammar are wonderful fodder for lifelong study.