Art
Lector Constante
Newest Cheezburger Content Share: Writers and Kittehs Favorite
Writers and Kittehs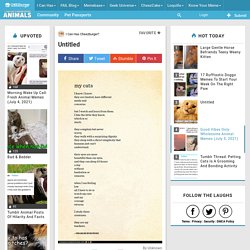 Lindsey Carr
El gabinete de Madeline Von Foerster | Viajes con mi tía
(Madeline Von Foerster, pintura ) Un compendio de enlaces a lugares maravillosos, extraños y hermosos, y un espléndido ramillete de pinturas espléndidas es lo que encontrarán en el gabinete de curiosidades de la pintora Madeline Von Foerster , que además de devota del misterio sacrosanto del wunderkammer y el objeto mirífico, es una artista brillante que nos revela algunos de los secretos milenarios de su exquisita técnica, que dice inspirada por los maestros flamencos. La presencia casi constante del memento mori y el eterno femenino en su producción, hacen de Von Foerster una cita obligada en nuestra blog. Su página principal, aquí.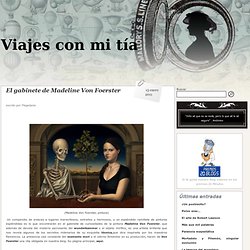 *Baking with Medusa*: ephemera
( LIKE Lovecraft eZine on Facebook !) Edward Gorey is one of my favorite artists ( A is for Amy, anyone?). What if he illustrated Lovecraft stories or created artwork with Lovecraftian themes? John Kenn Mortensen is an artist from Denmark whose work is very much reminiscent of Edward Gorey, and I spent some time recently looking at every single illustration at his website. I selected the ones that I felt were Lovecraftian and I'm posting them below.
What if Edward Gorey illustrated Lovecraft? « Lovecraft eZine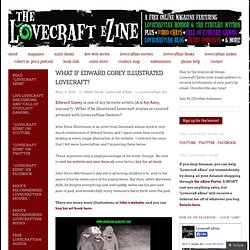 don kenn gallery
La mia personale scoperta di Leon Ryan è stata accompagnata da una folgorante rivelazione: non occorre giocare a strip poker per fare delle carte un momento di erotismo. Dopo essere rimasta totalmente catalizzata dalla sua rivisitazione degli assi, del joker e della regina di picche mi sono quindi catapultata sul suo sito; ho così scoperto un onirico mondo a tinte forti fatto di marinai che sognano polpi e sirene, scimmie giganti e pettorute fanciulle a volte molto rock, altre deliziosamente ingenue. Leon Ryan gioca con l'illustrazione ed il design riuscendo perfettamente nel delicato e complesso compito di divertire. Emblematiche in questo senso sono la fuga di Mickey Mouse, che abbandona l'ovattato universo Disney con una bottiglia di liquore e un biglietto molto poco in linea con la sua icona, e la rappresentazione di ciò che può accadere mettendo insieme sei donne e un paio di scarpe in saldo. Rappresentazione, a onor del vero, piuttosto aderente alla realtà.
Daily Pink » Blog Archive » Leon Ryan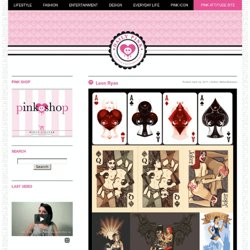 ZOM-BOT.COM
Alternate Histories by alternatehistories on Etsy
Stuart Ng Books - Rare and Out of Print Art Books and Artist Sketchbooks
Roq La Rue Store - Pop Surrealism and Underground Contemporary Art
In the ever shrinking world of Tiki bars Kelbo's was ranked among the best. While it didn't feature any truly original drinks and the food was sub-par the atmosphere was spot on. The interior was the creation of Eli Hedley. "One of the weirdest businesses in California, where weird businesses are a perfectly normal thing, is run by a 42-year-old ex-grocer ... who makes a living out of things the Pacific Ocean throws back," began a story in Life magazine in January 1946.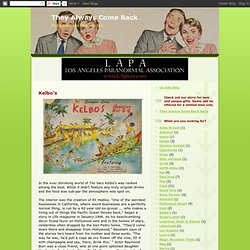 They Always Come Back: Kelbo's
:: Carlota Escribano :::
Paga Extra
watdafac gallery | galería fascinante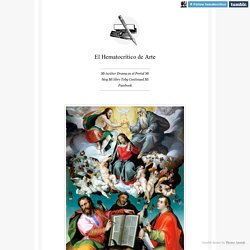 " Cristo improvisando una excusa para haber llegado a una reunión dos horas tarde " (Il apóstoli indignatti per la tardanzza dil cappo) Duccio de Buoninsegna " Haz el favor de devolverme al niño que me estás poniendo un poco nerviosa " (Il saccerdoti babosetti) Ludovico Carracci " Oiga, señor, que se deja a su bebé " (Le abandonneur infantille descubiertê) Nicolas Poussin " Quítate eso, que mi unicornio quiere verte en pelotas " (La criaturi mitologgicci degeneratti) Bicci Di Lorenzo
El Hematocrítico de Arte
ComicHouse