Educational technology
A Practical Guide to the Top 100 Tools for Learning
My annual Top 100 Tools for Learning list has become a popular resource - if the Slideshare viewing stats are anything to go by. For instance the 2011 presentation has now been viewed over 800,000 times, and the 2012 has been viewed nearly 400,000 times. So since the New Year I have been working on a major new, supplementary resource, A Practical Guide to the Top 100 Tools for Learning. This Guide describes the essential features of each of the 100 tools and explains how they can be used for personal productivity, professional learning and development, education and training, as well as for workforce collaboration. The Guide is available both as continuously updated online resource and as a 342 page PDF to download. For a small charge, an annual subscription to the Guide will let you:
"You want some great ed tech tools to use in your classroom? You got em'—50, to be exact! This article written by the folks from Edudemic features an extensive list of some of the most awesome technological tools you can find for teaching and learning.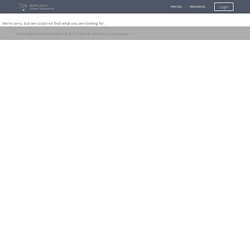 50 Education Technology Tools Every Teacher Should Know About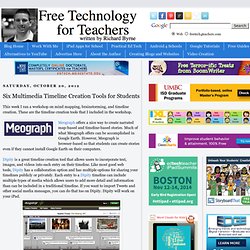 This week I ran a workshop on mind mapping, brainstorming, and timeline creation. These are the timeline creation tools that I included in the workshop.
Six Multimedia Timeline Creation Tools for Students
myHistro Offers New Ways to Share Mapped Timelines
Education Video Slideshows
Storybird - Artful storytelling
Voki Home
Glogster EDU - 21st century multimedia tool for educators, teachers and students | Text, Images, Music and Video
Scratch | Home | imagine, program, share
Trimble SketchUp
Download Jelly Cam 2.0.3
GIMP - The GNU Image Manipulation Program
Alice.org
Planet Nutshell produces short animated videos to explain products, services, and concepts.
17 Cartoon Videos Explaining the Internet and Internet Safety to Kids
Last week, on the day before Thanksgiving vacation, several of my fifth-graders voluntarily stayed after school with me to work on a project for which they would receive no grade: producing calendars based on poems and illustrations they had created for a class project. We were at step two, taking digital images of their illustrations.
More than Words Alone Can Say: Writing with Images in the Digital Age - Getting Smart by Susan Lucille Davis - DigLN, edchat, edlearning, EdTech, literacy, photo projects, visual learning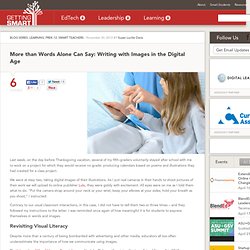 VoiceThread - Conversations in the cloud
Educators from Cochrane Collegiate Academy in Charlotte, North Carolina, have provided these samples and resources for you to use in your school. Cochrane's strong PD and its list of ten non-negotiable classroom practices have been critical to the school's turnaround, helping to boost student engagement and double student performance in three years. Credit: Zachary Fink Tips for downloading: PDF files can be viewed on a wide variety of platforms -- both as a browser plug-in or a stand-alone application -- with Adobe's free Acrobat Reader program. Click here to download the latest version of Adobe Reader.
Resources and Downloads to Improve Student Performance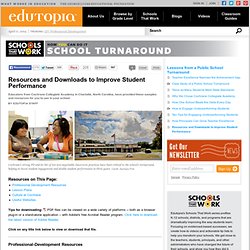 Free Educational Videos for K-12 Students
Remind101
The Innovative Educator: 8 Ways to Assess without Standardized Tests
A Guided Tour Inside the International Space Station
Live presentations have been a part of National Geographic since the Society's inception in the 19th century, allowing people to embark for an evening on expeditions to the far reaches of the world through the eyes of our explorers. In the past two years, we have expanded the reach of these explorers, photographers, and scientists to include a global online audience, amassing a collection of more than 140 videos live now. Here are 2012′s top 10 most viewed videos from across a wide array of categories.
Top 10 "Nat Geo Talks" Videos for 2012
Dangerously Irrelevant
This morning I received a question from a reader who wanted to know if it is possible to create PDFs in Google Documents and if so how can it be done.
How to Create PDFs in Google Drive in Three Steps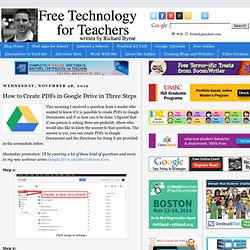 I think it's fair to say that Twitter can no longer be dismissed as a trivial passing fad. Though I had dabbled with a personal account, my entire opinion changed when I started my @VideoAmy account and dove in to the conversations educators were engaged in. While some people certainly do tweet about what they're having for breakfast, teachers, administrators, and educational organizations use Twitter in a whole different way -- making smart use of those 140 characters to share resources, wisdom, and inspiration.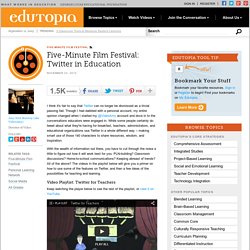 Five-Minute Film Festival: Twitter in Education
Webinars - Free Professional Development
With the start of school right around the corner, I decided to revisit a post I've done on sites for educational games. This list I've compiled has a nice mix of subjects and grade levels that teachers can use w/ their students. *This list is in alphabetical order. 40 Sites for Educational Games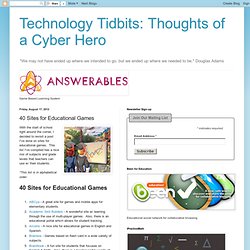 Thoughts of a Cyber Hero: 40 Sites for Educational Games
It's back to school time, and though most of us have mastered the use of social media to enhance our personal lives, what about mastering Internet and tech that can make us more productive instead of easily distracted? We rounded up the best apps, tools and websites for you to streamline your school life and be more successful. Google has given you a leg up though this year on that looming avalanche of paper assignments with its Google Docs research feature.
5 Tools Every Student Needs to Know
Like it or not, it's that time again. Schools across the nation are back in session (or will be soon enough) and it's time for students to get back into the learning, studying and testing mindsets. For some, that may be easier said than done.
What are some of the best uses for mobile devices in the classroom
45 Simple Twitter Tips Everyone Should Know About
Are you a tweetin' teacher? Do you rely on tweets for your extended PLN ? Whether you use the service or not, there's a whole world of information being shared and you should start taking part. But if you've been too nervous or unsure about HOW to actually use Twitter as efficiently as possible… the wait is over.
Using Wall Wisher in the Classroom
On Friday I ran a short workshop about using online tools to brainstorm with students. One of the resources that I shared and had folks try out was Wall Wisher. Although not the most robust tool for brainstorming, Popplet is currently my favorite, Wall Wisher is easy to use and seemed to be a hit with my audience.
Edudemic | Education Technology, Apps, Product Reviews, and Social Media
25 Ways Teachers Can Integrate Social Media Into Education | Edudemic
Websites Like - Find Related Sites and Tools
12 Dozen Places To Educate Yourself Online For Free
Ten Ideas for Teaching Teachers Technology
A List of Free Must Have PDF Tools for Educators
The 411 on Digital Learning
Show Me What's Wrong - Help Your Friends With Their Computer Problems
Google Sites for Teachers 2012
Page-level Permissions and Digital Portfolios in Google Sites
5 Ways to Use Google Sites in Schools
Summer School for Teachers
MIT Video - More Than 10,000 Educational Videos
7 Tools for Creating Mind Maps and Outlines Online
The Social MEDia Course - Education in the Social Media Era
Google Earth A to Z
Watch Steve Jobs Talk Passionately About the First Apple Store Ever
GE Teach - Teaching With Google Earth
10 Things You May Not Know About YouTube
How Twitter can be used as a powerful educational tool
Top 10 Free Online Mind Mapping Tools
7 Strategies for iPads and iPods in the (Math) Classroom
Web 2.0 Tools for Educators
So...You Wanna Start Texting
Top 5 Twitter Accounts for Teachers | My Town Tutors
12 Most Splendid Sources for Music Discovery | 12 Most
Teachers Guide on The Use of Wikis in Education
KinectEDucation
Study Finds Benefits In Use of iPad As Educational Tool
Flipped Classroom: The Full Picture
Tech Alternatives for the One Computer Classroom
Youth Voices
5 Cutting Edge iPad Apps for Creative Thinking & Learning
50,000 (And Counting) Education Apps Worth Knowing About
Reteach and Enrich: How to Make Time for Every Student
48 Ultra-Cool Summer Sites for Kids and Teachers
Making Educational Blogging Work for Your
Cool Ways to Use Skype in the Classroom
Flipping...It's Not Just For The Classroom
- 30 Online Multimedia Resources for PBL and Flipped Classrooms by Michael Gorman
One iPad in the Classroom? – Top 10 Apps
50 Digital Media Resources You May Have Missed
Discovery Education Web2012 : Home
Free Downloads
Using Google Scholar for Education
Ten Search Tools and Tactics Teachers and Students Need to Know
12 Tools for Quickly Gathering Informal Feedback from Students
Daily Dose of DEN Diigo 06/27/2012
TeacherTube - Teach the World | Teacher Videos | Lesson Plan Videos | Student Video Lessons | Online Teacher Made Videos | TeacherTube.com
SchoolTube - Video Sharing For Students & Teachers
3 Simple Steps to Do-it-yourself Professional Development
The Honor Roll: 50 Must-Read K–12 Education IT Blogs
20 Twitter Hashtags Every Teacher Should Know About
iLearn Technology
Joan Ganz Cooney Center - Advancing Children's Learning in a Digital Age
CDMC | Children's Digital Media Center | Georgetown University
CITE Journal - Mathematics
Preparing Teachers To Teach With Technology - Charalambos Vrasidas, Gene V. Glass
ReadWriteWeb - Web Apps, Web Technology Trends, Social Networking and Social Media
ISTE iPad in Education Webinar
iPads in Education Webinar
Home | Digitales
Langwitches
Dr. Helen Barrett's Electronic Portfolios
21st Century Fluency Project
Welcome to Skype in the classroom
Welcome to MySMARTSpaces - the home of SMART Technologies in the UK
Technology Integration in K-12 - The Foundations of Instructional Technology
Best Free Software - School Computing
Tech & Learning - free magazine and website with great resources for educators