Research & Publications
The SFA just keeps giving. Nearly 300 colleges unexpectedly receive £23 million to be spent before August 2012.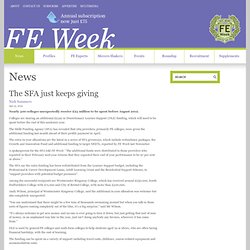 Colleges are sharing an additional £23m in Discretionary Learner Support (DLS) funding, which will need to be spent before the end of this academic year. The Skills Funding Agency (SFA) has revealed that 284 providers, primarily FE colleges, were given the additional funding last month ahead of their profile payment in April. The extra in-year allocations are the latest in a series of SFA giveaways, which include redundancy packages, the Growth and Innovation Fund and additional funding to target NEETs, reported by FE Week last November. A spokesperson for the SFA told FE Week: "The additional funds were distributed to those providers who reported in their February mid-year returns that they expected their end of year performance to be 97 per cent or above."
The 21st century pedagogy teachers should be aware of. Interpersonal learning , personalized learning, second life learning , 3d learning, collaborative learning and virtual learning , these are just some of the few buzz words you would be be reading so often in today's educational literature.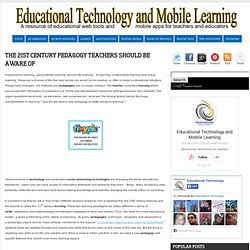 Things have changed , old methods and pedagogies are no longer relevant. The teacher-controlled learning where pre-constructed information is presented in a formal and standardized classroom settings becomes very obsolete. The urgent questions we should , as educators , ask ourselves are : what are the driving factors behind this huge transformation in learning ? And Do we need a new pedagogy to better enhance learning ?
Advancements in technology and particularly social networking technologies are changing the whole educational framework . Content is a tyrant... Project Glass: One day... TutorMe :: Our Tutors. Virtual School Head and Private Tutoring Pilots. Gateshead is one of only 11 authorities nationally to have successfully bid to participate in the DCSF funded virtual school head pilot.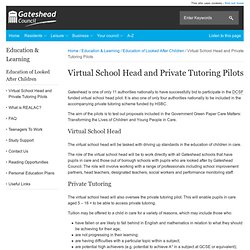 It is also one of only four authorities nationally to be included in the accompanying private tutoring scheme funded by HSBC. The aim of the pilots is to test out proposals included in the Government Green Paper Care Matters: Transforming the Lives of Children and Young People in Care. Virtual School Head The virtual school head will be tasked with driving up standards in the education of children in care. The role of the virtual school head will be to work directly with all Gateshead schools that have pupils in care and those out of borough schools with pupils who are looked after by Gateshead Council.
4 Mobile Trends to Watch. Jessica Richards | April 17, 2012 | 1 Comment inShare112 Data capturing, adaptable content, social media, and activation.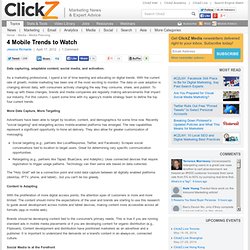 Www.aft.org/pdfs/americaneducator/spring2012/Clark.pdf. Dual-focus contact lens prototypes ordered by Pentagon. 12 April 2012Last updated at 23:06 GMT By LJ Rich Reporter, BBC Click Innovega says the lenses could be released to the public in 2014.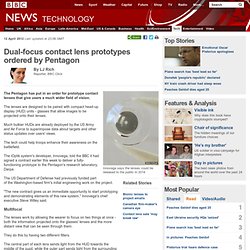 Scenario-based design. Chris Fowler The use of the term Scenarios has a long history.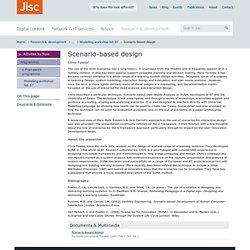 It originated from the Theatre and is frequently spoken of in a military context. It also has been used to support corporate planning and decision making. More recently it has become common parlance in a whole range of e-learning system design activities. Designers speak of scenarios in Learning Design, system modelling, interaction design and evaluation, and user needs analysis. Answering the Big Question on New Technology in Schools: Does It Work? (Part 1.
What drives many district and state technology leaders bonkers is being asked time and again by their school boards, superintendents, parents, and media: What does the research say about whether we should invest in iPads, tablets, and 1:1 laptops?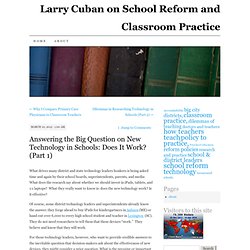 What they really want to know is: does the new technology work? Is it effective? Of course, some district technology leaders and superintendents already know the answer; they forge ahead to buy iPads for kindergartners in Auburn (ME) or hand out over 6,000 to every high school student and teacher in Lexington (SC). They do not need researchers to tell them that these devices "work." Developers see Google as Bigger Growth Area than Facebook.
Facebook may have been a hunting ground last year for developers expanding their social mobile programs, but their sights are set on growing with Google in 2012, a new study suggests.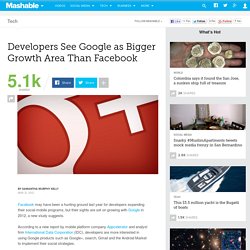 According to a new report by mobile platform company Appcelerator and analyst firm International Data Corporation (IDC), developers are more interested in using Google products such as Google+, search, Gmail and the Android Market to implement their social strategies. The survey — which was conducted among 2,173 developers worldwide — found that 39% of participants said the network effects of Google's initiatives are more important to their social strategies in 2012 than Facebook's social graph.
SEE ALSO: Facebook Wants to Own Your Social Graph "Google is learning some good lessons from Facebook about what not to do and what to do better," Appcelerator principal analyst Michael King told Mashable. "We didn't expect Google to expect to do so well against Facebook, but it puts them at an advantage. Bring your own device to be piloted at Cambridgeshire council | Guardian Government Computing | Guardian Professional. Cambridgeshire county council is to launch a bring your own device (BYOD) pilot, which will allow 50 employees to access corporate resources on their own devices.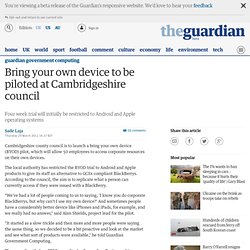 The local authority has restricted the BYOD trial to Android and Apple products to give its staff an alternative to GCSx compliant BlackBerrys. According to the council, the aim is to replicate what a person can currently access if they were issued with a BlackBerry. "We've had a lot of people coming to us to saying, 'I know you do corporate BlackBerrys, but why can't I use my own device?' And sometimes people have a considerably better device like iPhones and iPads, for example, and we really had no answer," said Alan Shields, project lead for the pilot.
Plugged into learning: Computers help students advance. Technology has grown by leaps and bounds, yet are computers helping students progress in their learning?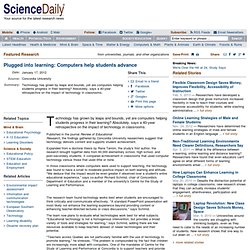 Absolutely, says a 40-year retrospective on the impact of technology in classrooms. Published in the journal Review of Educational Research, the findings gathered by Concordia University researchers suggest that technology delivers content and supports student achievement. Expanded from a doctoral thesis by Rana Tamim, the study's first author, the research brought together data from 60,000 elementary school, high school, and post-secondary students.
It compared achievement in classrooms that used computer technology versus those that used little or none. In those classrooms where computers were used to support teaching, the technology was found to have a small to moderate positive impact on both learning and attitude. Teaching Channel: Videos, Lesson Plans and Other Resources for Teachers. iPad Apps and Bloom's Taxonomy   I felt it was worthwhile to update the Top Post (over 25,000 views) on Langwitches: Bloom's Taxonomy for iPads I have added links to each app represented on the visual. The history of distance learning [Infographic] The world of snail-mail, shorthand typing and correspondence courses is a far cry from today's range of certified online courses, Skype language lessons and mobile app-based education.
Distance learning once meant completing assignments via post, or homework-based lessons in conjunction with weekly or monthly seminars. Now, exams can be taken online, students can communicate effectively through online platforms, and lab sessions can be attended through live streaming. MIT is one of the latest course providers to offer online alternatives, and the concept of digital learning has expanded across the globe -- taking root more recently in China. Research in Learning Technology. Aims & ScopeResearch in Learning Technology is the journal of the Association for Learning Technology. It aims to raise the profile of research in learning technology, encouraging research that informs good practice and contributes to the development of policy. The journal publishes papers concerning the use of technology in learning and teaching in all sectors of education, as well as in industry.
Read more. Potential subjects for submission: - technology use in learning and teaching - impact of technologies on the efficiency and effectiveness of provision - innovations in the area of learning technology - theory and practice of technology-enhanced learning across cultures and nationalities - staff and learner competencies, roles and skills - theoretical debate the relationships between learning, teaching and technology - policy and strategy at institutional, regional, sectoral, national and international levels. The World's 50 Most Innovative Companies in Education 2012. Top 10 Education 01 - Southern New Hampshire University For relentlessly reinventing higher education, online and off. The private, not-for-profit and nonselective university is a favorite of innovation guru Clay Christensen thanks to the hotbed of ideas for reimagining higher learning. President Paul LeBlanc is constantly looking to pilot models that provide the benefits of an SNHU education in different combinations to different people.
SNHU Advantage, for example, is a streamlined satellite program conducted at an offsite office park where 45 "less confident" students complete their first two years of general ed requirements in four hours a day. Its College Unbound program, which started this fall, is a learning community of first-generation students who design individualized learning plans around jobs and internships, spending as much time in the world as in class. Khan Academy Is Not The Progressive Model You Are Looking For.
There has been a great deal written about Khan Academy just recently and the concept of personalised instruction and how this is somehow revolutionary or some sort of game changer. But why is it engaging at all? Where does this type of instruction lead us? In my opinion the instructional maths videos posted on the Khan Academy are "resources" and the structure surrounding it suggests some sort of recipe for how to best use it. We might call this the "pedagogy" as this term refers to strategies or styles of instruction – and the full-fat version of Khan Academy use has it's own style, heavily tilted towards personalised instruction and feedback.
---