Literature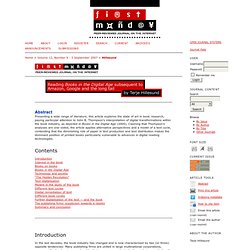 Presenting a wide range of literature, this article explores the state of art in book research, paying particular attention to John B. Thompson's interpretation of digital transformations within the book industry, as depicted in Books in the Digital Age (2005). Claiming that Thompson's analyses are one–sided, the article applies alternative perspectives and a model of a text cycle, contending that the diminishing role of paper in text production and text distribution makes the dominant position of printed books particularly vulnerable to advances in digital reading technologies.
Reading Books in the Digital Age subsequent to Amazon, Google and the long tail | Hillesund | First Monday
Life Is Short, Proust Is Long, or: The Pros and Cons of Spritz and Speed-Reading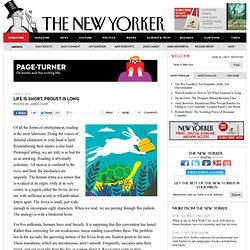 Of all the forms of entertainment, reading is the most laborious. Doing the voices of fictional characters in your head is hard. Remembering their names is also hard. Prolonged sitting, we are told, is as bad for us as smoking. Reading is abysmally sedentary. All motion is confined to the eyes, and there the mechanics are ungainly.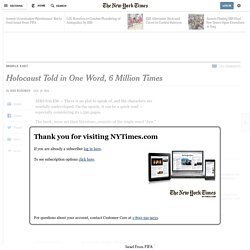 Holocaust Told in One Word, 6 Million Times
Launch media viewer JERUSALEM — There is no plot to speak of, and the characters are woefully undeveloped. On the upside, it can be a quick read — especially considering its 1,250 pages. The book, more art than literature, consists of the single word "Jew," in tiny type, printed six million times to signify the number of Jews killed during the Holocaust. It is meant as a kind of coffee-table monument of memory, a conversation starter and thought provoker. "When you look at this at a distance, you can't tell whether it's upside down or right side up, you can't tell what's here; it looks like a pattern," said Phil Chernofsky, the author, though that term may be something of a stretch.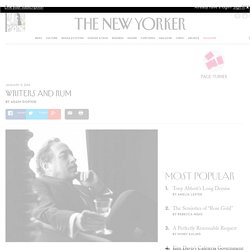 Writers and Rum: Why Authorship and Alcohol Have Gone Together
"Writers in this office used to drink," a grizzled veteran of these corridors once said sternly to a couple of pup reporters, whom he had discovered taking turns trying on a good-looking cashmere jacket in another cubicle. The moral, abashing if not shaming, was that in the halls where once real men had roamed, or drank in peaceable closets, now mere jacket-fanciers wandered. Certainly, it's impossible to turn the past pages of this magazine, or the pages of American literary history, for that matter, without being reminded of how inextricable the drinking life and the writing life—or, to put it more bluntly, alcoholism and art—once were. From St. Clair McKelway to Dorothy Parker and James Thurber, and from Ernest Hemingway to F. Scott Fitzgerald to Sinclair Lewis and beyond, it was not long ago that if you wrote you drank, and if you weren't drinking it was because you were drying out.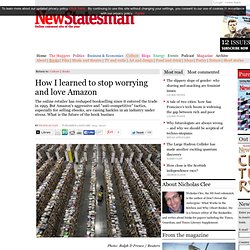 Photo: Ralph D Fresco / Reuters I have a confession. I like buying books online. From Amazon. Such an admission may seem unremarkable, indeed banal, to many book buyers, but offering it in the presence of book industry folk would be the equivalent of informing New Statesman readers that one admires Donald Rumsfeld or Rupert Murdoch.
How I learned to stop worrying and love Amazon
In Praise of Failure by Pierre Bayard translated by Suzanne Menghraj
Several of the critics who appraised Pierre Bayard's How to Talk About Books You Haven't Read upon the translation's release in 2007 appeared to be more comfortable joking about not having read the book under review than taking a close look at the unsettling elusions and readings Bayard offers in it. They seemed not to get it, at least not in the way I very much wanted it to be got. Even Francine Prose, who wrote the translation's foreword, had to quip: "Pierre Bayard puts his readers—this reader—in a uniquely paradoxical position.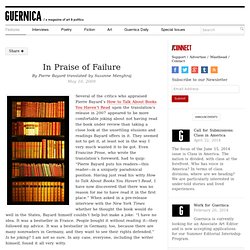 What Do You Look for in Modern Translation?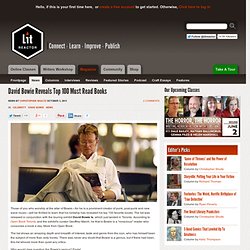 David Bowie Reveals Top 100 Must Read Books
Those of you who worship at the altar of Bowie—for he is a prominent creator of punk, post-punk and new wave music—will be thrilled to learn that his lordship has revealed his top 100 favorite books. The list was released in conjunction with the touring exhibit David Bowie Is, which just landed in Toronto. According to Open Book Toronto and the exhibit's curator Geoffrey March, he that is Bowie is a "voracious" reader who consumes a book a day.
Libraries and Manuscripts
The earliest book discovered in which appeared indicia which may properly be termed marks of quotation was printed in 1516 at Strasbourg, Alsace (then in Germany), by Mathias Schurer. It was "De Vitis Sophistarum" by Flavius Philostratus. The marks consisted of two commas in the left hand margin of each page outside the regular type measure. They were placed at the beginning of each line in which a quoted passage appeared, and were evidently added after the page was set up, because their alignment varies greatly. ☛ Concerning Quotation Marks by Douglas C.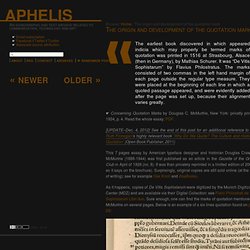 The origin and development of the quotation mark
Excerpt: 'The Book of Genesis: A Biography' by Ronald Hendel
Noah's Offering, Francesco Castiglione, 17th C From The Comedy of the Real: One honest response to the lunacy of the world is to laugh. Laughter relieves anxiety and fear, and it pokes holes in the pretensions of the powerful. In medieval times, humor was often coarse and obscene, and the more effective because of it. Luther's rough handling of his opponents is rooted in this medieval tradition.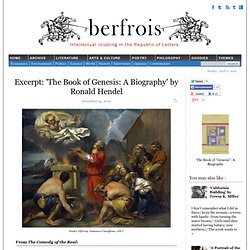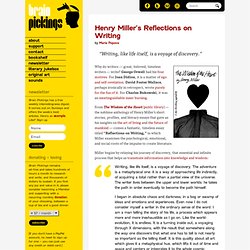 by Maria Popova "Writing, like life itself, is a voyage of discovery." Why do writers — great, beloved, timeless writers — write? George Orwell had his four motives.
Henry Miller's Reflections on Writing
"I have tried to keep diaries before but they didn't work out because of the necessity to be honest." John Steinbeck made this entry in a ledger he used to track his progress on "The Grapes of Wrath." If we pine for a golden age of diary keeping, let's indeed be honest: the pens and notebooks of the past inspired a truth no more — and no less — pure than the digital tools of today. While we romanticize diaries as unmediated transcriptions of thought and feeling, they have really always been a forum for self-creation. E.
Digital and Paper Diaries Are Written for an Imagined Audience - Room for Debate
Best Writing Music of 2012 - GalleyCat
by Maria Popova "We are well advised to keep on nodding terms with the people we used to be, whether we find them attractive company or not." As a lover — and keeper — of diaries and notebooks, I find myself returning again and again to the question of what compels us — what propels us — to record our impressions of the present moment in all their fragile subjectivity. From Joan Didion's 1968 anthology Slouching Towards Bethlehem (public library) — the same volume that gave us her timeless meditation on self-respect — comes a wonderful essay titled "On Keeping a Notebook," in which Didion considers precisely that.
Joan Didion on Keeping a Notebook
Fifty-odd years ago I was asked to review a book about Shakespeare by an aged professor who claimed that a career spent largely in teaching Shakespeare gave him a right to have his final say on the subject. This notion I thought grossly self-indulgent. There seemed to be little reason to believe that at his age he could suddenly have found anything interesting to say. And there surely were enough books on Shakespeare already, many of them dull, many of them silly, without the addition of another of which the primary motive was vanity and an understandable fear of oblivion.
Frank Kermode · Writing about Shakespeare has his say · LRB 9 December 1999
A fraction of a poem's power resides in words, the remainder belongs to the spirit that moves through them.Poetry: the native tongue of hysterics – adolescents and mystics, alike.Bow so low and you kiss the sky.There are many degrees of madness. Philosophy, Psychology, and Literature are to name but a few.Infatuation, as any hothouse flower, will only flourish in a climate-controlled environment. A degree more, or less, and it withers.We make daily negotiations with others just to keep alive -whether having sex, or crossing the street.In their wake, weak men leave behind a trail of wreaked women. Yet, the same cannot be said of weak women. Does this argue that women love better or are less capable of inflicting damage?
23 Aphorisms by Yahia Lababidi
Penguin and Random House may merge, but the power lies elsewhere | Philip Jones | Comment is free
A merger of Random House and Penguin would create a £2.5bn trade publisher – by some distance the biggest ever seen. Authors such as E L James, Salman Rushdie, John le Carre, Pippa Middleton, and Jamie Oliver may become bedfellows. No wonder agents and authors are using words like "scary" and "sad" in reaction to the news. But this is a consolidation driven not by authors, but by big tech giants, such as Amazon, and Apple, on whose platforms book publishers must now play.
15 Postcards from Famous Authors
Why Does Everyone Love It But Me? An Interview with Daniel Mendelsohn
Every Book I'm Shufflin'
Ten Famed Literary Figures Based on Real-Life People
Excerpt: 'The Gentrification of the Mind' by Sarah Schulman
A Critic's Manifesto: The Intersection of Expertise and Taste
Los Angeles Review of Books - Cogito Ergo Boom
88 Books That Shaped America, According To Library Of Congress
Literary Review - John Sutherland on Leah Price's How to Do Things with Books in Victorian Britain
Writing Britain: the nation and the landscape | Books
Library Science - Essays
Ruth Franklin: How A New Clip Of Anne Frank's Life Brings Us Closer To Her Death
'Revelations,' by Elaine Pagels
Prelim Ext English Gothic Literature
Morris Lessmore and the cult of literary nostalgia | city of tongues
A literary engagement