Henri Cartier-Bresson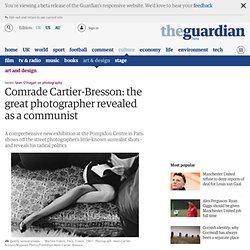 Comrade Cartier-Bresson: the great photographer revealed as a communist
The subtitle of the Pompidou Centre's retrospective of the 20th century's best-known photographer could be: Almost Everything You Know About Henri Cartier-Bresson is Wrong. Or, at least, Long Overdue a Rethink.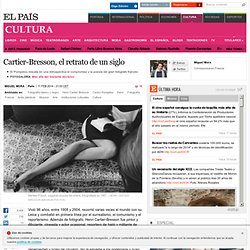 Cartier-Bresson, el retrato de un siglo
Vivió 96 años, entre 1908 y 2004, recorrió varias veces el mundo con su Leica y combatió en primera línea por el surrealismo, el comunismo y el reporterismo. Además de fotógrafo, Henri Cartier-Bresson fue pintor y dibujante, cineasta y actor ocasional, reportero de hielo y militante de fuego, poeta, antropólogo y emprendedor. Antes y después de cofundar la Agencia Magnum en 1947, retrató a los miserables y a los olvidados, a sus mujeres y sus amigos, guerras y revoluciones, el inconsciente y el fugaz instante decisivo.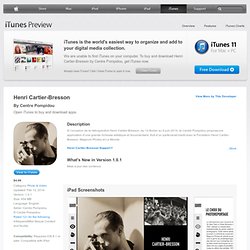 Henri Cartier-Bresson on the App Store on iTunes
Description À l'occasion de la rétrospective Henri Cartier-Bresson, du 12 février au 9 juin 2014, le Centre Pompidou proposeune application d'une grande richesse artistique et documentaire, fruit d'un partenariat inédit avec la Fondation Henri Cartier-Bresson, Magnum Photos et Le Monde.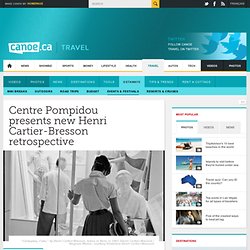 Centre Pompidou presents new Henri Cartier-Bresson retrospective
Relaxnews
HENRI CARTIER BRESSON (August 22, 1908 – August 3, 2004) Thinking should be done beforehand and afterwards never while actually taking a photograph.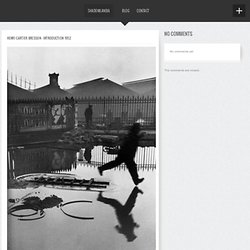 HENRI CARTIER BRESSON – INTRODUCTION 1952
I dedicate this article to the memory of Richard Zakia, whose support and insights made it possible. This research was funded by a grant from Rider University.
Photographic Psychology: The Decisive Moment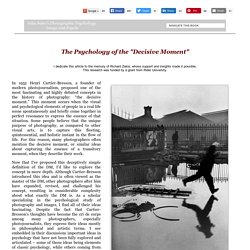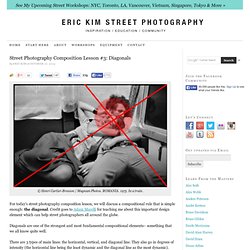 For today's street photography composition lesson, we will discuss a compositional rule that is simple enough: the diagonal.
Street Photography Composition Lesson #3: Diagonals
Cartier_Bresson_Handshake1_8bit
Iconic Photos | Famous, Infamous and Iconic Photos
ASX.TV: Henri Cartier-Bression - "Pen, Brush and Camera" (1998) - Since 2008, AMERICAN SUBURB X | Art, Photography and Culture that matters.
Henri Cartier-Bresson is widely credited as being the father of modern photojournalism.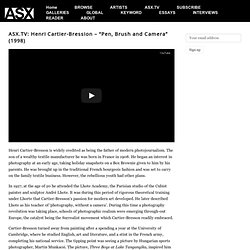 Henri Cartier-Bresson Quotes (Author of The Mind's Eye)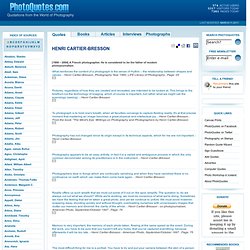 Quotes Books Articles
Henri Cartier-Bresson - A French Photographer - The Father of Modern Photojournalism - Photography Quotes
Bresson
There are giants in this world. Each discipline and art has them.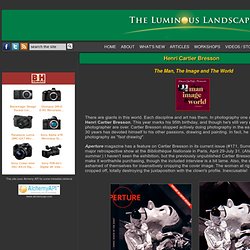 The F-Stops Here - Street photography: crop or crap?
HCB Never Cropped His Photos – Except He Did | Jamie Furlong Photography
Tips > Cropping Thoughts
One learns to avoid mentioning certain topics with people that you don't know well, such as: • Religion
10 Things Henri Cartier-Bresson Can Teach You About Street Photography
I have been doing quite a bit of research into Henri Cartier-Bresson, the godfather of street photography.
Henri Cartier-Bresson: 'There Are No Maybes'
Henri Cartier-Bresson: Living and Looking
The journalist and filmmaker Sheila Turner-Seed interviewed Henri Cartier-Bresson in his Paris studio in 1971 for a film-strip series on photographers that she produced for Scholastic.
Pinterest
Henri Cartier-Bresson: Vélodrome D'Hiver It's almost unthinkable that any of Henri Cartier-Bresson's photographs could ever have gone unpublished. The father of modern photojournalism had such a natural and easy understanding of his craft that all of his images offer the viewer snippets of an intriguing story – a slice of everyday narrative – rendered with the kind of precision that hoards of photographers since have sought to mimic. But in fact this is not the case. Until this month his sensational shots of the Vélodrome D'Hiver, from Paris 1957, have been lost to all but the most privileged eyes at Magnum.
Incredible unpublished Henri Cartier-Bresson shots appear in the latest Rouleur
Le Monocle De Mon Oncle: Railowsky
Contacts : Henri Cartier-Bresson
Rare Cartier-Bresson prints revealed
Rare signed photos by photography legend Henri Cartier-Bresson – who gave them to a Paris printer he used for 30 years – are set to raise hundreds of thousands of dollars. Picture credit: Henri Cartier-Bresson, courtesy Christie's New York Cartier-Bresson gifted the images to Voja Mitrovic, a printer who worked at the Picto photo lab in Paris, in recognition of him being one of the best printers of his work. Mitrovic, an immigrant from the former Yugoslavia, had become friends with the photographer within months of him starting work at the lab in 1967. The prints are due to be sold at Christie's in New York on 4 and 5 October.
Cartier-Bresson: A Question of Colour Somerset House
Sunday Salon » Henri Cartier-Bresson – the portraits
Henri Cartier-Bresson: 'Red China' in Color, 1958
Henri Cartier-Bresson's first Leica
7 Lessons from Famous Photographer Henri Cartier-Bresson
INTERVIEW: "Henri Cartier-Bresson – Famous Photographers Tell How" (1958
Henri Cartier-Bresson: The Impassioned Eye by Ron Steinman
Cartier-Bresson's Decisive Moment by David Friend
"Henri Cartier-Bressons "Decisive Moment"" by Larry Grayam
Interactives | Exhibitions | 2010 | Henri Cartier-Bresson
Henri Cartier-Bresson and Street Photography