Henri Cartier-Bresson
ASX.TV: Henri Cartier-Bression - "Pen, Brush and Camera" (1998) - Since 2008, AMERICAN SUBURB X | Art, Photography and Culture that matters.
Henri Cartier-Bresson is widely credited as being the father of modern photojournalism.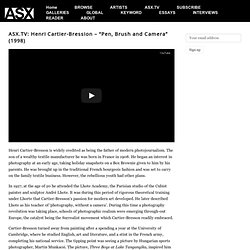 Henri Cartier-Bresson Quotes (Author of The Mind's Eye)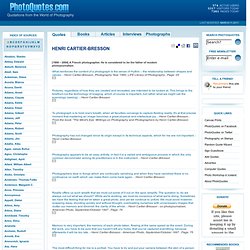 Quotes Books Articles
Henri Cartier-Bresson - A French Photographer - The Father of Modern Photojournalism - Photography Quotes
Bresson
There are giants in this world. Each discipline and art has them.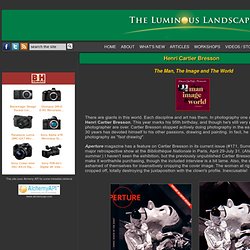 The F-Stops Here - Street photography: crop or crap?
HCB Never Cropped His Photos – Except He Did | Jamie Furlong Photography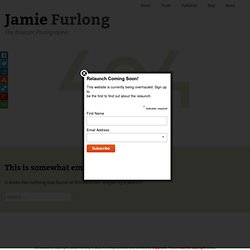 Learning how to frame a photo in-camera is an important part of the creative process of picture-taking.
Tips > Cropping Thoughts
One learns to avoid mentioning certain topics with people that you don't know well, such as: • Religion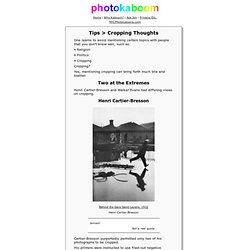 10 Things Henri Cartier-Bresson Can Teach You About Street Photography
I have been doing quite a bit of research into Henri Cartier-Bresson , the godfather of street photography.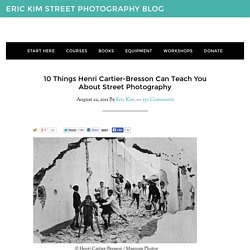 Henri Cartier-Bresson: 'There Are No Maybes'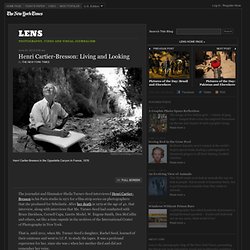 Henri Cartier-Bresson: Living and Looking
The journalist and filmmaker Sheila Turner-Seed interviewed Henri Cartier-Bresson in his Paris studio in 1971 for a film-strip series on photographers that she produced for Scholastic. After her death in 1979 at the age of 42, that interview, along with interviews that Ms.
Pinterest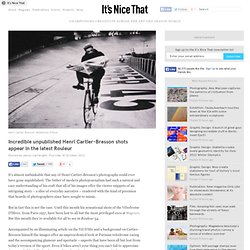 Henri Cartier-Bresson: Vélodrome D'Hiver It's almost unthinkable that any of Henri Cartier-Bresson's photographs could ever have gone unpublished. The father of modern photojournalism had such a natural and easy understanding of his craft that all of his images offer the viewer snippets of an intriguing story – a slice of everyday narrative – rendered with the kind of precision that hoards of photographers since have sought to mimic. But in fact this is not the case. Until this month his sensational shots of the Vélodrome D'Hiver, from Paris 1957, have been lost to all but the most privileged eyes at Magnum .
Incredible unpublished Henri Cartier-Bresson shots appear in the latest Rouleur
Le Monocle De Mon Oncle: Railowsky
Contacts : Henri Cartier-Bresson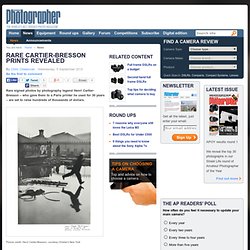 Rare Cartier-Bresson prints revealed
Rare signed photos by photography legend Henri Cartier-Bresson – who gave them to a Paris printer he used for 30 years – are set to raise hundreds of thousands of dollars. Picture credit: Henri Cartier-Bresson, courtesy Christie's New York Cartier-Bresson gifted the images to Voja Mitrovic, a printer who worked at the Picto photo lab in Paris, in recognition of him being one of the best printers of his work. Mitrovic, an immigrant from the former Yugoslavia, had become friends with the photographer within months of him starting work at the lab in 1967. The prints are due to be sold at Christie's in New York on 4 and 5 October.
Cartier-Bresson: A Question of Colour Somerset House
A free photography exhibition at Somerset House: 8 November 2012 - 27 January 2013 Positive View Foundation announces its inaugural exhibition Cartier-Bresson: A Question of Colour, to be held at Somerset House, 8 November 2012 – 27 January 2013. Curated by William A. Ewing, the exhibition will feature 10 Henri Cartier-Bresson photographs never before exhibited in the UK alongside over 75 works by 15 international contemporary photographers, including: Karl Baden (US), Carolyn Drake (US), Melanie Einzig (US), Andy Freeberg (US), Harry Gruyaert (Belgium), Ernst Haas (Austrian), Fred Herzog (Canadian), Saul Leiter (US), Helen Levitt (US), Jeff Mermelstein (US), Joel Meyerowitz (US), Trent Parke (Australian), Boris Savelev (Ukranian), Robert Walker (Canadian), and Alex Webb (US). The extensive showcase will illustrate how photographers working in Europe and North America adopted and adapted the master's ethos famously known as 'the decisive moment' to their work in colour.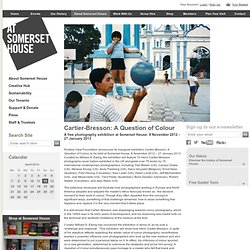 Sunday Salon » Henri Cartier-Bresson – the portraits
This is going to be a slightly unusual Sunday Salon. The notion of doing a thorough salon on Henri Cartier-Bresson is too daunting. There's simply far too much to cover—too much photography, too much of a life. To do even minimal justice to his life and work would require at least two—possibly three—normal salons. Instead, I'm going to narrow the scope of this salon.
Henri Cartier-Bresson: 'Red China' in Color, 1958
Henri Cartier-Bresson ' 50 s The French photographer Henri Cartier-Bresson (1908 – 2004) was influential in ways and on a scale that, in all likelihood, will never be repeated or matched by any other practitioner of the craft. So much of what the world now knows and recognizes as photojournalism, after all, was originally shaped by Cartier-Bresson's work in the 1930s, and especially by the methodology he developed and pursued with his peers Robert Capa and David Seymour, or "Chim": incessant travel, always with camera in hand; the search not for mere adventure, but for meaning in both conflict and in utterly quotidian calm; and finally, the hunt for specific, never-to-be repeated scenes, instances, gestures that would, in less than a heartbeat, tell a tale that no moving image or written word could possibly surpass.
Henri Cartier-Bresson's first Leica
7 Lessons from Famous Photographer Henri Cartier-Bresson
Henri Cartier-Bresson is one of the most famous photographers in history. In fact, we've written about him as a famous photographer before. Cartier-Bresson was the co-founder of Magnum (a photo agency of the day) who brilliantly captured the events and spirit of the 20th century. His life was packed with adventure and excitement, which he translated into the body of work that we all love. But have you ever wondered what Cartier-Bresson could teach you, to help you reflect on your own work and become a better photographer? I was checking out a book of his images the other day and began wondering what some of these lessons might be.
Interview with Henri Cartier-Bresson – Famous Photographers Tell How (1958) HCB: To me, photography is a simultaneous recognition in a fraction of a second of a significance of an event as well as of a precise organization of form which gives that event its proper expression. I believe that, for reactive living, the discovery of oneself is made concurrently with the discovery of the world around us, which can mold us, but which can also be affected by us.
INTERVIEW: "Henri Cartier-Bresson – Famous Photographers Tell How" (1958
The New York Times > Arts > Henri Cartier-Bresson, Artist Who Used Lens, Dies at 95
August 4, 2004 orrection Appended Henri Cartier-Bresson, who used his tiny, hand-held 35-millimeter Leica camera to bear humane witness to many of the 20th century's biggest events, from the Spanish Civil War to the German occupation of France to the partition of India to the Chinese revolution to the French student uprisings of 1968, died on Tuesday at his home in Southwest France. He was 95. A private funeral was held yesterday, according to a statement from his family and Magnum, the photo agency he helped establish.
Henri Cartier-Bresson: The Impassioned Eye by Ron Steinman
Cartier-Bresson's Decisive Moment by David Friend
"Henri Cartier-Bressons "Decisive Moment"" by Larry Grayam
Interactives | Exhibitions | 2010 | Henri Cartier-Bresson
Henri Cartier-Bresson and Street Photography
Henri Cartier-Bresson | Adam Marelli Photo