Henri Cartier-Bresson
November 2010, Henri Cartier-Bresson @ Peter Fetterman Gallery. Henri Cartier-Bresson, "Brussels, Belgium", 1932 Gelatin silver print, 16 x 20 inches, Signed in ink with artist's embossed stamp on recto Courtesy Peter Fetterman Gallery Henri Cartier-Bresson: Eye of the CenturyPeter Fetterman Gallery 2525 Michigan Ave # A7 Santa Monica, CA 90404-4031 September 22, 2010 through January 8, 2011 In this art world jungle where many artists want to outdo each other by using sensationalism, provocation, and high-tech manipulated images, it feels soothing to view the works of French photographer Henri Cartier-Bresson, who knew how to create grand effects with a small German-made Leica.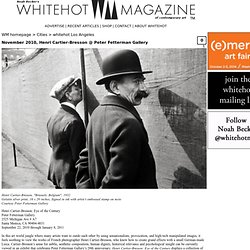 ISHU PATEL | MY TIME WITH HENRI CARTIER-BRESSON. AFTER GRADUATING IN 1963 from the Faculty of Fine Arts, University of Baroda, India I was lucky enough to be selected by Gira Sarabhai to train as an "apprentice" at the newly formed National Institute of Design in Ahmedabad, India.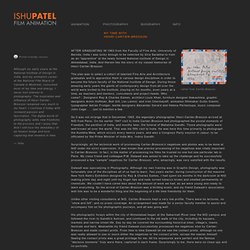 And therein lies the story of my valued memories of Henri Cartier-Bresson. The plan was to select a cohort of talented Fine Arts and Architecture graduates and to apprentice them in various design disciplines in order to become the future faculty of the National Institute of Design. During those amazing early years the giants of contemporary design from all over the world were invited to the Institute, staying on for months, even years at a time, as teachers and mentors, consultants and project heads.
Who came? HENRI CARTIER BRESSON – INTRODUCTION 1952. HENRI CARTIER BRESSON (August 22, 1908 – August 3, 2004) Thinking should be done beforehand and afterwards never while actually taking a photograph.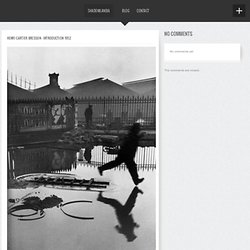 Success depends on the extent of one's general culture, on one's set of values, one's clarity of mind and vivacity. The thing to be feared most is the artificially contrived, the contrary to life. HENRI CARTIER-BRESSON ON THE ART OF PHOTOGRAPHY, (an interview by Yvonne Baby), Harper's Magazine, November 1961, p. 74. INTRODUCTION 1952 The Decisive Moment, New York, Simon & Schuster. Photographic Psychology: The Decisive Moment. I dedicate this article to the memory of Richard Zakia, whose support and insights made it possible.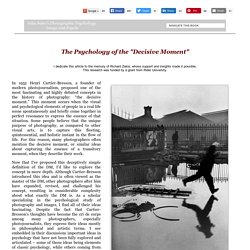 This research was funded by a grant from Rider University. In 1952 Henri Cartier-Bresson, a founder of modern photojournalism, proposed one of the most fascinating and highly debated concepts in the history of photography: "the decisive moment." This moment occurs when the visual and psychological elements of people in a real life scene spontaneously and briefly come together in perfect resonance to express the essence of that situation. Some people believe that the unique purpose of photography, as compared to other visual arts, is to capture this fleeting, quintessential, and holistic instant in the flow of life. For this reason, many photographers often mention the decisive moment, or similar ideas about capturing the essence of a transitory moment, when they describe their work.
Street Photography Composition Lesson #3: Diagonals. For today's street photography composition lesson, we will discuss a compositional rule that is simple enough: the diagonal.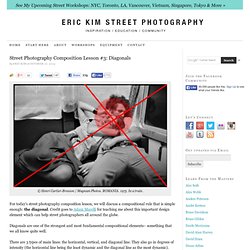 Credit goes to Adam Marelli for teaching me about this important design element which can help street photographers all around the globe. Diagonals are one of the strongest and most fundamental compositional elements– something that we all know quite well. There are 3 types of main lines: the horizontal, vertical, and diagonal line. Cartier_Bresson_Handshake1_8bit. Iconic Photos | Famous, Infamous and Iconic Photos. Henri Cartier-Bression - "Pen, Brush and Camera" (1998) Henri Cartier-Bresson is widely credited as being the father of modern photojournalism.
The son of a wealthy textile manufacturer he was born in France in 1908. He began an interest in photography at an early age, taking holiday snapshots on a Box Brownie given to him by his parents. He was brought up in the traditional French bourgeois fashion and was set to carry on the family textile business. However, the rebellious youth had other plans. Henri Cartier-Bresson Quotes (Author of The Mind's Eye)
Henri Cartier-Bresson - A French Photographer - The Father of Modern Photojournalism - Photography Quotes. Quotes Books Articles.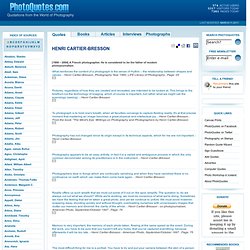 Bresson. There are giants in this world.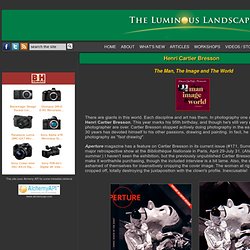 Each discipline and art has them. In photography one of the towering names is Henri Cartier Bresson. This year marks his 95th birthday, and though he's still very much alive his days are a photographer are over. Cartier Bresson stopped actively doing photography in the early 1970's and for the past 30 years has devoted himself to his other passions, drawing and painting. In fact, he is quoted as describing photography as "fast drawing". The F-Stops Here - Street photography: crop or crap? HCB Never Cropped His Photos – Except He Did | Jamie Furlong Photography. Tips > Cropping Thoughts. One learns to avoid mentioning certain topics with people that you don't know well, such as: • Religion • Politics • Cropping.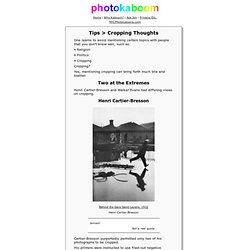 Cropping? Yes, mentioning cropping can bring forth much bile and blather. 10 Things Henri Cartier-Bresson Can Teach You About Street Photography. I have been doing quite a bit of research into Henri Cartier-Bresson, the godfather of street photography.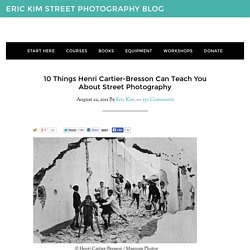 Although my current approach in street photography is more like Bruce Gilden and less of Henri Cartier-Bresson, HCB influenced much of my earlier work and I still deeply respect his photography and philosophies. I hope you are able to enjoy these things I believe you can learn from Henri Cartier-Bresson about street photography. Keep reading to become inspired and learn more. Henri Cartier-Bresson: 'There Are No Maybes' Henri Cartier-Bresson: Living and Looking. The journalist and filmmaker Sheila Turner-Seed interviewed Henri Cartier-Bresson in his Paris studio in 1971 for a film-strip series on photographers that she produced for Scholastic. After her death in 1979 at the age of 42, that interview, along with interviews that Ms. Turner-Seed had conducted with Bruce Davidson, Cornell Capa, Lisette Model, W.
Eugene Smith, Don McCullin and others, sat like a time capsule in the archives of the International Center of Photography in New York. That is, until 2011, when Ms. Turner-Seed's daughter, Rachel Seed, learned of their existence and went to I.C.P. to study the tapes. Pinterest. Incredible unpublished Henri Cartier-Bresson shots appear in the latest Rouleur.
Henri Cartier-Bresson: Vélodrome D'Hiver It's almost unthinkable that any of Henri Cartier-Bresson's photographs could ever have gone unpublished. The father of modern photojournalism had such a natural and easy understanding of his craft that all of his images offer the viewer snippets of an intriguing story – a slice of everyday narrative – rendered with the kind of precision that hoards of photographers since have sought to mimic. But in fact this is not the case. Until this month his sensational shots of the Vélodrome D'Hiver, from Paris 1957, have been lost to all but the most privileged eyes at Magnum. Le Monocle De Mon Oncle: Railowsky. Contacts : Henri Cartier-Bresson. Rare Cartier-Bresson prints revealed. Rare signed photos by photography legend Henri Cartier-Bresson – who gave them to a Paris printer he used for 30 years – are set to raise hundreds of thousands of dollars.
Picture credit: Henri Cartier-Bresson, courtesy Christie's New York Cartier-Bresson gifted the images to Voja Mitrovic, a printer who worked at the Picto photo lab in Paris, in recognition of him being one of the best printers of his work. Mitrovic, an immigrant from the former Yugoslavia, had become friends with the photographer within months of him starting work at the lab in 1967. The prints are due to be sold at Christie's in New York on 4 and 5 October. Cartier-Bresson: A Question of Colour Somerset House. A free photography exhibition at Somerset House: 8 November 2012 - 27 January 2013 Positive View Foundation announces its inaugural exhibition Cartier-Bresson: A Question of Colour, to be held at Somerset House, 8 November 2012 – 27 January 2013. Curated by William A. Ewing, the exhibition will feature 10 Henri Cartier-Bresson photographs never before exhibited in the UK alongside over 75 works by 15 international contemporary photographers, including: Karl Baden (US), Carolyn Drake (US), Melanie Einzig (US), Andy Freeberg (US), Harry Gruyaert (Belgium), Ernst Haas (Austrian), Fred Herzog (Canadian), Saul Leiter (US), Helen Levitt (US), Jeff Mermelstein (US), Joel Meyerowitz (US), Trent Parke (Australian), Boris Savelev (Ukranian), Robert Walker (Canadian), and Alex Webb (US).
The extensive showcase will illustrate how photographers working in Europe and North America adopted and adapted the master's ethos famously known as 'the decisive moment' to their work in colour. Sunday Salon » Henri Cartier-Bresson – the portraits. This is going to be a slightly unusual Sunday Salon. The notion of doing a thorough salon on Henri Cartier-Bresson is too daunting. There's simply far too much to cover—too much photography, too much of a life. To do even minimal justice to his life and work would require at least two—possibly three—normal salons. Instead, I'm going to narrow the scope of this salon. Henri Cartier-Bresson: 'Red China' in Color, 1958. Henri Cartier-Bresson's first Leica. 7 Lessons from Famous Photographer Henri Cartier-Bresson. "Henri Cartier-Bresson – Famous Photographers Tell How" (1958. Henri Cartier-Bresson: The Impassioned Eye by Ron Steinman. Cartier-Bresson's Decisive Moment by David Friend.
"Henri Cartier-Bressons "Decisive Moment"" by Larry Grayam. Interactives | Exhibitions | 2010 | Henri Cartier-Bresson. Henri Cartier-Bresson and Street Photography.
---