Free Online Courses
Khan Academy. DB001EN: About this course. Can I take free university courses? | Ask It, Girl! (a) Have you put your spiritual life on the back burner but have recently found yourself searching for answers?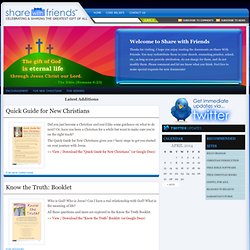 (b) Are you a seeker looking for answers about God? (c) Are you trying to figure out which religion is the right one? (d) Are you wondering if God is really real? If you answered "yes" to any of the above, check out the Seeking God Workbook. This quick guide is less than 20 pages long but is stuffed with fascinating questions and practical tips that will help you dive deeper into your spiritual beliefs. MyCourses Open Courseware Intiative. The UMass Boston OpenCourseWare — University of Massachusetts Boston. OER@MSU. The term Open Educational Resources (OER) refers to educational materials that are freely available and licensed in a way that gives users the legal permission to reuse – use the work "as-is" without having to ask permissionrevise - alter or transform the work to meet the user's needsremix – combine the work with other works for an enhanced effectredistribute – share the work or derivative work with others.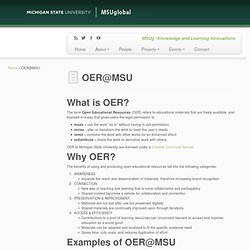 OER at Michigan State University are licensed under a Creative Commons license. The benefits of using and producing open educational resources fall into the following categories: UN University OCW — UN University OCW. Introduction to the UNU-MERIT PhD program - Innovation Studies and Development (Audio), Fall 2006 PhD Course UNU-MERIT 1.1 - Economic Development and Innovation Studies (Audio), Fall 2006 PhD Course UNU-MERIT 1.2 - Innovation Dynamics and Industrial Change (Audio), Fall 2006.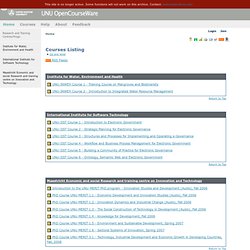 Lectures. Spring 2012 Lectures: The Art of Litigating High Profile Copyright CasesPresented by Duke Law's IP & Cyberlaw Society Joseph M.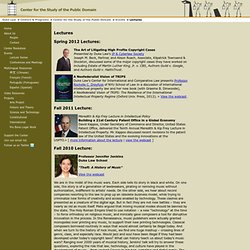 Beck, Partner, and Alison Roach, Associate, Kilpatrick Townsend & Stockton, discussed some of the major copyright cases they have worked on including Estate of Martin Luther King, Jr. v. CBS, Authors Guild v. [OTA] The Oxford Text Archive. Browse. Courses List. Producing Films for Social Change This is an intensive, hands-on editorial and production course in which students pitch their ideas and then research, report, produce, shoot, write, and edit their own short documentary films on social issues affecting the local community, the U.S., or the world.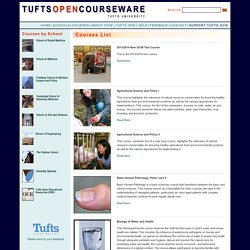 Readings and discussions focus on current news, media ethics, media literacy, the declining credibility of the press, journalists' responsibilities to the public, social justice issues, First Amendment principles, corporate media ownership, media images of women and people of color, and the powerful role of media (TV news, documentaries, new media, digital storytelling) as tools for civic engagement and positive social change.
Online Video Lectures and Course Materials — Open Yale Courses. Web-based Learning Environment. Download & Streaming : Open Educational Resources : Internet Archive. All Units. Free Online Course Materials | MIT OpenCourseWare. UW CSE Course Webs. Lectures and Presentations (Supreme Court Institute) Welcome to Notre Dame OpenCourseWare — Notre Dame OpenCourseWare.
Connexions - Browse. PEOI: Professional Educational Organization International. Open Learning Initiative. Find U-M Open Educational Resources. Boston College Front Row. 135 Completely Free Distance Education Courses. Whether you're studying online or at a traditional college, there's no question that school is expensive.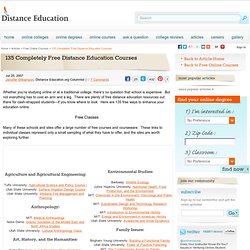 But not everything has to cost an arm and a leg. There are plenty of free distance education resources out there for cash-strapped students—if you know where to look. Here are 135 free ways to enhance your education online. 10 Open Education Resources You May Not Know About (But Should) Digital Tools Horla Varlan This week, the OCW Consortium is holding its annual meeting, celebrating 10 years of OpenCourseWare.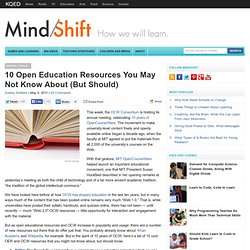 The movement to make university-level content freely and openly available online began a decade ago, when the faculty at MIT agreed to put the materials from all 2,000 of the university's courses on the Web. Colleges and Universities that Offer Free Courses Online « homeschool university. In recent years, many colleges and universities have decided to make course materials such as lectures, tests, notes and readings available for free on the Internet.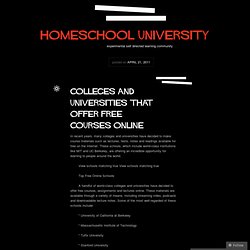 These schools, which include world-class institutions like MIT and UC Berkeley, are offering an incredible opportunity for learning to people around the world. View schools matching true View schools matching true Top Free Online Schools. Free Courses and Resources.
---