Jodyadams
Useful Tips For iPad. Blooms Taxonomy with Apps. After seeing the chart on of Bloom's Taxonomy on bloomsapps, I thought I could make a more thorough table.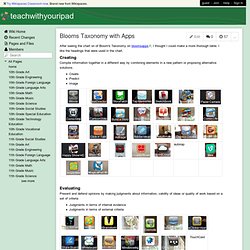 I like the headings that were used in the chart. Creating Compile information together in a different way by combining elements in a new pattern or proposing alternative solutions.CreatePredictImage Evaluating. iPads and Tablets in Education. Bloomsapps. Using Blooms Taxonomy in education is a highly effective way to scaffold learning for the students.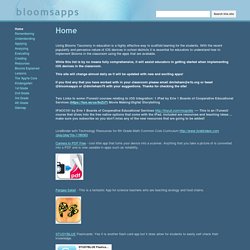 With the recent popularity and pervasive nature of iOS devices in school districts it is essential for educators to understand how to implement Blooms in the classroom using the apps that are available. While this list is by no means fully comprehensive, it will assist educators in getting started when implementing iOS devices in the classroom.
Pearltrees videos
Getting started.
---