Screencast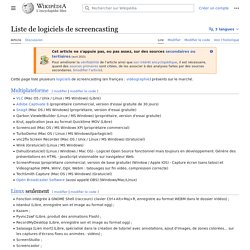 Un article de Wikipédia, l'encyclopédie libre. Cette page liste plusieurs logiciels de screencasting (en français : vidéographie) présents sur le marché. Multiplateforme[modifier | modifier le code] VLC (Mac OS / Unix / Linux / MS Windows) (Libre)Adobe Captivate 5 (propriétaire commercial, version d'essai gratuite de 30 jours)Jing (Mac OS / MS Windows) (Gratuiciel)Qarbon ViewletBuilder (Linux / MS Windows) (propriétaire, version d'essai gratuite)Krut, application Java au format Quicktime MOV (Libre)Screencast (Mac OS / MS Windows XP) (propriétaire commercial)Screentoaster (Hors-service) (Mac OS / Linux / Windows Vista) (Gratuiciel, en ligne)TurboDemo (Mac OS / Linux / MS Windows)(partagiciel)vnc2swf Screen Recorder (Mac OS / Unix / Linux / MS Windows) (Gratuiciel) - Remplacé depuis 2009 par vnc2flvWink (Gratuiciel) (Linux / MS Windows)Dahu(Gratuciel) (Linux / Windows / Mac OS) - Logiciel Open Source fonctionnel mais toujours en développement.
Filmer son écran est sans doute l'une des manière les plus intuitive pour transmettre à vos lecteurs des explications sur l'usage d'un logiciel, d'une application web ou la navigation sur site web.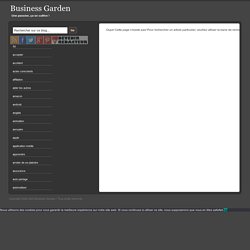 6 logiciels pour enregistrer un screencast sur Windows
One of the important digital skills that the 21st century teachers should have is the ability to create video tutorials to share with students.I know some of you might freak out when it comes to putting your digital skills to the test thinking that you could never make it. I understand it because I know that the first thing that comes into your mind on hearing video tutorials are those sophisticated and pompous tutorials you see on Youtube from imedia companies and advertising corporations.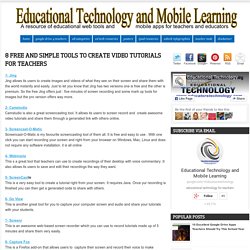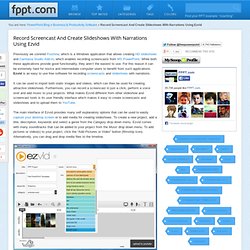 Record Screencast And Create Slideshows With Narrations Using Ezvid
Previously we covered Proshow, which is a Windows application that allows creating HD slideshows and Camtasia Studio Add-In, which enables recording screencasts from MS PowerPoint. While both these applications provide good functionality, they aren't the easiest to use. For this reason it can be extremely hard for novice and intermediate computer users to benefit from such applications.
Create And Upload Screencasts From Your Browser With Screenbird
Screenbird is a Java based web app that records your desktop content and provides the utility to save it online.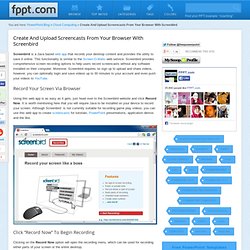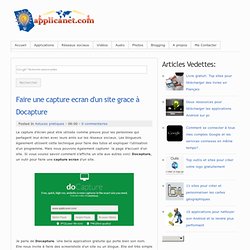 Faire une capture ecran d'un site grace à Docapture
La capture d'écran peut etre utilisée comme preuve pour les personnes qui partagent leur écran avec leurs amis sur les réseaux sociaux.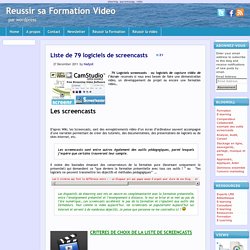 Reussir sa Formation Video Liste de 79 logiciels de screencasts
79 Logiciels screencasts – ou logiciels de capture vidéo de l'écran - recensés si vous avez besoin de faire une démonstration vidéo, un développement de projet ou encore une formation vidéo…
Comparatif de logiciels de capture d'écran au format vidéo Pour enrichir ses formations, son enseignement, de plus en plus de formateurs et enseignants enrichissent leurs supports de cours sur TNI, ENT, vidéoprojecteurs par des des vidéos pédagogiques. Un grand nombre de logiciels gratuits et payants existent sur le marché (OS : Windows, Linux, OSX, ou multiplateformes).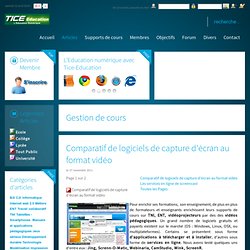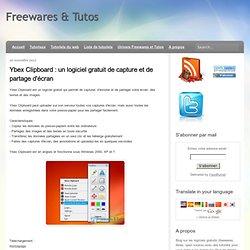 Ybex Clipboard est un logiciel gratuit qui permet de capturer, d'annoter et de partager votre écran, des textes et des images.
un logiciel gratuit de capture et de partage d'écran
Ybex Clipboard - Share Anything with Anybody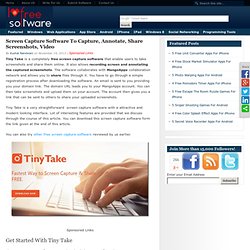 I Love Free SoftwareScreen Capture Software To Capture, Annotate, Share Screenshots, Video
Tiny Take is a completely free screen capture software that enable users to take screenshots and share them online. It also allows recording screen and annotating the captured screenshots. The software collaborates with MangoApps collaboration network and allows you to share files through it.
DoCapture : un outil pour faire des captures &e
If you need to take screenshots for your presentations and don't want to use the built-in screenshot tool from Microsoft, then there are free alternative software packages like Greeenshot that you can download and install in your computer that will help to take and annotate screenshots for your slides. Plus, you can directly insert the screenshot into your PPT slides using free Greenshot tool.
Greenshot: Free tool to take screenshots in Windows
The application currently supports recording from the primary screen, from a chosen window or from a fixed region. There are few options to configure encoding at this time, mostly on purpose to keep things simple. The software stores videos on the My Videos directory and allows the user to browse them directly from within the application.
screencast-capture - Free utility to continuously capture the computer screen.
I'm always interested in finding out more about the tools that are available out there for e-learning developers (and for web and graphic designers, for that matter), so last weekend I decided to try my hand doing some screen recordings using the free screen recording tool Screenr!
Recording a Screencast: Do's and Don'ts | Flirting w/ eLearning
Video Capture and Management Platform | Panopto
This detailed guide describes the various options that will help you record movies (screencasts) of your iPad or iPhone screen.
Gérer ses flux rss avec mindmanager
You may have heard the news last week that Articulate launched a new screencasting tool called Screenr. It is a free web-based tool that lets you create screencasts without installing any software. I really like Screenr. If you haven't tried it out yet, you should give it a whirl.