Screencast
Screenbird. Liste de logiciels de screencasting. Un article de Wikipédia, l'encyclopédie libre.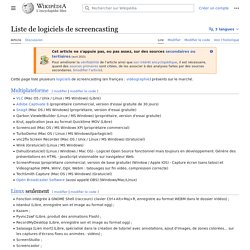 Cette page liste plusieurs logiciels de screencasting (en français : vidéographie) présents sur le marché. Multiplateforme[modifier | modifier le code] VLC (Mac OS / Unix / Linux / MS Windows) (Libre)Adobe Captivate 5 (propriétaire commercial, version d'essai gratuite de 30 jours)Jing (Mac OS / MS Windows) (Gratuiciel)Qarbon ViewletBuilder (Linux / MS Windows) (propriétaire, version d'essai gratuite)Krut, application Java au format Quicktime MOV (Libre)Screencast (Mac OS / MS Windows XP) (propriétaire commercial)Screentoaster (Hors-service) (Mac OS / Linux / Windows Vista) (Gratuiciel, en ligne)TurboDemo (Mac OS / Linux / MS Windows)(partagiciel)vnc2swf Screen Recorder (Mac OS / Unix / Linux / MS Windows) (Gratuiciel) - Remplacé depuis 2009 par vnc2flvWink (Gratuiciel) (Linux / MS Windows)Dahu(Gratuciel) (Linux / Windows / Mac OS) - Logiciel Open Source fonctionnel mais toujours en développement.
6 logiciels pour enregistrer un screencast sur Windows. Filmer son écran est sans doute l'une des manière les plus intuitive pour transmettre à vos lecteurs des explications sur l'usage d'un logiciel, d'une application web ou la navigation sur site web.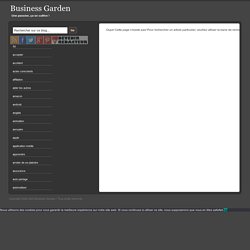 Il existe bien sûr des ténors payants sur ce marché, à l'instar du célèbre logiciel Camtasia, devenu au cours des versions publiées une véritable suite logicielle pour l'enregistrement, l'édition et la publication de screencasts. Mais dans la majorité des cas, c'est un logiciel d'enregistrement simple et aux fonctions basiques qui est recherché... et autant utiliser un logiciel de screencast gratuit dans ce cas ! Je vous propose 6 logiciels de screencast gratuits : ActivePresenter dispose d'une version gratuite très simple à utiliser et que je vous recommande chaudement ! Comparatif d'outils pour réaliser des screencasts. 8 Free and simple tools to create video tutorials for Teachers. One of the important digital skills that the 21st century teachers should have is the ability to create video tutorials to share with students.I know some of you might freak out when it comes to putting your digital skills to the test thinking that you could never make it.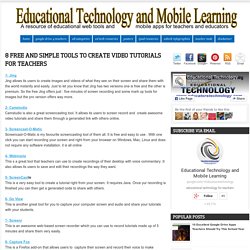 I understand it because I know that the first thing that comes into your mind on hearing video tutorials are those sophisticated and pompous tutorials you see on Youtube from imedia companies and advertising corporations. Well, the kind of software used to create such tutorials cost a lot of money and requires specialits to work on them.
For use in education, a tutorial can be just a simple video explaining a difficult concept or a methodical process that walk students through different steps and stages. There are several free tools to help you do that and you do not need any advanced technology skills to use them; all you need is a solid will and a committment to what you want to do. Record Screencast And Create Slideshows With Narrations Using Ezvid. Previously we covered Proshow, which is a Windows application that allows creating HD slideshows and Camtasia Studio Add-In, which enables recording screencasts from MS PowerPoint.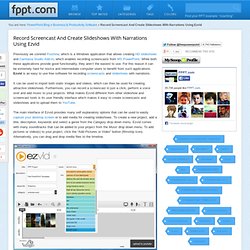 While both these applications provide good functionality, they aren't the easiest to use. For this reason it can be extremely hard for novice and intermediate computer users to benefit from such applications. Create And Upload Screencasts From Your Browser With Screenbird. Screenbird is a Java based web app that records your desktop content and provides the utility to save it online.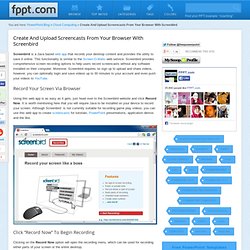 This functionality is similar to the Screen-O-Matic web service. Screenbird provides comprehensive screen recording options to help users record screencasts without any software installed on their computer. Moreover, Screenbird requires no sign up to upload and share videos, however, you can optionally login and save videos up to 30 minutes to your account and even push your videos to YouTube. Faire une capture ecran d'un site grace à Docapture. La capture d'écran peut etre utilisée comme preuve pour les personnes qui partagent leur écran avec leurs amis sur les réseaux sociaux.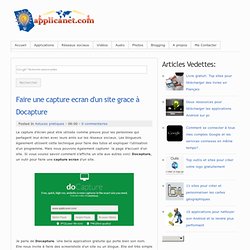 Les blogueurs également utilisent cette technique pour faire des tutos et expliquer l'utilisation d'un programme. Mais nous pouvons également capturer la page d'accueil d'un site. Si vous voulez savoir comment s'affiche un site aux autres voici Docapture, un outil pour faire une capture ecran d'un site. Reussir sa Formation Video Liste de 79 logiciels de screencasts.
79 Logiciels screencasts – ou logiciels de capture vidéo de l'écran - recensés si vous avez besoin de faire une démonstration vidéo, un développement de projet ou encore une formation vidéo… D'apres Wiki, les Screencasts, sont des enregistrements vidéo d'un écran d'ordinateur souvent accompagné d'une narration permettant de créer des tutoriels, des documentations, des présentations de logiciels ou de sites Internet, etc.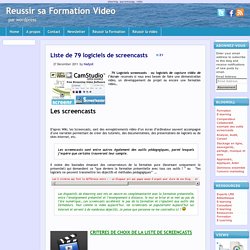 Les screencasts sont entre autres également des outils pédagogiques, parmi lesquels j'espère que certains trouveront leur compte. Il existe des boutades émanant des conservateurs de la formation pure (favorisant uniquement le présentiel) qui demandent ce "que deviens la formation présentielle avec tous ces outils ? " ou "les logiciels ne peuvent transmettre les objectifs et méthodes pédagogiques" … Comparatif de logiciels de capture d'écran au format vidéo. Comparatif de logiciels de capture d'écran au format vidéo Pour enrichir ses formations, son enseignement, de plus en plus de formateurs et enseignants enrichissent leurs supports de cours sur TNI, ENT, vidéoprojecteurs par des des vidéos pédagogiques.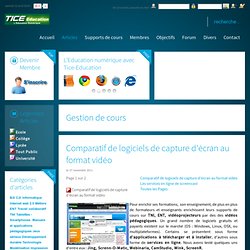 Un grand nombre de logiciels gratuits et payants existent sur le marché (OS : Windows, Linux, OSX, ou multiplateformes). Un logiciel gratuit de capture et de partage d'écran. Ybex Clipboard est un logiciel gratuit qui permet de capturer, d'annoter et de partager votre écran, des textes et des images.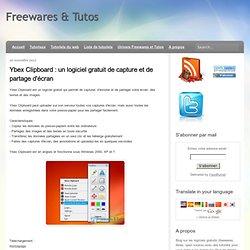 Ybex Clipboard peut uploader sur son serveur toutes vos captures d'écran, mais aussi toutes les données enregistrées dans votre presse-papier pour les partager facilement. Caractéristiques : - Copiez les données du presse-papiers entre les ordinateurs - Partagez des images et des textes en toute sécurité - Transférez les données partagées en un seul clic et les héberge gratuitement - Faites des captures d'écran, des annotations et uploadez-les en quelques secondes Ybex Clipboard est en anglais et fonctionne sous Windows 2000, XP et 7. Ybex Clipboard - Share Anything with Anybody.
I Love Free SoftwareScreen Capture Software To Capture, Annotate, Share Screenshots, Video. Tiny Take is a completely free screen capture software that enable users to take screenshots and share them online.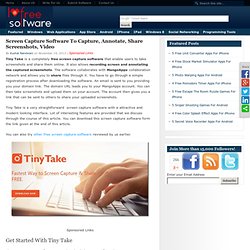 It also allows recording screen and annotating the captured screenshots. The software collaborates with MangoApps collaboration network and allows you to share files through it. DoCapture - Free, high-res, screen capturing with size options. DoCapture : un outil pour faire des captures &e. Greenshot: Free tool to take screenshots in Windows. If you need to take screenshots for your presentations and don't want to use the built-in screenshot tool from Microsoft, then there are free alternative software packages like Greeenshot that you can download and install in your computer that will help to take and annotate screenshots for your slides.
Plus, you can directly insert the screenshot into your PPT slides using free Greenshot tool. Let's discover how. Greenshot is one of the best free alternatives to take screenshots in Windows. By using Greenshot you can not only take screenshots but also annotate the images with your own notes and using some nice annotation tools like rectangle shapes, circles, etc. You can also blur some text for example containing confidential information to keep your privacy or highlight using a marker. Greenshot - a free and open source screenshot tool for productivity. Screencast-capture - Free utility to continuously capture the computer screen.
The application currently supports recording from the primary screen, from a chosen window or from a fixed region. There are few options to configure encoding at this time, mostly on purpose to keep things simple. The software stores videos on the My Videos directory and allows the user to browse them directly from within the application. Recording a Screencast: Do's and Don'ts. I'm always interested in finding out more about the tools that are available out there for e-learning developers (and for web and graphic designers, for that matter), so last weekend I decided to try my hand doing some screen recordings using the free screen recording tool Screenr!
When I decided to make my first screencast I thought it would be easy-breezy since I have a lot of experience recording software simulations. It turns out there's a really big difference between recording a software screencast vs. a software simulation. When I would record simulations (using either Oracle UPK or Adobe Captivate), I would capture the process slide-by-slide. Video Capture and Management Platform | Panopto. How to Record Screencast Videos on your iPad or iPhone.
This detailed guide describes the various options that will help you record movies (screencasts) of your iPad or iPhone screen. You can use it for capturing app demos, game walkthroughs and more. Whether you are an app developer building iOS apps and games or a tech blogger who likes to review such apps, what you definitely want is a screencasting tool that will help you easily record video demos, or screencast movies, of your mobile app. Now there are tons of screencasting apps available for your Windows or Mac desktop but if you wish to capture the screen of your iPad or iPhone, the scene is very disappointing. A search for "screen recorder" or "screencasting" shows zero results in the iTunes app store. Gérer ses flux rss avec mindmanager.
How to Use This Free Screencasting Tool for E-Learning. You may have heard the news last week that Articulate launched a new screencasting tool called Screenr. It is a free web-based tool that lets you create screencasts without installing any software. I really like Screenr. If you haven't tried it out yet, you should give it a whirl.
Pearltrees. Captures. Ipad. Logiciels. Logiciels$ Autres. Web.
---