Estrangeiros
I co-founded PrepMe in 2001. We were one of the first education companies online and the first purely online, personalized platform. We were acquired in 2011 by Providence Equity-backed Ascend Learning. In the last month, I've had 3 VC firms bring me in to chat with their partnership about education and 6 independent entrepreneurs reach out to me about their new education startup.
Why Education Startups Do Not Succeed « Avichal's Blog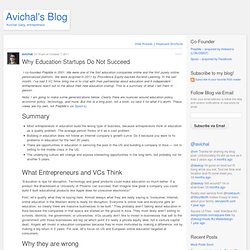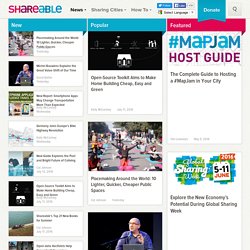 Skip to main content New Popular Featured The Sharing Garden Shows the Way to a Moneyless Food System
Guest post by Lisa Regan, writer for The Lean Startup Conference. Our fall webcast series concluded on a high note with three extraordinary conversations about the origins and implications of Lean Startup. If you missed these when they went out live, we encourage you to watch them now, as they lay a strong foundation for The Lean Startup Conference, December 9 -11 in San Francisco—less than two weeks from today. You can also listen to any of the webcasts, which, at the suggestion of a webcast attendee, we've turned into podcasts you can stream or download (from iTunes or SoundCloud).