Food
Get flash to fully experience Pearltrees
"Scalloped" is an attractive word, isn't it? When I hear it I think of several things: first, there's scallops, as in the seafood—totally delicious. Then there's the scalloped shape that can live on the edge of a pair of shorts or on the collar of a woman's blouse—always pretty and dainty. And of course scalloped potatoes also comes to mind, which carries my imagination to a land of crispy potato skins drenched in a sea of cheese and cream. I can think of no better place to exist, actually. So when I came across TK member Shelbi Keith's recipe for Scalloped Hasselback Potatoes , I knew we were going to become fast friends.
When I told my friends I was planning on making homemade mozzarella sticks for a guy's weekend out of town the idea was met with a profound lack of enthusiasm. Everybody knows that I like to experiment in the kitchen, but somehow the idea of making a bar food staple like mozzarella sticks from scratch seemed like a complete waste of time to the group. After being lectured about the innumerable brands available in the freezer section at the grocery store and a heated debate about whether marinara or ranch is the better dipping accompaniment, I decided to risk further heckling and see if I couldn't one-up T.G.I.
Now I don't want to over sell this, so I'm going to be conservative and simply say, that these are... The Best Brownies In The WORLD. I know, big statement. They're called Slutty Brownies because they're oh so easy, and more than a little bit filthy. They're best served warm from the oven, with good quality vanilla ice cream (devastatingly I didn't have any in the freezer this time, so I guess I'll just have to make them again). They take about 45mins to make, including baking time.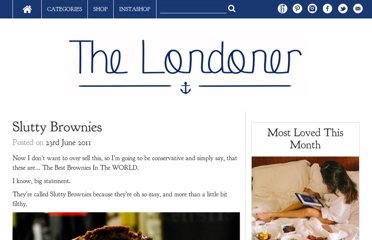 Snickerdoodle Muffins I have been obsessed with Pinterest lately! Pinning this and that all while trying not to drool all over my computer. While I like pinning lots of different things, as you can imagine, I love pinning recipes. A picture of snickerdoodle muffins kept popping up all over my Pinterest page just begging me to make them.
Breakfast is my favorite meal. I like to drink iced coffee and watch the cream climb its way down the chunky ice cubes in a dazy before the caffeine hits. I like to order bacon with whatever I'm eating. I like eating potatoes with ketchup.
I've tried lots of brownie recipes: Boxes, scratch, frosted, plain, nuts, chips, fudge … Each of them has something to like, but depending on my mood I might want a change of pace. Not any more. My wife found this recipe, and it's perfect. I'm done looking. This is the brownie recipe that I'll use from now on.